Dvd Format
02-06-06, 10:21 PM
Dvd Format
---
I just bought my 1st DVD-RW. I have no experience with DVD's. Do I have to format the DVD media before the WinXP explorer can read it? My backup program format the DVD before my 1st backup but I cant see the results on the explorer. If I have to format each DVD, what kind of program should I get? Thank you
02-06-06, 11:26 PM
---
If you insert a blank DVD into your drive WINXP should recognize it as a blank CD. You try and view it it should work, but of course will be blank.
WinXP itself cannot burn data onto DVDs as far as I know thus other software is needed. Did your burner come with some for making DVDs?
I personally use
Nero Burning Rom
, but there are numerous free alternatives I'm sure.
There is no pre-formatting required for burnering. It takes me 3 easy steps to get data from my hard drive onto a DVD in less than 1 minute.
1) Select DVD type: ISO for normal data (i.e. text files, word documents, images, .exe files, whatever); DVD-Video for movies; etc.
Visual Ex: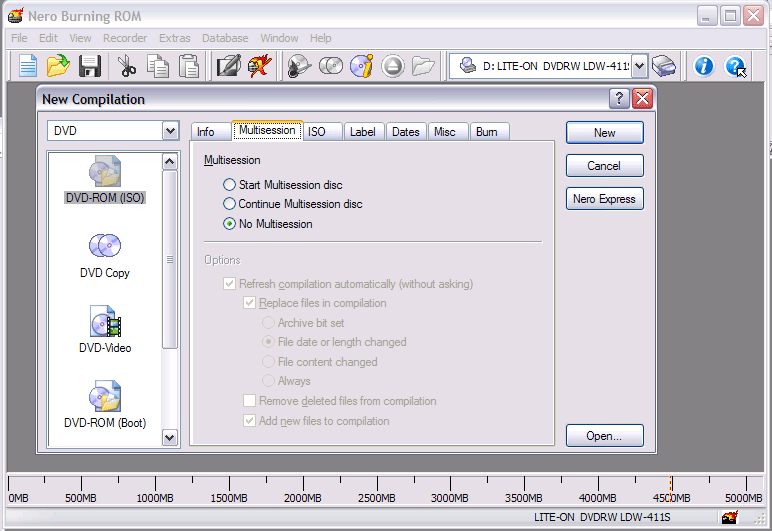 2) Select files I want to burn.
3) Click burn.... thats it..
Visual Ex:
The term
Format
in regards to disk drives or CD/DVD burning is often used when you wish to erase whatever is on there already.
Hope some if any of this was helpful.
---
Last edited by mattison; 02-07-06 at

03:57 AM

.