Laptop CMOS battery
09-07-12, 07:16 PM
Join Date: Feb 2005
Location: Northern New Jersey
Posts: 444
Received 0 Votes on 0 Posts
Laptop CMOS battery
---
Hi guys,
After sitting unused for about 3 months, my Toshiba L555-S7002 came up with a dead CMOS battery. I managed to remove the battery, and I can see it is an ML1220 (see photo of actual battery I removed)
I haven't been able to find this battery in any stores where I live (NJ). I can find it online, but I am not sure about a couple of things.
You can see my battery has a stamped number on it (826). Does this number mean anything ?. Also, I found some batteries that are like $3, and others are almost $20. With that spread, there has to be a difference. If so, what am I missing ?. Finally, some batteries have a coating around the edge (mine is blue as you can see), and others do not. What is the point of this ?
Thanks. In the meantime, I am running the laptop without the battery and relying on keeping the battery pack charged up.
Sponsored Links
09-07-12, 08:09 PM
That blue coating or tape I would think would ensure of proper polarity. I imagine there may be some metal at the top that needs to be protected from the top of the battery. That usually is the only reason for tape or a coating. As to the number stamped on the battery I imagine that is probably an inventory number. The price difference usually has to do with whether the battery is a brand name battery or an off brand. I use a battery source called Batteries.com and they have a variety of different batteries and different prices too. For example I recently bought a CR2032 battery and the price range was from $1.99 to $2.49 for just one battery. I bought the battery for $1.99 and it works fine for what we bought it for. I think when you do buy the battery from whatever source you use you should get one with the coating/tape on it. As to cost that depends on what you can afford and whether you want a brand name battery. I have always been told that brand names are better but that isn't always true it just depends on the manufacturer.
09-07-12, 08:26 PM
Banned. Rule And/Or Policy Violation
Join Date: Jan 2010
Location: KS
Posts: 1,893
Received 0 Votes on 0 Posts
Oooh ouch..... Ummm, I hate to tell you this but those kind of batteries are not meant to be replaced. They are rechargeable lithium-ion, not the regular CR-type lithium coin cells. Basically you broke the tabs off it, which ruined it. A new one has to be soldered to the motherboard, which isn't as easy as it sounds. The reason they are permanently installed is that it makes it very difficult to quickly wipe the BIOS in order to erase a boot password.. It also makes it difficult to erase identifying data such as asset tags, or to disable BIOS-based stolen laptop recovery beacons such as CompuTrace.
Motherboards these days are multilayer.. Meaning there it's not just a top and bottom side with the circuit traces, there are about 7-10 separate layers of them, and the through-holes may or may not connect to all layers. Component through-holes are usually sleeved all the way through, but it is very easy to break the sleeves loose which ruins the board.
ML1220 is the correct number. The reason you didn't find any is because they are supposed to have the PCB mounting tabs welded to them. They run about $12 + shipping. This is one variation, I would need to see how the tabs on the motherboard are set up to see if it's the right one.
ML1220 Sanyo. 3 volt Rechargeable Coin Cell Solder Tabs Opposed Ends. RLITH-1-1. Single Battery.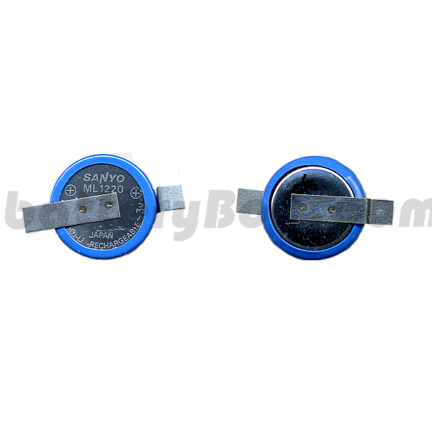 09-07-12, 11:53 PM
I kind of wondered about that battery when I saw it as it looked like a depression in the battery but thought maybe it was just how it was photographed. How about Dells JerseyMatt do they have those now or is that just in Toshiba's? I have an old Latitude D600 that really performs well for its age but eventually I will give it up and sell it for a newer model. What I like about it though is of course it has a cmos battery but it can be unplugged and replaced.
09-08-12, 01:14 AM
Banned. Rule And/Or Policy Violation
Join Date: Jan 2010
Location: KS
Posts: 1,893
Received 0 Votes on 0 Posts
All recent laptops have a non-removable battery, for the reasons I mentioned before. Some use an actual battery like that, and some use a low discharge capacitor. The older ones mostly had replaceable batteries. Some had regular coin cells, and some used a rechargeable on a cord that plugged in. I had a Compaq about 10 years ago which had a corded battery, and a Dell 5-6 years ago that had a capacitor. I have a 3 year old Toshiba now which has the same battery as the OP.
09-08-12, 04:09 AM
I had an Acer desktop that had a capacitor in it and the capacitor had went bad on it. A guy at a repair shop I sent it to said I can replace it but it will cost you a great deal and then I can't guarantee anything. I told him to forget it as it isn't worth it. I have to say I absolutely hated that computer as it had so many problems with it but I also learned off of it too while it was still under warranty as the nearest repair place was so far away. Unfortunately this was also back in the days when those computers also cost thousands of dollars. I know I spent over a thousand on it and it wasn't even new but sold that way. I never will buy another Acer though not if they were the last computer on the planet. The last two desktops as I know you heard I built myself so I have no one to blame but myself if something goes wrong. I really can't understand why manufacturers would want to put capacitors in other than the reason you gave about the bios and non removable batteries too that just sounds dumb. I know if I could make my own laptop I wouldn't make it that way.
Posting Rules
You may not post new threads
You may not post replies
You may not post attachments
You may not edit your posts
---
HTML code is Off
---