Creating a Custom Blower-Type Fan
05-15-14, 09:10 AM
Creating a Custom Blower-Type Fan
---
Okay, so I have an awkward space that really needs a blower fan that can pull air in horizontally and then push it vertically upwards. But most blowers that you can buy are either far too tall (I can only really fit 2cm thick or less), are too small (i.e - laptop type blowers that are only 60 or 80mm), or are far too noisy.
However, there are a number of regular case fans that would fit nicely into the space, so it got me to thinking; could I convert one of these into a blower type fan?
I don't need the blower to be especially powerful, I just need it to give me a bit of extra airflow, so while regular case fans aren't designed to be blowers, I'm hoping they can still be made to modestly serve that purpose.
My thinking is that all I need to do is make sure the "back" of the fan (where it blows air out) is completely covered, and to remove one side of the fan's frame (the covered back should provide enough support for this if screwed on). After that, what else do I need? Will the front need any kind of cover as well, or should that be enough?
Any advice is welcome, also if anyone has any idea what kind of reduction in the fan's capabilities I should expect then I'd appreciate the estimate, as it'll help me to decide if this is going to make any difference or not (I don't want to cut up a fan if it won't help
)
05-15-14, 11:31 AM
Join Date: Mar 2003
Location: NC, USA
Posts: 28,170
I don't think modifying a standard fan like you mention will work very well. The angled blades are designed to move air through the fan in a straight line. You need a centrifugal blower. It is designed to draw air in the center and blow it out the side. These type fans are often used in laptops and other low profile applications.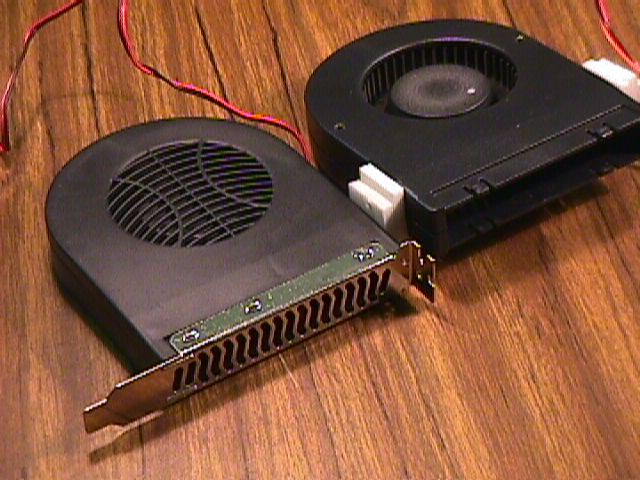 05-15-14, 11:45 AM
Thanks for the response! Like I say though I've been looking at a lot of these, and they're either too thick (most PCI slot ones are on my limit of around 2cm) or are too narrow (there aren't many laptop models bigger than 80mm, many also seem to be designed to pull air from the side as well, though I'm not sure if that would matter). The only good sized ones I've found so far that might fit are incredibly noise, and it sounds like they taper off in performance very quickly if you try to run them at a lower speed.
I don't know how I manage it, but every time I look for a product I'm never looking for something that's just a normal item of that type