USB cable / charger experiments
10-24-16, 09:36 AM
Join Date: Sep 2016
Location: USA
Posts: 13
Received 0 Votes on 0 Posts
USB cable / charger experiments
---
I have two phones, a tablet, bluetooth headset, and wireless speakers. I also have dozens of USB cables, several 18650 battery / power bank chargers, and wall powered USB chargers.

My problem started when my Samsung S5 would discharge while online or on the phone even though I was connected to a charger.

I downloaded a current charge monitor app for my wireless phones and tablets and found that chargers, AND cables vary widely in charge rates.

After testing dozens of combinations of cables and chargers, I found that my wall adapters and power banks can have EITHER 1 OR 2 amp charge rates, BUT the wrong cable in a 2 amp charger will limit charge rates to well under 1 amp (~250 mills) ... the reason my phone will die while being used despite it being on charge.

So I marked all of the cables and chargers that are slow charge rates and use them for overnight charging.
Sponsored Links
10-24-16, 11:52 AM
Yes, cheap USB cables and those intended for data only use very thin wire which limits how much current they carry. Cables intended for charging use larger wire and can carry more current.
10-25-16, 08:24 AM
Join Date: Nov 2007
Location: MI
Posts: 2,615
Received 0 Votes on 0 Posts
Back in January I got fed up with my phone charge going DOWN while on car trips and connected to a charge cord that ran behind the dash. I knew the source was OK (a hard-wired 12V-to 5V USB adapter behind the dash rated at 2A continuous) but I suspected the thin cable I cut from one of my Samsung chargers might be the culprit.
I rounded up all the USB cables I could find and set up a test on the bench. Using a power supply and maintaining a constant 5V into the same load I got some crazy variance: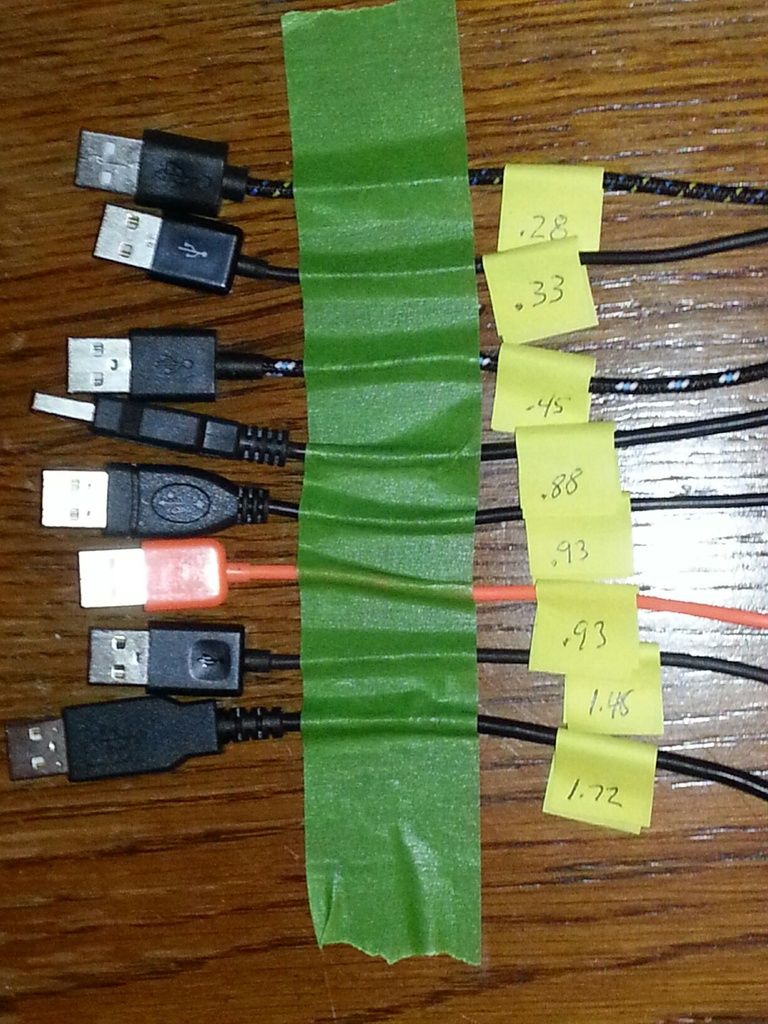 Eyes opened I bought some thick high-current USB charge cords and a couple high-current charging stations.
I never used the original Samsung charge adapters (with the thin attached cable) again and threw away all the "cute" cloth/or thin/or flat USB cables.
10-26-16, 11:02 AM
I agree, the thinner wires can significantly limit the power available to the phone. Especially as the cable gets longer (I've seen 6' or even 12' USB cables).

There's also some electronics magic that goes on to allow some devices to fast-charge. The device needs to short two pins together, which effectively tells the charger to provide more power. I've never taken the time to really read up on this and figure out how it works - but I'd imagine the device and charger need to be 'fast charging aware' for this to work.
10-27-16, 07:52 AM
Join Date: Nov 2007
Location: MI
Posts: 2,615
Received 0 Votes on 0 Posts
The numbers are amps the cable could pass from a regulated 5V supply to a 2.5 ohm resistor. 2 amps would have been perfect but none could deliver that. Even the aftermarket "high current" and very short cords topped out at about 1.85A but that's really very good. I feel the connectors become the bigger issue at that point.

I tested standard wall warts & lighter adapters separately and found them equally weak. The OEM ones that come with tablets were pretty good and met specs on the label but most that are for phones did not.
Posting Rules
You may not post new threads
You may not post replies
You may not post attachments
You may not edit your posts
---
HTML code is Off
---