NEED Help new deck in danger of colapse
07-24-08, 10:49 PM
NEED Help new deck in danger of colapse
---
Just finished my 12 x 20 attached deck, I did the post and cap method, with a 2x10 laminated beam resting on 4 4x4s on top of concrete piers. theres about 2 feet of cantiliver on the deck meaning the deck extends two feet past the beam. Heres the problem outside tonight noticed that the main beam is leaning forward, like lots, so much so that the level shows the bubble at the stop when I hold it vertically. The beam is two 2x10s and the rear one is almost off the post!! I am scared to death that this thing is going to collapse, is there any possible fix or do I just scrap it all and sart over. I've already barred anyone from getting on it.


Please help

Thanks in advance

JC
07-25-08, 03:49 AM
JC, welcome to the forums! First, is your rim joist bolted with carriage bolts to the ledger board of the house? If it is just nailed, then you could encounter pull out, which could account for the leaning beam. Is the beam secured to both the post using the proper post-to-beam fastener, and is the beam secured to the joisting using the proper fastener. You can probably correct this, but you need to use a good fastening technique. If you could post a couple of pictures on a site such as photobucket.com and copy/paste the HTML code to your reply post, we could see what you see, and may could give better advice.
07-25-08, 06:39 AM
Banned. Rule And/Or Policy Violation
Join Date: Dec 2007
Location: Chicago
Posts: 1,011
Received 0 Votes on 0 Posts
Sounds like the beam may be "hinging" at its connection to its supporting post, it must be attached in a manner such that is restrained from tilting. Here's one example of how this can be done:
The picture is from this document:
http://buildingcodes.jocogov.org/doc...eck%20Book.pdf
which is an excellent source of information about correct deck building technique.
There are also various kinds of retrofit metal brackets that can be used after a deck is constructed to reinforce this connection, for example see page 10 here:
http://www.strongtie.com/ftp/fliers/F-DECKCODE07.pdf
Additional blocking and other modifications may be required as well.
Be
very
careful while correcting this problem, both because there may be other serious deficiencies in the deck's construction and because should the beam suddenly rotate and fail, it is possible that the supporting posts will punch through the deck, and the entire deck will hinge downwards from the ledger, possibly disconnecting the deck from the supporting structure at the end opposite the beam.
In my opinion, the correction of this problem should not be undertaken by a homeowner, but rather by a contractor experienced in deck construction and repair. But whatever you do, it needs to be done in accordance with local codes, with materials and techniques approved by the local code Authority.
---
Last edited by Michael Thomas; 07-25-08 at

06:58 AM

.
07-25-08, 07:03 AM
Thanks for the advice guys, Iam thinking of getting a contracter in to fix this mess I've created, the last thing I want is anyone to get injured. Seemed like a simple project, they gave me plans at my lumber dealer and a way I went, now this. Damn!!
heres a pic of what it looks like, and it's getting worse on the other side looks to me like it go at any time, I'm real scared of this.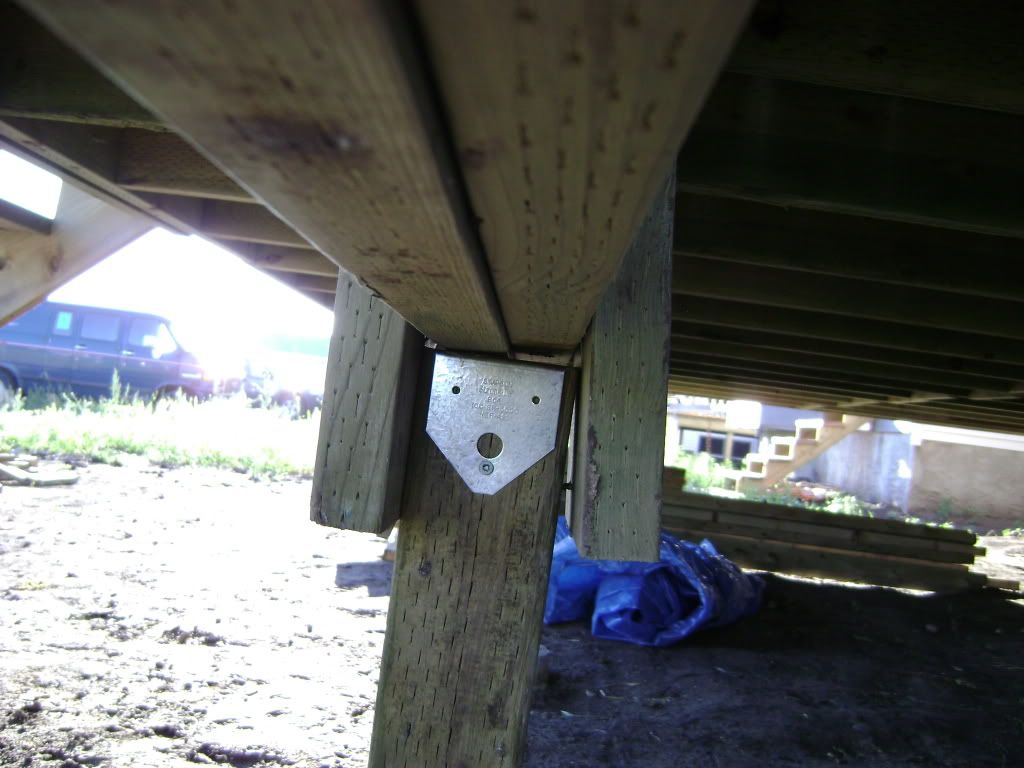 Thanks again
JC
07-25-08, 07:26 AM
If you are concerned it is going to fall over, put some temporary support underneath until you can figure out what went wrong.

Is the deck free standing or attached to the house? Is it pulling away or is the beam rolling on the posts? How are the joists attached to the beam?

I noticed that you did not use the recommended number of fasteners on the strong ties and the beam is lifting off the post? It may be that your problem is how you attached the beam to the posts.
07-25-08, 07:47 AM
the deck is attached and it appears to me that it is rolling off the posts there doesn't appear to be any pull away from the ledger. the strong ties are fixed properly to the beam with all fastners and they are also in the proper postion on top of the post minus a couple of screws( somehow I missed those two)

Talked to a contractor this morning and he reccomended adding a third beam and jacking it up and replacing the posts with 6x6.

Thanks again guys

JC
07-25-08, 11:19 PM
if by stringers u mean Joists they have each been toe nailed to the beam. I had a friend suggest that the lumber may have been too wet and it twisted when It dried out???

I may as well just get a pro to fix this as I am too worried that I'll kill someone with my obvious lack of experiance.
07-26-08, 04:23 AM
Thomas was referring to the lack of joist hangers under each joist. Major problem. Before your pro gets there, install joist hangers. Easy job, but he will charge you extra for it, and it is something you can do. And if it is not bolted to the house, do that before he gets there. Again something you can do that will cut down on his costs, and must be done.
07-26-08, 07:12 AM
The joists are on joist hangers, u just can't see them from the picture, and the ledger was installed on the house when it was built, with lag bolts I'm told.

The Beam runs for 20 feet about 10 feet from the ledger where the joist hangers are.

Thanks again for the help I just hope this can fixed and doesn't involve tearing the whole thing down.

JC
07-26-08, 10:38 AM
I fail to see any joist hangers behind the beam where the joists attach to the cross member. You need joist hangers on both sides of that cross member, or the joists will fail. Don't go by what someone else told you about your ledger. Go under and see for yourself that there are carriage bolts every 3 feet or so to hold it up. We are here to help, but don't want to see an unsafe situation overlooked.
07-26-08, 12:24 PM
Thanks,
and I don't want to have any unsafe situations occur on my property.

Just so we are clear Chandler, on the left side of my photo you can see where the joists attach to the facing, are u saying I should have joist hangers attached to my facing??

Local code only indictes Joist hangers on the ledger, I, will check the ledger my self when i get home Monday to be sure it's attached properly.



thanks again

JC
07-27-08, 06:48 PM
You're ok on the outside band, since it is a cantilever. I was referring to the right side of your picture where the joists attach to a mid span cross joist. None of them appear to have hangers. Then, of course, at the house ledger.
07-27-08, 06:54 PM
Yes, joist hangers need to be attached to your "facing", or otherwise know as a rim joist. Take care of the hangers yourself. Just follow fastening specs for the type of hanger used. I would suggest letting a pro correct the "other" problems going on here.
07-27-08, 08:06 PM
chandler,
what you're seeing on the right running the same diredtion as the beam is the blocking, I installed it half way between the beam and the ledger.

And Kremeriky,
i am leaning towards a pro fixing up my mistakes here. I've unfortuatly been outta town with work since the day I discoverd this.

I'll be home tommorow in the am and will take one more look at it, and make my final decision. the post at the other side of the deck from where I took the picture is real strange to me as the beam is sitting just above the post now and not contacting it at all?? U can see in the pic that i added some 2x10 vertically from the beam to the top of the post, I can't belive this is whats holding up the far side, I'm boggled! Can't think of how it could happen, other then the lumber being too wet when I put it up and it twisted when it dried out?? Or more likely something I screwed up and didn't even know i had.

I spoke to a contractor breifly before I left and he suggested leveraging the beam back down with a pipe wrench or something similar and then adding a third layer to it once it is in it's correct position, to be honest I'm a little nervous of doing this myself, as I have no desire to be inadvertanly crushed by a few thousand pounds of lumber!!

what ever happens will be this week, as I'm in Canada and BBQ season is getting short.

I'll let u guys know how i make out.

Thanks again for all the help and advice

Cheers
JC