New deck experience
09-02-10, 07:29 PM
New deck experience
---
You want to test your patience? Build a deck for a college outbuilding. I have a company who I will be technically working for (financing the thing) doing the drawings, which have to be submitted to an engineer and architect, having to be stamped and signed off on......and neither of them have ever built a deck before. Gee whillickers, it's a deck...3' off the ground. At first they had the deck bolted to the building, with posts sitting on sonotube concrete along the house, at 4' out, at 8' out and on the 14' perimeter. Golly gee, why not just run a post and beam at the 7' mark and posts on the outer rim? Oh, OK.
I've had 4 sets of drawings and it's really funny!! I could have had the deck built, solid as a rock in half the time they have been passing papers around. It's been 4 weeks, now, and I hope we get to start on the sonotubes on Tuesday.
Whoops, just got an email. We have to wait. The locator service missed a service, so they have to come back and remark my mine field.
14x17 deck and I have LP gas, water, irrigation, electric and phone in that quadrant.
Sponsored Links
09-03-10, 08:13 PM
Join Date: Jul 2008
Location: NY
Posts: 10,986
Received 0 Votes on 0 Posts
I never knew you were suicidal. Walk away from that job or go see a local shrink.
09-04-10, 04:44 AM
Oh, I'm OK with it, since I will build it correctly according to local codes. It is just educating people who should know how to build things, that bothers me. I saw the materials list, and have enough sonotubes to do 27 footings, and only need 13. We'll see on Tuesday, or Wednesday, or whenever the locator gets through.
Oh, did I mention it was good money for a change$$$???
09-04-10, 08:06 AM
Join Date: Jul 2008
Location: NY
Posts: 10,986
Received 0 Votes on 0 Posts
You didn't mention the money, so go for it.
09-15-10, 03:05 PM
Update: Locaters did their job. Started on the first hole. Augered down about 12", pulled the auger and had one of those "feelings". God told me to stop, I guess. I had one of my guys hand dig a little. Viola!! There was a 2" blue plastic water line and on the other edge was a yellow gas line!! Water guys missed by 4' and gas missed by nearly 2'. This was not going to be a good day.
Landscapers had felled a tree and buried the trunk directly in line with my midspan beam. Got a track hoe and pulled it out of the ground, and messed up my batter board lines. Restrung and decided to dig holes with the track hoe. Easier to control. Next shovel full hit the top of an abandoned septic cast iron pipe. Had to hand dig the remainder. Too scared to use mechanical means.
Pour tomorrow. Glad this day is over.
09-16-10, 08:50 PM
Join Date: Mar 2000
Location: Arlington, WA
Posts: 9,238
Received 0 Votes on 0 Posts
WHICH FRIDAY???

I narrowly missed one similar a few years back. Got underbid by about $1K, and the contractor lost $6K on the job that he bid $12K on.
09-17-10, 04:53 AM
HD delivers wood today. Got all the PB's in yesterday. GC wanted one post moved to allow for angling the staircase away from the wall and condensing units. Kicked back the outward post to allow for it. Went through fiber optic cable which the locators decided not to mark. All in all final count....14 holes, 8 hits, 6 clear punches. Fiber optic guys just looked at the mess and shook their heads. They even apologized to me for not marking it!! Can you believe it?
Fun starts today.
09-30-10, 06:34 AM
Update with pix. A bit of overkill, but built to architect's specs and engineer's approval.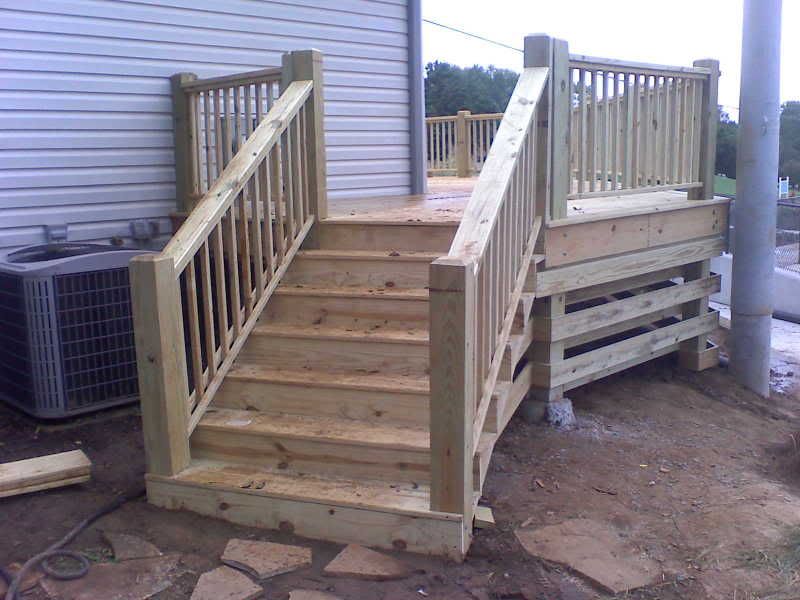 A little landscaping by the landscaper and it won't be too bad. Worth the effort.
All rim joists are 2x12 for a 14' span, inlet to the 6x6's with a 2x10 exterior band, all bolted together with 1/2 carriage bolts. I hate the horse corral looking bottom design, but they called for it rather than lattice or flat design.
This is what a mine field consists of.....locate was 4' away. Both gas and water missed their marks.
---
Last edited by chandler; 09-30-10 at

06:55 AM

.
Posting Rules
You may not post new threads
You may not post replies
You may not post attachments
You may not edit your posts
---
HTML code is Off
---