Patio Cover/Pergola Installation Questions
04-01-12, 10:18 AM
Join Date: Sep 2009
Location: United States
Posts: 27
Received 0 Votes on 0 Posts
Patio Cover/Pergola Installation Questions
---
Hello all,
More of a lurker than a poster here, but have been looking around.
I live in AZ, and our back yard really isn't very functional right now. The only thing we have back there is a concrete patio that measures 24' x 16'. I'm looking to cover a majority of the concrete area of the patio. The bonus, is that the sun beats on the back of our house all afternoon until the sun sets. So the addition of a cover will will serve a purpose of keeping sun out of or back windows, hopefully cutting our energy bill a bit, and making the back yard a little bit more livable.
I am looking to add a pergola cover, or an attached patio.
With an attached patio, I would be looking to cut into the house, attaching a ledger between the floors, and extending the cover out about 12ft from the house. I would also want to have it slant down slightly away from the house. If I go this route I would more than likely cover the top as well. At this time, i am unsure of the generally accepted distance that a board can span unsupported with out having to worry about sagging of the board.
The other thought is a stand alone pergola, I would still like to span the width, 24ft of the patio, and from the house about 12ft out.
I'm not looking for someone to complete a design fro me, but I am looking for advice, references, or even books that I can do some more research through. I have attached a picture of the back yard as is.
I look forward to reading some advice and any research or references you my have.
Thank you,
matt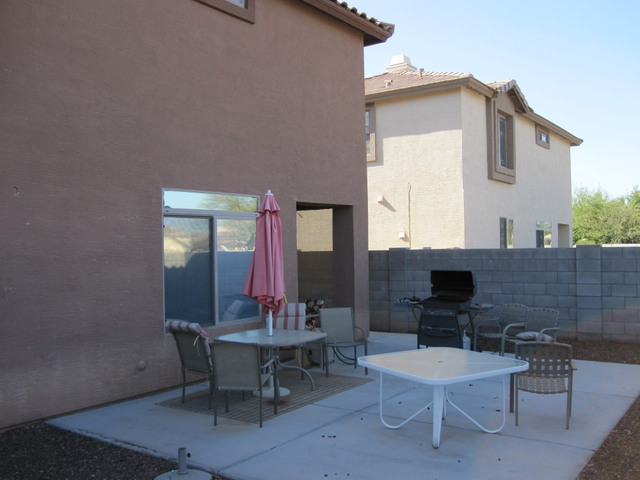 04-02-12, 03:54 PM
Your picture didn't make it to the post but I vote for the free standing pergola. The best thing to do is to have an architect design it for you. It's really worth the money.
Don't forget the footings.
04-03-12, 06:47 PM
Basically, you are looking at 3 options for the material to make the cover out of -- vinyl, aluminum and wood. And then there's the style of cover -- solid or lattice.
Do some searching around on the 'net. Kroy for vinyl, Metals USA or Amerimax for aluminum, and you might try sites like
Siding, deck, deck design, fencing, gazebos, sheds & pergolas
,
Choose Redwood for Your Outdoor Living Spaces | California Redwood
and
Real Outdoor Living / Wood, It's Real / Dream Deck Series / Real Outdoor Living
for wood.
There are plus and minuses for all 3. Do your homework.
04-03-12, 07:43 PM
Looks like the back of my brother-in-law's old house in Tucson!

I like the look of pergola's... but dude, I've been to Arizona. You just can't get enough shade in the summer time!!! IMO, I'd probably opt for EPS roof panels.

Google: +"Insulated Panels" +"Arizona room".

The nice thing about them is they provide great shade, are quite maintenance free, and you could even install ceiling fans under them if you have the headroom. Having a breeze and some overhead lights makes the space a lot more pleasant and usable at night when it starts to cool off.
04-05-12, 10:06 PM
With your temps and sunlight, I'd be tempted to do a solid (sloped) deck cover, attached to the house. You could build it using conventional framing and OSB, then have it professionally wet-mopped by a reputable roofer for many years of decent service. And at the same time, install 2 or 3 tinted, high-quality domed skylites to keep things from getting gloomy.

I did a similar install in NM many years ago, and it worked extremely well. No leaks, and cool but still bright enough with the skylites to make things livable.
04-11-12, 02:54 PM
My prejudice would be to go with the EPS panels that XSleeper mentions. Never have to worry about reroofing it; if you want to install ceiling fans, get one or more of the panels with a fan beam to support the fan; skylites (if you choose to do them) can be cut in very easily; and it can be done free-standing which means you don't need to cut into the stucco of the house (which I'm guessing is foam-core) -- a potential leak.
04-21-12, 12:17 PM
Join Date: Sep 2009
Location: United States
Posts: 27
Received 0 Votes on 0 Posts
Hey guys,

Thanks for the replies.

I like the idea of a sloped roof attached to the house personally. It would be more work, but I think it would provide a more livable area.

Our patio extends out 16ft from the house. I'd like to cover to about 12ft out minimum. How far can beams span safely?
04-22-12, 12:42 AM
Depends on the beam size. If you double up 2 x 8s (spaced at 8' over the full patio width), they'll span at least 16'. That's assuming a total deadload of 10 PSF, no liveload, and beam material good for a bending stress of 1200 PSI (no junk lumber).

You don't have snow loading, right?
04-22-12, 07:56 AM
If you are going with insulated EPS panels (which are very light), questions like that are usually answered by the company you order it from. In my experience, a 12x16' cover like that would basically have just two 8" Aluminum C-beams, they would run parallel with the house. A fascia channel would mount on the house, supporting that end. At 8' away from the house, you'd have two 4x4 aluminum posts (set in concrete footings) with one 16' long C-beam running parallel to the house. At 16' away from the house you'd have two more 4x4 aluminum posts (set in concrete footings) with another 16" long C-beam running parallel to the house. You could probably have at least another 2 ft of overhang, effectively making the cover 18' long.

All those things are designed by the company you purchase the cover from. They run the numbers and can tell you how big the beams need to be, where the posts need to be, etc. They would be able to give you firm answers since they design, engineer, and stand behind them.