Hip roof covered patio
03-02-13, 04:43 PM
Join Date: Mar 2013
Location: USA
Posts: 3
Upvotes: 0
Received 0 Upvotes on 0 Posts
Hip roof covered patio
---
I want to build a roof over my patio and attach it to my existing hip roof, I'm concerned about causing damage to my roof. I have plans and the lumber yard will supply everything that I need in a kit. Could someone advise me on what to do to prevent damage to my roof?

FYI:I don't want to use a contractor cause their prices are ridiculous 10 to 15k on a patio is crazy when the average cost for the buildout should only be about 3k at the most for labor and material.
---
Last edited by stickshift; 03-05-13 at

11:24 AM

. Reason: hopefully clarification
03-02-13, 05:30 PM
Join Date: Dec 2005
Location: USA
Posts: 36,608
Upvotes: 0
Welcome to the forums! In all fairness, it would help if you could post a few pictures of the proposed location so we can see what you see. Not real sure how you will attach a concrete patio to a roof, but anything is possible.....I guess. How you support it that far up in the air will be the trick. We'll wait on pix.
http://www.doityourself.com/forum/el...your-post.html
03-03-13, 09:58 AM
Patio
---
The title to your thread sounds like you want to install a hip roof over your patio which will be attached to your existing hip roof. Is this true?
03-05-13, 11:23 AM
Join Date: Oct 2004
Location: WI/MN
Posts: 19,023
Ladibug:

I made a change to your original question, please verify I have the correct idea - if so, I think some confusion over what you have in mind will be removed.
03-08-13, 05:20 AM
Diagram
---
Is this what you are proposing?(Overhead view)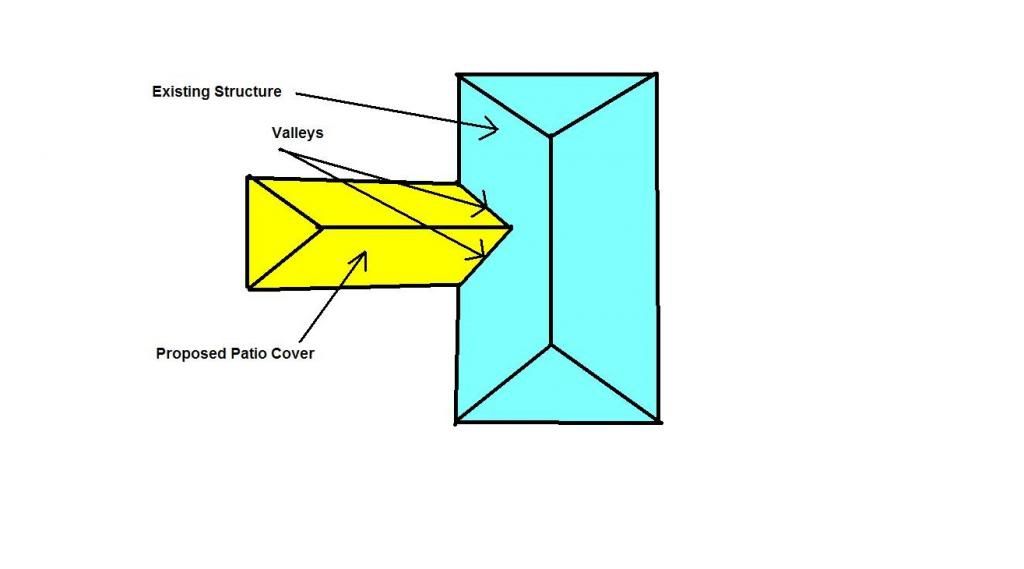 In this situation, the old roofing is removed where the new structure attaches to the old roof so that the new framing attaches directly to the old roof sheathing. Proper flashing is used in the two valleys when the old and new roofing materials are joined.
The pros will be along shortly to clarify.
---
Last edited by Wirepuller38; 03-08-13 at

05:46 AM

.