Stable platform for pool filter and pump
04-25-13, 04:14 PM
Stable platform for pool filter and pump
---
Hi,
I am replacing my pool filter. The old filter and pump sat on two 2'x2' concrete blocks. Those two blocks were laying on the dirt and over the years the some of the dirt got washed out from under the outer block. So before putting in new equipment I would like to make a stable platform for it and the pump.
Here's a picture of what it looked like before. You can see that the left side is hanging in the air. Once I removed the old filter and moved the pump out of the way, and stepped on that block, it was completely wobbly.
So I'm looking for advice on what people normally do for things like this. My first idea was to pave the area with some pavers. However, I don't know how to support pavers on the left side where the ground level is lower.
My dad says I'm crazy. He says let's just make a wooden form and poor some concrete in it. Simple, and I guess it would work. His second advice is to just put some concrete blocks (similar to this
16 in. x 8 in. x 8 in. Concrete Block-30161345 at The Home Depot
) in the ground on the left side for support, level the rest of the area and put the old 2x2 blocks back.
Do you guys have any better ideas?
Here are some pics of the area with equipment taken off. The pipe next to the fence is gas. In one of the pictures you can see that I cracked one of the blocks. Oops.
Thanks in advance!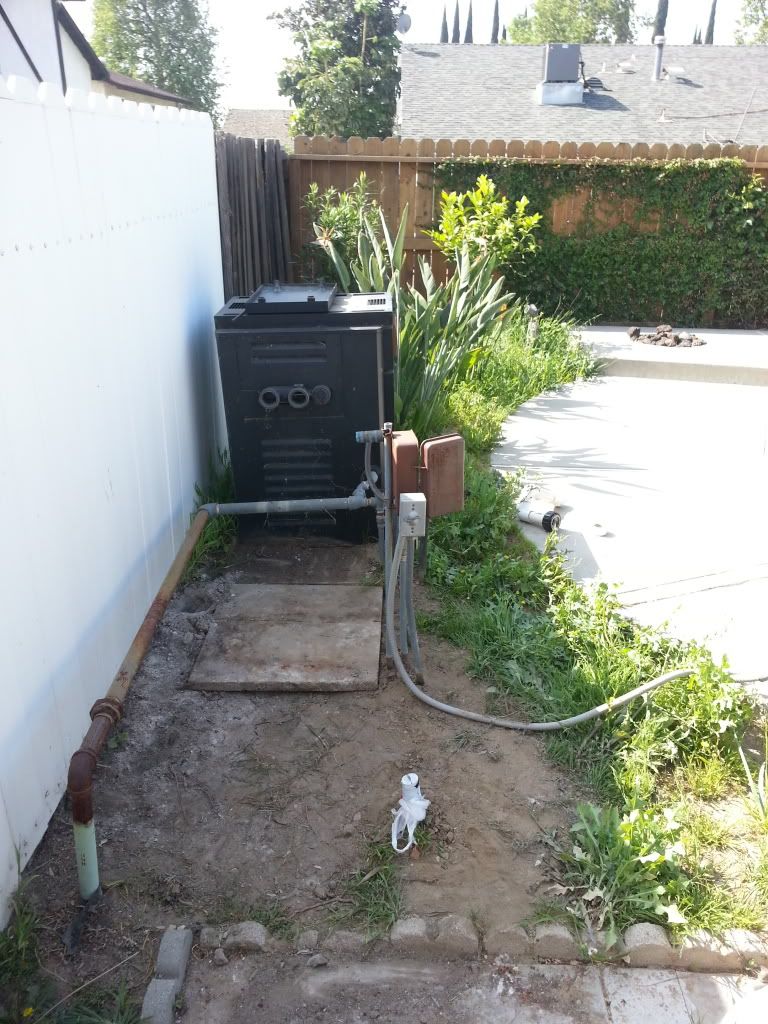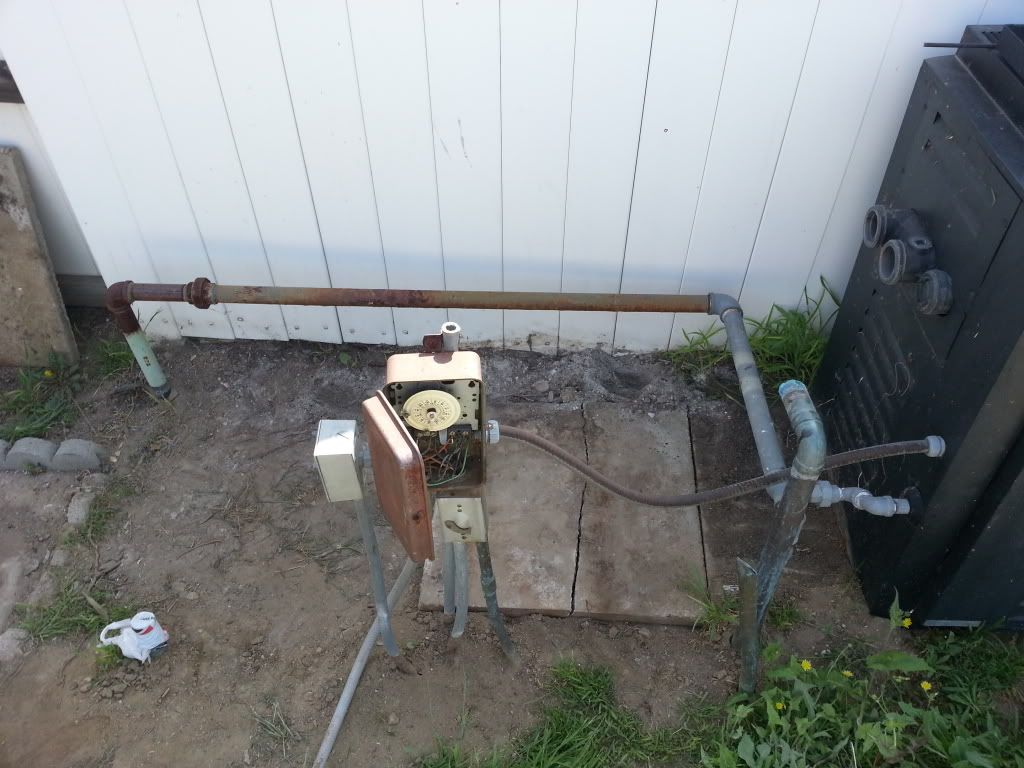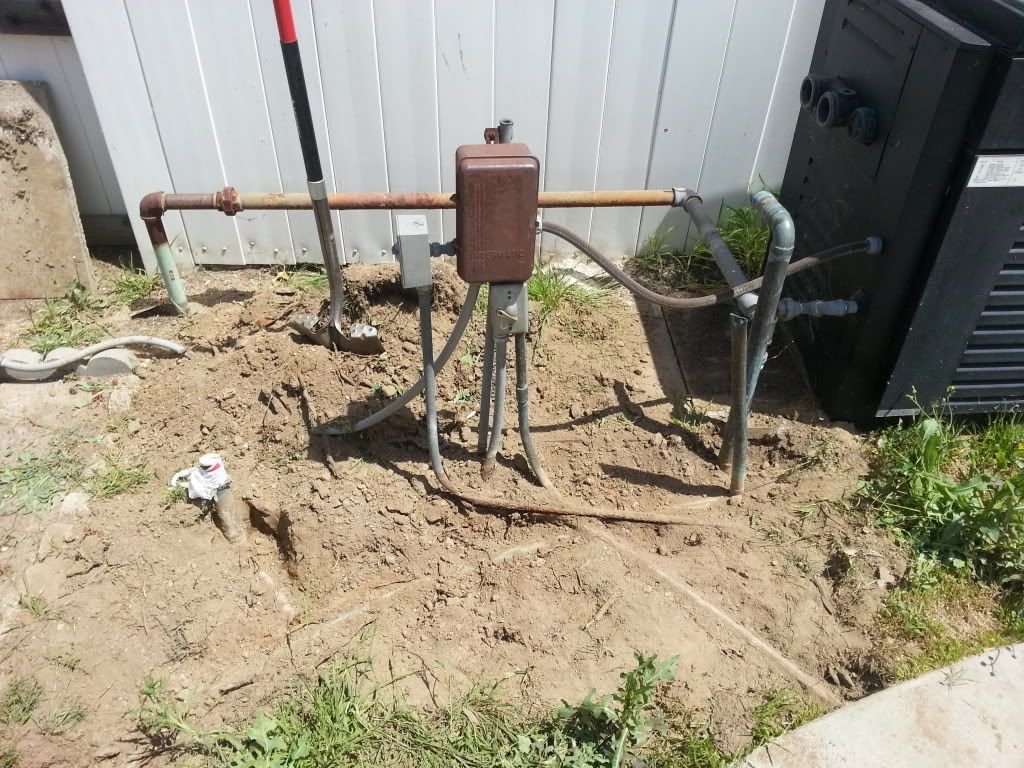 04-26-13, 02:37 AM
Join Date: Mar 2005
Location: USA - N.E.Tn
Posts: 45,409
I agree with your dad - pour a concrete pad. If you don't want do that much work you could mix up some mortar and make a bed to set your pads in.
04-26-13, 04:51 AM
Join Date: Mar 2003
Location: NC, USA
Posts: 26,800
Your dad has a good idea. His is probably the most permenant and proper solution.

You can also do your idea of concrete pavers. Level out an area with gravel slightly larger than what you need. You can use the gravel to build up the lower side and then place your pavers on top. Another option is to purchase a pre-made pad. They are often used for pump systems and HVAC gas packs & heat pumps.
04-26-13, 09:52 AM
Concrete it is then!
I watched this video on how to make a concrete pad in front of a door (
How to make a Concrete Slab with Sakrete - YouTube
). I guess I should put some gravel under concrete for drainage, like they suggest. Do you think I should put something inside concrete for reinforcement, in case of an earthquake? If so, what should I use? Also, how thick should the concrete layer be? The video talks about 4", but I'm not sure if it's 4" for gravel and concrete together, or just concrete.
04-26-13, 02:39 PM
Join Date: Mar 2005
Location: USA - N.E.Tn
Posts: 45,409
Most residential concrete is only 3.5"-4" thick. Around here we wouldn't bother with any rebar for such a small slab........ but we aren't plagued with earthquakes either.