Replacing old deck
05-30-13, 11:24 AM
Replacing old deck
---
Hi - Been a lurker here for a while. Spent the last week or so combing through forum posts and reading a ton relating to my upcoming project and decided to finally join to ask for feedback. I originally was planning on building a replacement to my current deck using a ledger, but based on all the threads I've read here, I'm now thinking of building a freestanding deck (that ties into the ledger for lateral support).
First, the deck that it's going to replace. Current deck is 20' X 10'4" and attached via ledger and 3 6"X6" posts. It also has a set of 3' wide stairs coming down the one side.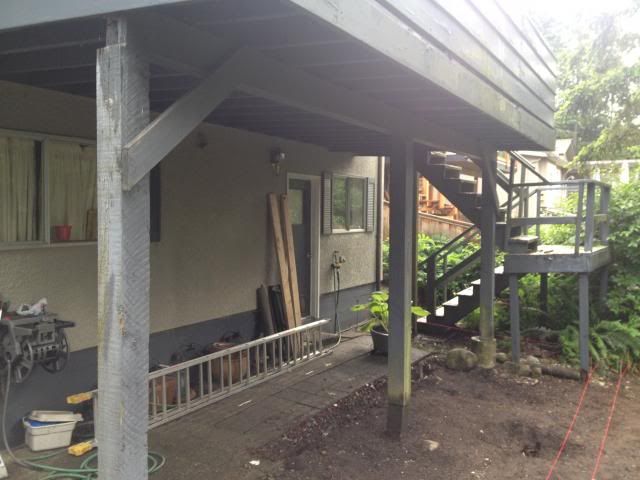 The main beam is built with 3 2X8s and the joists are 2X6s (as is the ledger).
Just for entertainment sake - here are some shots giving an idea of why I want to tear it down and start fresh....
The good footing: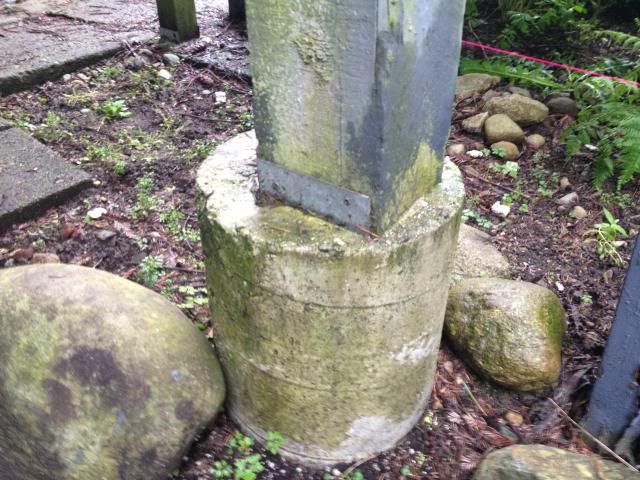 The not so good footings: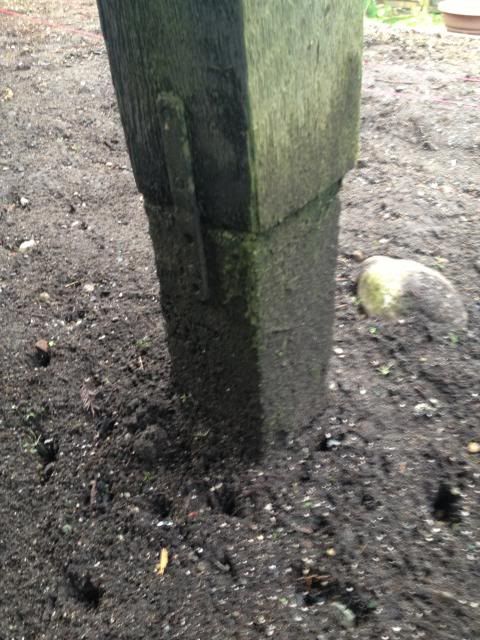 Stairs of despair: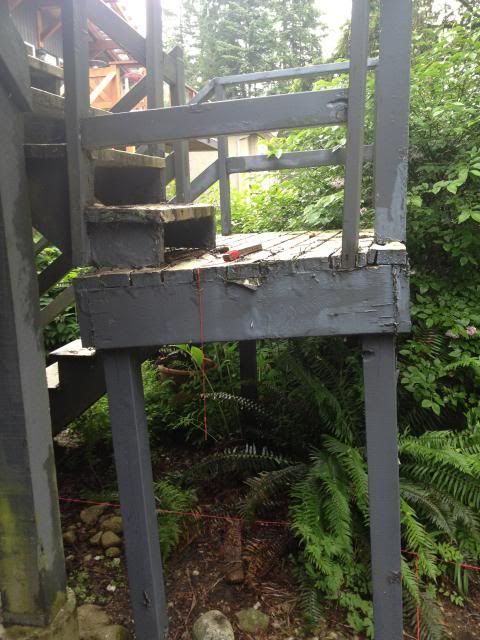 Stair "footings":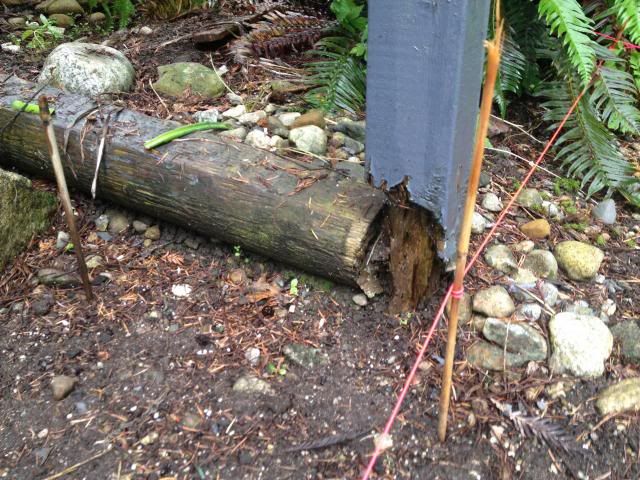 Joists: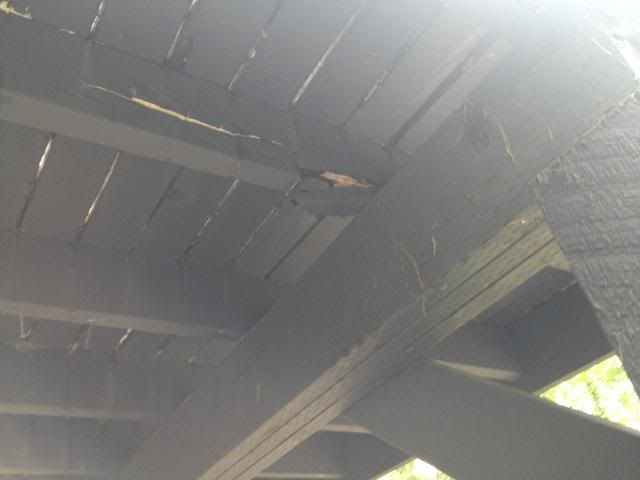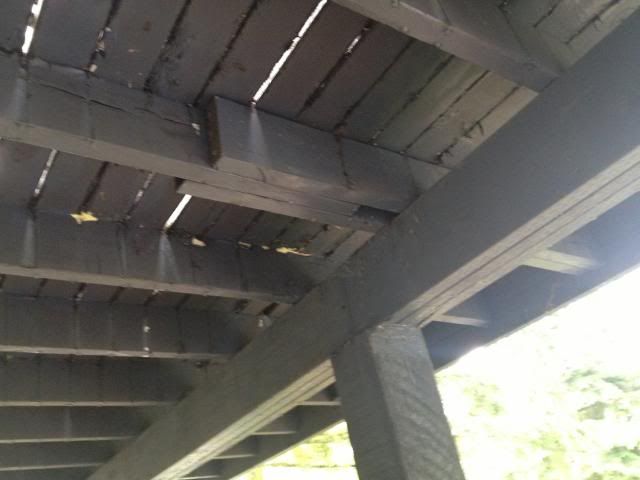 ....
What my current thinking is to get rid of the stairs (for now - looking at maybe adding a spiral staircase to get to bottom patio later) and add a bit of depth to the deck. So thinking about building out to a 12'6" X 24' deck: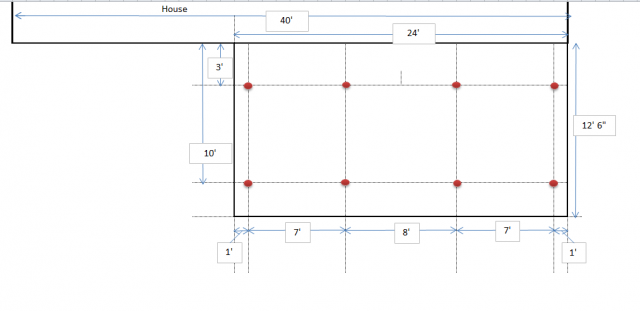 I would use 6X6 posts with properly dug footings (4' deep - not much frost here in PNW) and am thinking about going to 4 posts at the 3 foot and 10 foot mark with a 2'6" cantilever on the deck edge and 1' from the deck sides. Cantilever choice is due to sloping yard/landscaping walls but the 1' from sides is for asthetics.
Questions:
1: Does this plan work?
1: Can I stick with 3 2X8s for beams running parrallel to the house?
2: Are 2X6s good for the joists? currently they run 16" on center - could stick with that or up them 12" on center
3: Can I reuse the existing ledger? (assuming it's in good shape - is there any reason to replace it?)
3: Tieing into the ledger - should I be using joist hangers just as if it's a ledger style deck, or is there a diferent tactic?
Anything I'm missing here? Seems like I'm already overbuilding compared to what's been there for the last 15 years or so....
Thanks
Bob
05-31-13, 12:37 PM
Welcome to the forums Bob!
The carpenters are probably still at work but they should be along later. While I've built a few small decks, I mainly just clean and stain them
06-02-13, 11:31 AM
A few thoughts:
1. Do you really need 4' deep footings? Save yourself a bit of digging, and get an accurate figure from your local permit people. I'm a few hundred miles farther south than you in the Pacific NW, but our frost line here is less than 12" down.
2. Don't go with a spiral staircase. You will curse yourself in the future (trying to move large furniture or appliances between floors), and it will make the property harder to sell and possibly lower its value. I'd stick with conventional steps and landing, located outside of the deck footprint.
3. Your cantilever values are a bit off to me (and the IRC). The 3' at the house end should be dropped to 2'-6", and I'd also increase the ends parallel to the house from 1' to possibly 1'-6".
4. Joists should be at least 2 x 8s according to the IRC; they will result in a much stiffer deck (less bounce) than the 2 x 6s you're suggesting. The triple 2 x 8 beams could be close to over-spanned for your configuration, depending on the species of wood you use. But they would obviously give you more headroom underneath than if you go with deeper members.
5. If the original ledger wasn't flashed, it's probably mush and should be replaced. If you poke it with an ice pick, its condition should make the call an easy one. The IRC has some descriptive details for using ledgers to stabilize free-standing decks.
06-02-13, 12:06 PM
Join Date: Dec 2005
Location: USA
Posts: 39,964
Sorry for the delay. I could have sworn I commented on this yesterday. I (oddly) mirrored Bridgeman's comments, except for the cantilever, which I would think should only be 2'. Footings should be the call of the AHJ, and certainly would not be 4'. I won't even ask how those skinny footings "appeared", as they couldn't have been intentionally put there
06-02-13, 01:07 PM
Thanks for the feedback/thoughts Bridgeman and Chandler. I just checked the frost depth map, and yeah, I can do a little less digging. Will also play around with the plan for the cantilever numbers and take a look at the condition of the current header.

As for those awesome skinny footings, nothing would surprise me with this house. I ripped up a ground level deck already and a rotting tree stump was one "footer" and a couple of shimmed cinder blocks were being used for a couple of others... Everything so far has been bad DIY shortcuts as I progress through the renos.
06-02-13, 01:36 PM
Forget everything you see in the current deck, and do not use any of the previous as a guide as to how you will design your new deck. I see too many errors in the current deck and am also concerned for your safety when you go to tearing the old down. Please be careful.
Here is the most recent Deck Building Guide that you would most likely find as a handout at the local permit office. They would have area specifics called out such as footing size and depth. It will answer most all of your questions. Take some time to read it all, there is a lot to digest.
http://www.awc.org/Publications/DCA/DCA6/DCA6-09.pdf
For others, note that the span tables in this guide have changed. June 1, 2013 per the attached spans will be shortened. Might want to save a copy.
06-03-13, 12:12 PM
Thanks for the deck building guide. Will read through and ensure my plan is up to snuff...
One more question.... so I like the idea of pushing the house side cantilever to 2' or 2' 6''. But of course I've encountered one mother of a rock at one of those post placements (see pics)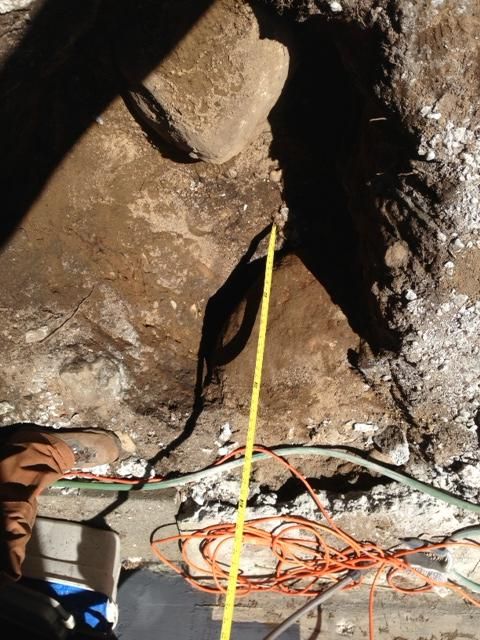 Some googling tells me that drilling some holes and then using some plugs and wedges can split the rock....
http://www.youtube.com/watch?v=NueQ2Lx6eKo
But I thought I'd check here that this is what I should do.... or can I do something like pour concrete all around the rock and have the filled sonotube on top (if that makes sense)?
06-03-13, 12:48 PM
If you're young, healthy and ambitious, go for it. But if that's not the case, why not do it the easy way? Buy a small container of S-Mite (a non-explosive demolition cement, from Sumitomo Cement Co.), drill a series of holes in the rock to the depth you want and at the pattern recommended by Sumitomo, then mix up the powder with water and pour it into the holes. For as small a footprint you need (12" dia.?), I'm guessing just 2 or 3 holes ought to do it. Sit back and enjoy a beer, as you wait and listen for the magic powder to do its thing (you'll hear the cracks as they proceed to break up the rock, with low-pitched, snapping sounds). Pick out the rock fragments, set your Sonotube and rebar, and you're ready to pour some concrete.
06-03-13, 05:42 PM
Drilling the holes is the PITA when it comes to splitting rock. Using the feathers and wedges pictured is probably just as easy. Just drop them in the hole and give 'em a tap between beer swigs.