Looking for opinions on Deck redesign
08-07-13, 09:02 AM
Join Date: Aug 2013
Location: USA
Posts: 4
Received 0 Votes on 0 Posts
Looking for opinions on Deck redesign
---
Hey everyone, awesome forum. Not sure how I haven't found it before....
Long story short, I did some drawings about 3 years ago on a deck that I wanted to build on the back of my house over an existing patio. I did the drawings in AutoCAD, took them to the city, got the approval and then only managed to hang a ledger board on the house and break away some of the patio to start digging footings. Haven't made any progress since. I have all the composite decking and railing covers in my garage and just really need to get this built to free up the space and gain some nicer usable space outside.
Here are the original designs that were approved by the city and some existing photos of the property.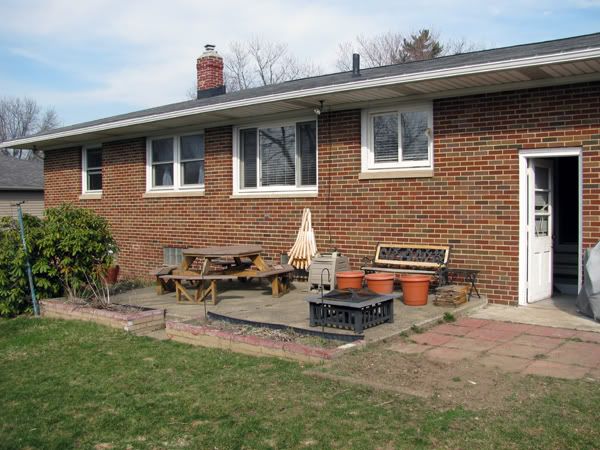 The plan was adding the ledger board, then running beams out from the ledger.
Then adding joists on top of the beams.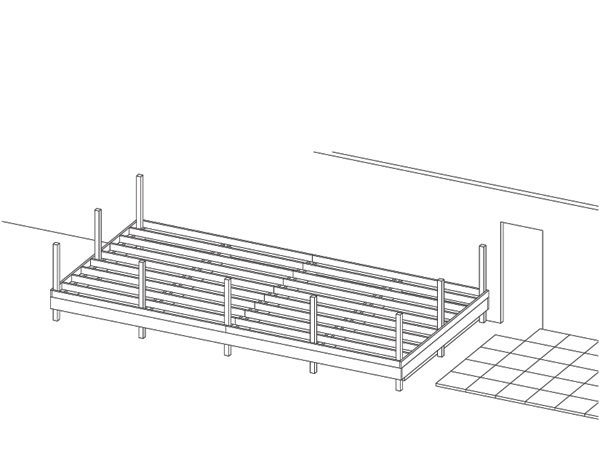 This would allow me to use the 12' decking planks perpendicular to the house.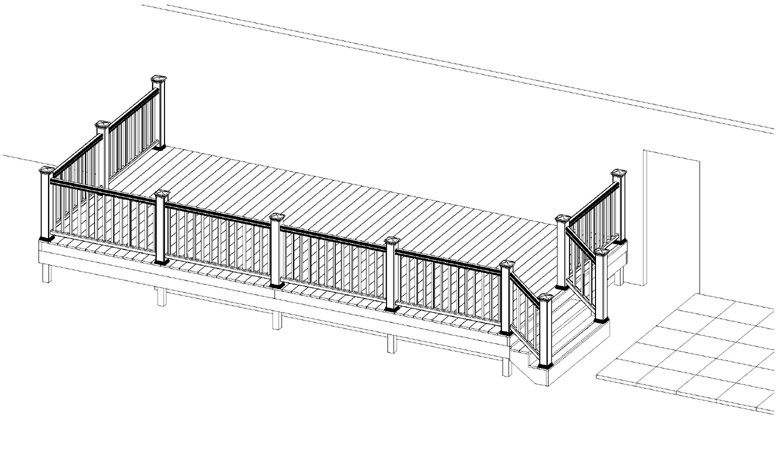 After looking back at this design it doesn't make much sense to double stack the beams and the joists though? I much rather use the joists in between the beams if I can? This is where I'm looking for help. I'm trying to go back through and redesign this to make more sense.
So here's where I'm at. This uses 2x10s doubled up for beams every 6' on center. Probably overkill? I'm thinking I might be able to go to 96 on center? I'm sure that would depend on the joist size. If I use 2x8 joists I should be able to go to 8' spans right? It will get some pretty good use out of it, cookouts and what not, Could be 6-10 people on it? I originally planned on using 4x4s in the ground that would run all the way up so I can use them for posts on the railing. I was also planning on using 4x4s under the middle of the beams anchored to the existing cement patio. If I change to doubled 2x10 can I still use the 4x4s under them? There's only 6.75" between the bottom of the 2x10s and the cement patio. This will also throw off the way I planned on doing the railing posts.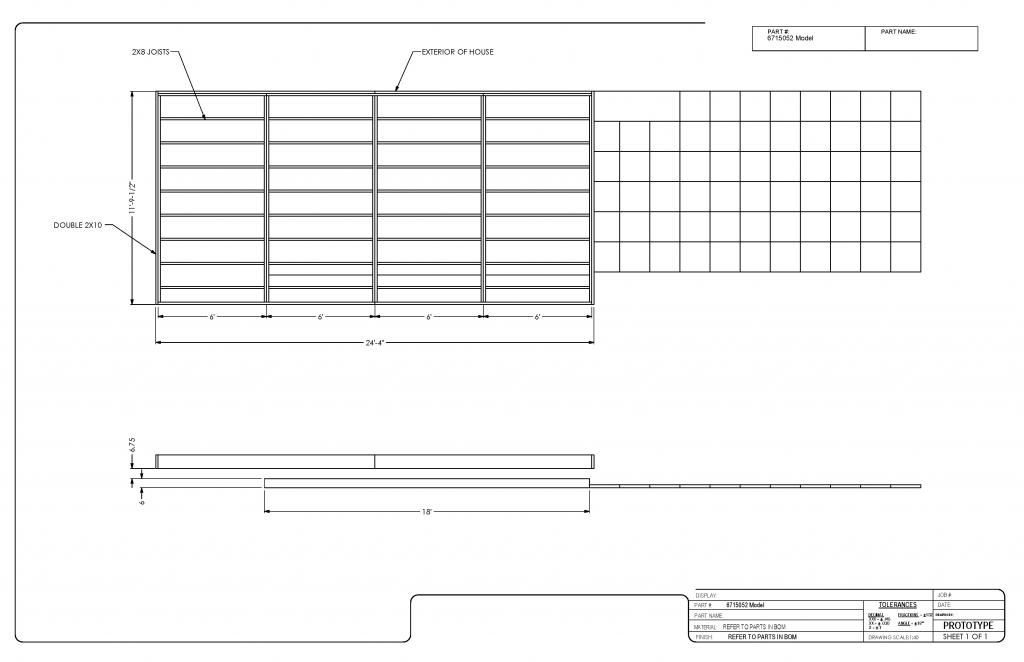 Looking forward to reading some feedback. Sorry for the all the questions in one post.
Nick
Sponsored Links
08-07-13, 03:22 PM
Join Date: Dec 2005
Location: USA
Posts: 39,967
Welcome to the forums! Nice pix and drawings. It's doable, but bear in mind nothing can be attached to you brick. It is a veneer and can have nothing attached. Can you get around that obstacle?? Sure. Make it a free standing deck. You won't have much height to it so swaying can be minimized easliy. You'll need to dig footings everywhere you place supports, so be ready to either core your patio or deep six it.
08-07-13, 04:34 PM
Your first design, while taller in stature, will also provide adequate ventilation underneath that will help prevent mold and mildew build-up. There is a current thread with a rotting deck from lack of ventilation. I think that if you are going to build a deck with railings, you want to feel majestic and tower over your surroundings. Railings 9 inches off the ground seems silly. A ground level deck will be little different than the concrete patio you have now except that your bank account will be slightly lower. You will have to pull new permits to proceed whichever way you go.
08-07-13, 07:16 PM
Join Date: Aug 2013
Location: USA
Posts: 4
Received 0 Votes on 0 Posts
Thanks for the replies. Another concern I had with doing the deck the original way was how would I cover the facing of the beam and joist if they are stacked on each other? It would be around 18" tall plus the decking. Is there a fascia I can get that tall?

Cost isn't really an issue. I already have all the decking and railings, lighting too. It was actually left over from a project I helped with. I just have to buy the lumber for the structure.

I'm just worried about how the original idea will look with the tall fascia.
08-08-13, 04:16 AM
Join Date: Dec 2005
Location: USA
Posts: 39,967
I would not consider a "fascia" for the full height of the band boards. Instead, after all the decking is installed and cut flush with the bands, install a 2x4 around the band and allow it to rise up and cover the ends of your decking. It will give a shadow effect and will hide the ugly on the cut ends of the decking.

OK, I re read post 4 and don't understand "stacking". You would attach your joists to the beams using joist hangers to where they were flush to the beams. Much simpler and shorter, less expensive lumber. All your beams should be sitting on vertical support and not just fastened to the band/ledger, and should be bolted to the vertical support.
08-08-13, 06:32 AM
Join Date: Aug 2013
Location: USA
Posts: 4
Received 0 Votes on 0 Posts
I see what you're saying. In the original design the 2x6 joists are on TOP of the beams. Look closely at the second drawing. You can see the 2x10 on the bottom and then on top is the 2x6 (stacked) so basically 16" tall (nominal of course).

I MUCH rather use joist hangers and then span the joists in between the beams. That's why I started the redesign. But in the original design. I had a 4x4 that was in between the 2x10s. If I hang the joists on either side that will leave a 3.5" gap in between the beams which certainly wouldn't be good for the decking that will be running perpendicular to the house?
08-08-13, 07:15 AM
Join Date: Aug 2013
Location: USA
Posts: 4
Received 0 Votes on 0 Posts
I think this is what you're talking about, but there is the gap between the 2x10 beams where the 4x4 is bolted through. Would I just have to put some short 3.5" boards in between those beams to add the support for the decking?
08-08-13, 02:30 PM
Join Date: Mar 2013
Location: USA
Posts: 457
Received 0 Votes on 0 Posts
08-08-13, 04:35 PM
Join Date: May 2013
Location: USA
Posts: 12
Received 0 Votes on 0 Posts
Framing should sit on posts and not attach to its side
---
In this application I would prefer the joists in between the beams with joist hangers. Even if it was built higher. Also if a beam is supposed to be a double 2X8 or 2X10 or whatever they need to be sandwiched together to achieve that strength. Attaching them on either side of a 4X4 0r 6X6 doesn't achieve that strength. The other issue is just like the old saying about a chain being only as strong as its weakest link the whole deck structure is only as strong as the shear strength of the fasteners attaching those 2X's to the 4x4's. I have repaired many decks with this very problem. The worst one had used 4" lag screws (2 per post) and then put a hot tub on the deck. Luckily it hadn't fallen but those lag screws looked like they were angled up at a 45 degree angle when they had been installed straight.
08-08-13, 10:19 PM
Use 6 x 6 columns, not 4 x 4s, as per the IRC code previously linked. Use your 4 x 4s for the railing posts, properly secured to the framing members with steel brackets, also as per the linked code. Also, cantilever all beams at the house end, to avoid trying to dig and pour footings where your house's footings will be in the way.
08-10-13, 02:53 PM
Join Date: Mar 2013
Location: USA
Posts: 457
Received 0 Votes on 0 Posts
4x4 posts may be acceptable; pp. "C6"....new footings within 5' of house require same depth; always check locally.

Gary
08-10-13, 09:16 PM
For the record, C6 of the referenced DCA 6 states that "there is not enough cross sectional area in a 4 x 4 post to permit the let-in notch detail shown in Figure 8." Main member splicing can also be problematic, as there just isn't enough width for maintaining proper end and/or edge distance of the fastener holes. No sense in making Swiss cheese out of a column (post) top if one doesn't have to.
08-11-13, 09:56 PM
Join Date: Mar 2013
Location: USA
Posts: 457
Received 0 Votes on 0 Posts
I understood one could use 4x4 posts with the restrictions listed there as posted earlier:
"Provisions for Alternative Methods and Materials allow for other post sizes and post-to-beam connections if approved by the building official. For example, in order to use a 4x4 post, it would require the use of a post cap connection as shown in Figure 10. There is not enough cross sectional area in a 4x4 to permit the let-in notch detail as shown in Figure 8. Connector hardware for a 4x4 post is generally limited to
2-ply
nominal 2 inch beams or 4 inch nominal beams."
Since the OP is using a
2 ply
beam and under the post height/load requirement (but cannot use the tables given as he has opposing hangers that loads may require engineering for closer post spacing), this may work; always check locally;
BC-BCS Post Caps
Gary
Posting Rules
You may not post new threads
You may not post replies
You may not post attachments
You may not edit your posts
---
HTML code is Off
---