Need Deck Advice
01-23-14, 12:55 PM
Join Date: Jan 2014
Location: Canada
Posts: 27
Received 0 Votes on 0 Posts
Need Deck Advice
---
Good Day,
This past summer I stripped my in-laws deck using the approved cleaner the painted the deck with Restore. This is a product from Home Depot. Now this product is chipping and peeling off.
SEARCH - Restore - Home Improvement, Home Renovation, Tools, & Hardware | Home Depot Canada
Not I'm not sure if it's because I in Canada and we have harsh winter conditions or what is causing it to peel.
The reason I like this product is it gives a rough anti slip surface.
Anyone have something else I can try that would last better?
Thanks,
Sponsored Links
01-23-14, 02:27 PM
Join Date: Mar 2005
Location: USA - N.E.Tn
Posts: 46,175
I don't have any working knowledge with that coating but I've been leery of them since I first seen them advertised. Thick coatings just don't fair well on decks exposed to the elements. I'm not surprised that it's peeling
You have 2 choices, either you can scrape up the loose and reapply that coating as needed or completely strip it and use a more conventional deck stain.
01-23-14, 07:54 PM
Briefly looking at the product's link you provided, the stuff is supposed to have a "limited lifetime warranty." And their description makes it sound like it should stick like glue, even to the point of sealing down splinters. If you meticulously followed the surface prep and installation instructions, it's possible you were sold a defective batch. While rare, such things do happen. In my DOT days, I can recall several instances of product failure (construction epoxy and paint), and each time the manufacturer furnished new product and paid for the labor costs to reinstall same.

You should contact the manufacturer's technical department, explain the situation, and then ask them what they are going to do about it. It's possible one of their tech reps might even make a site visit to the deck in question, taking some samples back to their lab for evaluation. Keep in mind that a possible downside to this option is that if you screwed up the installation, their lab guys will easily be able to determine that.
01-23-14, 09:17 PM
You say you used an approved cleaner... does that mean you used the Restore brand deck cleaner? What sort of rinsing or neutralizing was done after washing the deck? Were the deck cleaner instructions followed? And how long did you wait after washing the deck before applying the Restore product? A day? A week? 2 weeks?

Which Restore product did you use to finish the deck? Vertical Restore, Deck Restore, Restore Stain? What was the method of application? Brush? Roller? And what were the weather conditions when it was applied? Cool & cloudy? Hot and sunny?
01-24-14, 05:50 PM
Join Date: Jan 2014
Location: Canada
Posts: 27
Received 0 Votes on 0 Posts
This is the cleaner used, RESTORE Restore Deck & Concrete Cleaner

The deck boards were washed with this solution using a firm brush. Afterwards the deck was rinsed with garden hose using a nozzle. This was left for approx. 5 days to dry.

This product was applied,
The Deck Restore 3.75-Gal. Acrylic Liquid Armor Resurfacer is formulated to beautify and protect exterior wood and composite decking, docks, stairs and more. The 1-part, acrylic formula is water based, and it is ready for application. It helps to lock down splinters to make surfaces more barefoot friendly.

It was applied with Restore 9.5 Inches Roller, this roller leaves the surface rough. This was the effect I was looking for.

The days applied were warm, slight breeze and partly cloudy, as best as I can remember.
01-24-14, 06:58 PM
Was the deck previously treated with any sort of stain or water repellent? That could be affecting the adhesion. Also,
the product PDF
on their website suggests that when washing the deck, "a power washer may provide best results." Their website also suggests that slick surfaces may not provide good adhesion, and that such areas "will require more preparation such as sanding or pressure washing."
Also, did you apply 2 coats of Deck Restore, as directed? That .pdf also seems to indicate that routine maintenance is needed. In their "cost analysis" example, they say, "Now let's say the new finish of Deck Restore™ last ten years with routine maintenance."
The key words seem to be... last 10 years WITH routine maintenance. Not that it will last 10 years with NO maintenance. Answering the question of how long the coating should last, they say, "with simple, routine maintenance and occasional re-coats, your system could last as long as you own your home."
Even if you have done everything right, it seems that you may need to do some "routine maintenance" from time to time.
01-27-14, 01:44 PM
Join Date: Jan 2014
Location: Canada
Posts: 27
Received 0 Votes on 0 Posts
Question Replies
---
Sorry for the delay but I wanted to get some photo's
Yes there was stain applied. It was very faded and it was time to do again. This is another reason I decided to try Restore. It was not pressured washed. I also did not sand the surface but would not make the surface more smooth?
Two coats were applied, first coat was hand brushed then with the Second was rolled using their recommended roller.
I understand routine maintenance but I think this is more than a touch up.
I would call this mice,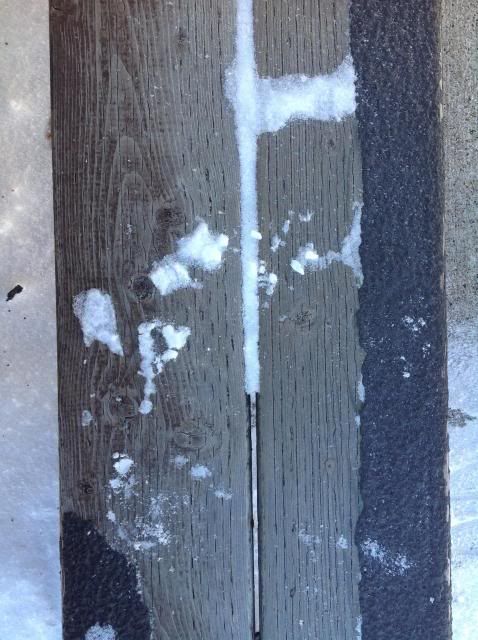 01-27-14, 05:15 PM
I'd suggest hitting it with some 80 grit sandpaper. Sanding with a high grit like 220 would probably make it too smooth for good adhesion, so a course sandpaper like 80 grit is what you want. I would assume that the smooth surface and the previous stain are just causing some adhesion issues.

I'm sure that if you asked the company, "routine maintenance" would mean finding and identifying areas just like this... sanding them, spot applying 2 coats, and hopefully you will find less and less spots like this as time goes on.

Of course as the deck begins to age, there will probably come a time when you will begin to see more and more of this sort of thing. Nothing last forever, and nothing is truly maintenance free.
01-27-14, 06:54 PM
Join Date: Jan 2014
Location: Canada
Posts: 27
Received 0 Votes on 0 Posts
Many Thanks for taking the time to helping home out. Come spring I will rough it up with the 80 grit sand paper and recoat.
Posting Rules
You may not post new threads
You may not post replies
You may not post attachments
You may not edit your posts
---
HTML code is Off
---