Extending concrete porch approx 4-6 inches
04-19-14, 09:32 AM
Extending concrete porch approx 4-6 inches
---
Hi y'all,
This is my first post, so bear with me!
We have a covered back porch that we are wanting to eventually screen in. The back porch is a concrete slab. The vertical support posts are 4x4's that look like they were sunk into holes in the ground then surrounded with concrete... so if we are to screen in the porch, I understand that the best thing would be to extend the slab, so that we're not screening in about 4" of the ground.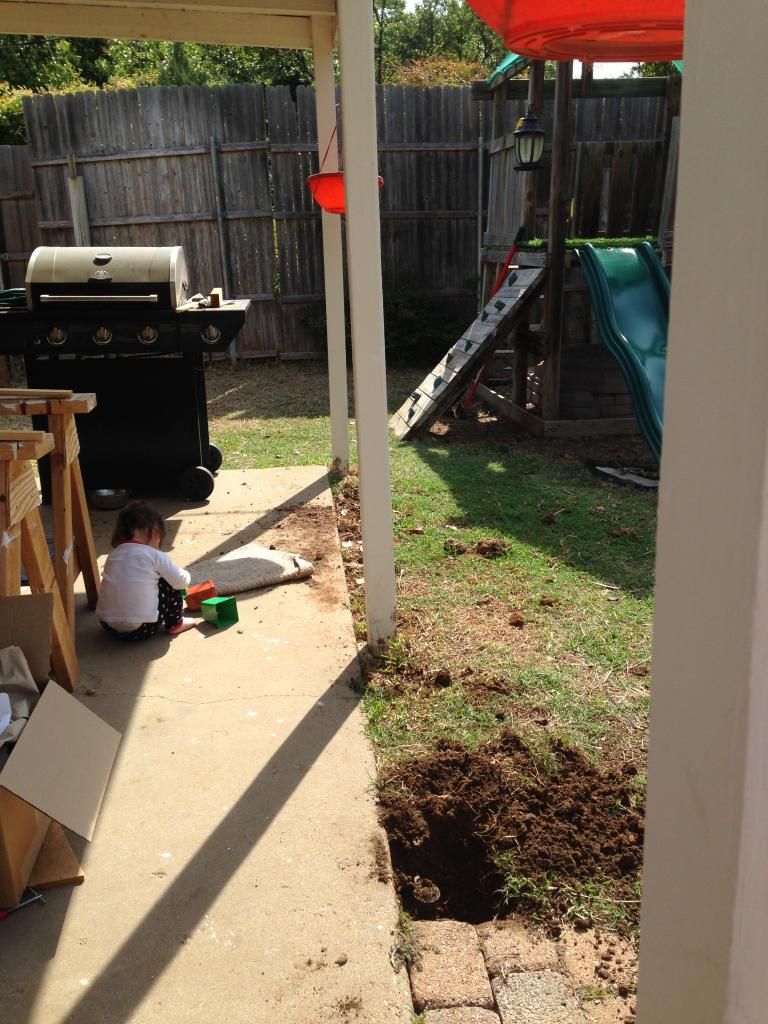 I've been reading DIY tutorials online, and have done some digging to take a look at what we'll be dealing with. It all seems pretty straightforward, but was wanting to get some opinions and tips from those who might have more experience than us. I've included a few pictures for reference since I'm probably not doing the best job of explaining things. I can take more/better ones if needed. Sorry about the mess - we've got a lot going on.
The slab seems to be about 6" thick. Tutorials generally say to dig down about 9-10", put in a 4-5" layer of find gravel/sand and tamp it down to 3-4" (for a 6" slab). After that, use 2x6's and stakes to install the form for the edges, fill in with concrete, and even out the top with a 2x4. Since we're filling in such a narrow gap (as opposed to a large, wide area), is there anything different/extra to take into consideration? What should we do about mixing/pouring the concrete? Which concrete mix do we use?
Other thing going on - the "corner" posts are not exactly in the corners. Is this going to create an issue later down the line when we get to actually screening in the porch? Is there anything we can do other than stick a 2x4 on the sides of them? I'm not sure why they were built the way they were, seems odd to me!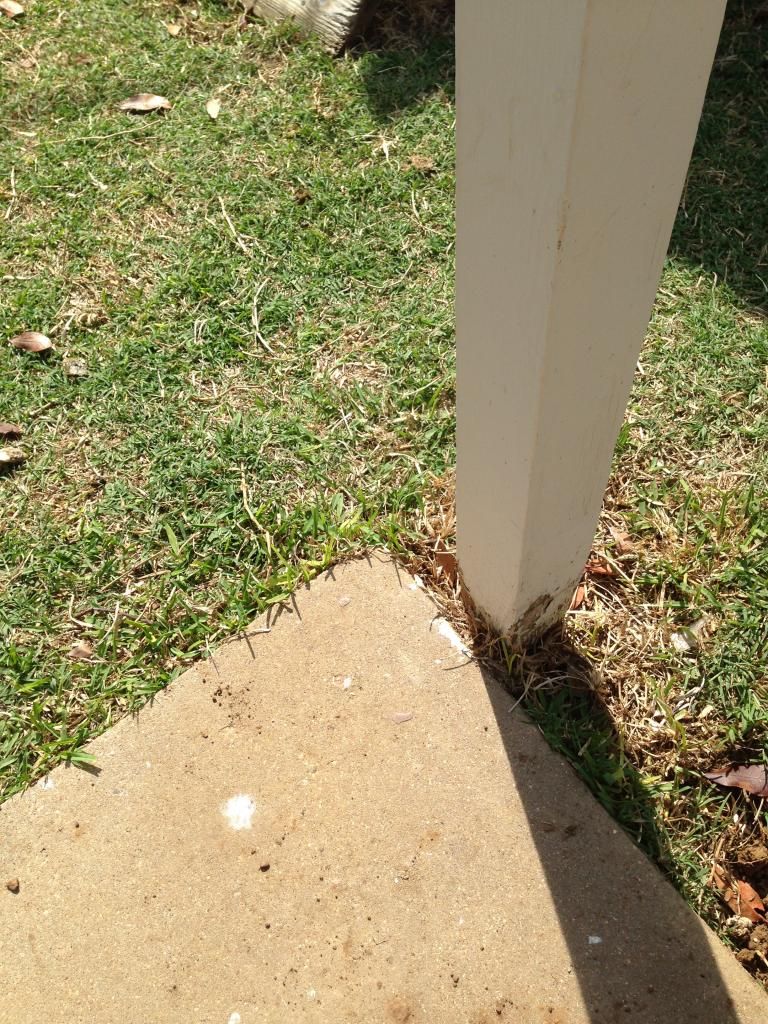 Any suggestions/help/tips/etc. would be much appreciated! Thanks!
Sponsored Links
04-19-14, 05:34 PM
I would go with gravel over sand for beneath the concrete.

Also, ideally you want to put some maybe 5/8" rebar about 5-6" into the existing concrete, with a few inches sticking out. This will help transfer some of the load from the new slab to the existing. I would put them about 2.5 feet apart, with it ending about half a foot or foot from the ends. You want to drill the holes so that you have to tap the rebar into them, as opposed to the rebar flopping around. There is epoxy sold that will hold the rebar, but you won't need that if the bar fits tight. You could also drill the holes slightly downwards, so that the rebar will be pointing slightly upwards when you insert them.....that will help with holding it there. Alternatively, you could use anchor bolts that stick out a bit....you just want to "attach" the new concrete to the old.

To drill the holes, use a hammer drill. You can rent them, but Ryobi has one that is like $60 that is more than adequate for DIY use. It has a normal drill setting and one that will sound like a little jackhammer, which will drill into cement, brick, or stone really fast. You would use a masonry drill bit for this.

Just use normal concrete mix. Be prepared to finish the edges with an edger if you want a more finished look. A decent(not super expensive) trowel would be good to have to, and it can be used to screed(level, as opposed to using the 2x4) since it is not that wide an area.
04-20-14, 04:06 PM
I don't see any 4 x 4 columns "surrounded by concrete." Those pictured appear to be embedded in soil, with the nearest concrete a few inches away. Am I missing something?

If the bottoms of the columns are soft and rotted from water exposure, you should consider repairing or replacing them before pouring concrete around them. Waiting until after the concrete is in place will make for a lot of extra work.
06-09-14, 11:02 AM
Hi Emilee, I'm interested to know how your project turned out. How did you end up doing it and approx. time and cost? I'd appreciate any tips or pictures you may have. Im looking to do nearly the same thing with my patio.
06-09-14, 03:13 PM
Join Date: Dec 2005
Location: USA
Posts: 39,967
Roovolution, welcome to the forums! Not sure if the original poster is still with us, but generically you do not embed posts in concrete. If they are, the porch should be supported and the posts cut and stubs dug up. Posts should sit on solid concrete footers on top of post bases, secured to the concrete footer. If you plan on extending the concrete, the post footer should be at the same level as the proposed extension so they will be even. From that, you can pour an extension after forming it up and installing a tie in system to the old slab, such as rebar. Bridgeman can offer more on this, so I'll defer to him.
06-10-14, 02:02 PM
Join Date: Dec 2005
Location: USA
Posts: 39,967
It is always better to have the posts on flanges fastened to the concrete if for no other reason than to have the ability of removing them should the need arise. Aluminum and concrete, chemically, are not the best of friends, although I have seen aluminum posts embedded for decades without problems.
Posting Rules
You may not post new threads
You may not post replies
You may not post attachments
You may not edit your posts
---
HTML code is Off
---