Ideas on screening in a deck....that sits 20' in the air??
06-02-14, 08:27 AM
Join Date: Dec 2013
Location: United States
Posts: 3
Received 0 Votes on 0 Posts
Ideas on screening in a deck....that sits 20' in the air??
---
Looking for ideas on how to screen in 2 decks that sit one on top of the other. Problem is the first deck starts 20' up and the second deck which is above that starts 30' off the ground.

My home sits on a slope so we have 2 stories in the front and 3 in the rear (walk out basement. Both decks are on off the rear of the home. is renting, setting up, and working off of scaffolding my only option?

I have screened in decks before but never had to deal with this height.

I was thinking about doing it from the inside but I cannot find anybody online with pictures or advice.

thanks
Sponsored Links
06-02-14, 09:56 AM
Pump jacks and walk boards are another option. They will work but can be a bit unnerving until you get accustomed to them. Aluminum vertical poles work more reliably though two 2x4's nailed together is more common. I will NEVER go up on pump jacks without taking a hammer along. Far too often I've had them bind on the pole and need a hammer & some pounding to get them moving again.
Scaffolding is another option though at the height you need it would be a major job just erecting and tearing down all the scaffolding not to mention the rental cost for so many pieces.
Depending on the terrain renting a man lift might a good option. It's per day cost will be higher but there is very little setup time and it will allow you to move around and work more quickly.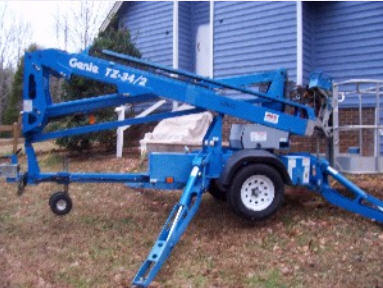 Doing the screening from the inside could be done if you don't mind attaching your screen to the inside of your framing. The screen could be stapled in place or you can buy deck screen hardware that has a groove to accept the screen and spline.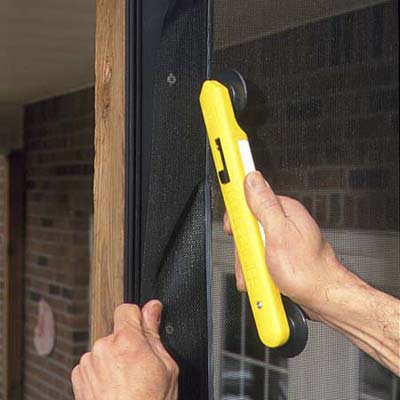 06-02-14, 10:43 AM
Join Date: Mar 2005
Location: USA - N.E.Tn
Posts: 46,417
I've painted a few houses on a side of a hill like that and when a longer extension ladder doesn't work - it's usually time to erect scaffolding. Sometimes you can build a base at the bottom to set extension ladders on.
06-02-14, 02:59 PM
Join Date: Dec 2005
Location: USA
Posts: 39,967
We deal with such steep climes all the time here, and often have to erect scaffolding with standoffs to stablize it. Fall off the back end and there is no bottom until you reach the bottom of the mountain. If there is any type pad or semi parking area, I would recommend an articulating man lift. It puts you exactly where you want to be without the heavy hauling of scaffolding up and down. The Terex's we use can reach upwards to 45'.
06-02-14, 08:44 PM
I'd do everything from the inside, where falling will result in nothing worse than a bruised hip or sore elbow. It's not that working up high scares me, as I retired from DOT inspection work, where in one state our tallest structure was 623 feet above the canyon bottom. Doing any job at height always goes much slower than ground level, moreso because you spend as much time tying off the lanyard as you do working.
06-03-14, 06:03 AM
If you're looking just to use a temporary screen for summertime use then just drape cloth screen from the inside. If you're looking for a permanent screen you might consider a professional or rent the equipment others have suggested.
Posting Rules
You may not post new threads
You may not post replies
You may not post attachments
You may not edit your posts
---
HTML code is Off
---