paver patio with edge blocks question
06-16-14, 01:07 PM
paver patio with edge blocks question
---
Hi,

I am installing a paver patio with tumbled belgian paver. Since the patio will have a freeform curve, for the edges I am using an Belgian Wedge.

The wedges are 3.5" tall and I will place those directly on the compacted gravel base and build my perimeter first.

The pavers are only 2.25" tall. Which leaves me with a 1.25" height difference. I want the pavers and perimeter block to be level or the paver to be just slightly higher than the perimeter.

My question is: Do I make up the height difference with sand?

I know that with a 1" sand base after the pavers are installed and compacted you end up with a 3/4" sand base.

Also, do you think I need to add a plastic edger to around the perimeter blocks?

Thank you.
Sponsored Links
06-16-14, 01:18 PM
Yes, I would use plastic edging or some other edge material to hold your edge blocks in place. I've never done what you're planning but I think you will need to have your edge blocks also resting on sand. I don't think you will be able to get them level and straight if they are sitting directly on the stone. I would probably try cutting your edge blocks so they will have the same thickness as your field pavers and not try to make up the extra 1 1/4" with a really thick layer of sand.
I've always finished the edge of a curved patio with the same blocks as the field. For gradual curves you just end up with a pie shape gap between blocks and for tighter radiuses I cut the blocs to the required taper. I don't have a close-up of the edge uploaded but this patio was edged with the same blocks as the field.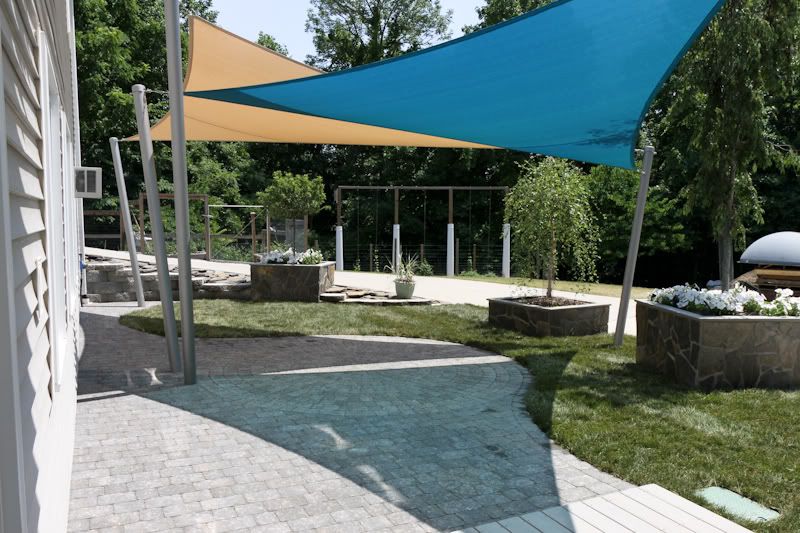 06-17-14, 07:43 PM
The edge blocks are a wedge shape so I don't have to worry about gaps.
They are also a wall block, hence the thickness difference.
I don't want to use the same blocks for the edge as for the field.

I have seen this done before, I just want to know how it is done.

When you do a wall you don't use sand. That is why I am thinking to just place the blocks on the compacted gravel.
Posting Rules
You may not post new threads
You may not post replies
You may not post attachments
You may not edit your posts
---
HTML code is Off
---