Exterior stairs conversion between deck and lake
08-29-14, 05:23 AM
Exterior stairs conversion between deck and lake
---
I have in the backyard what you might considered a mini boat ramp for a canoe or kayak to the lake, and I would like to get rid of that and put in some stairs down instead.
Here are some existing pictures.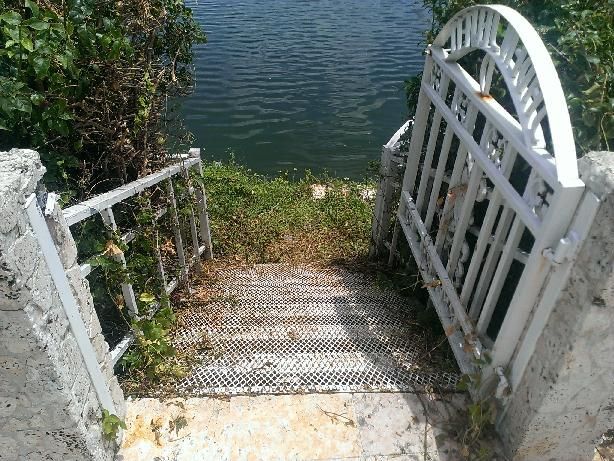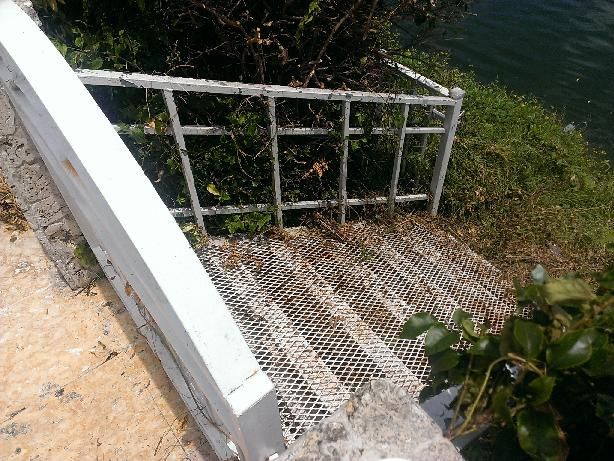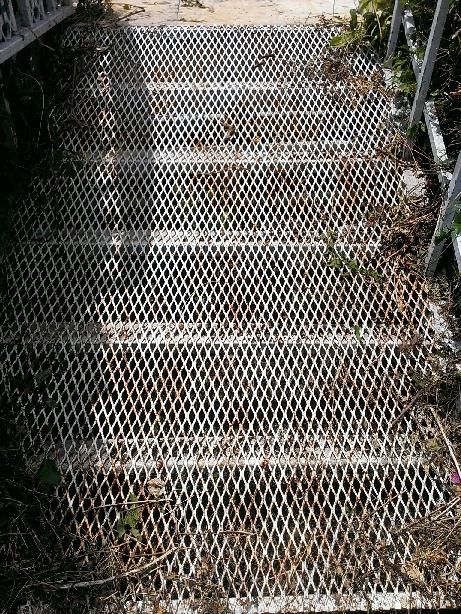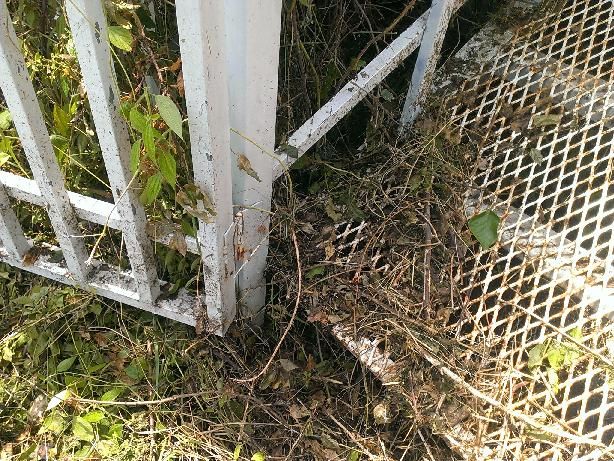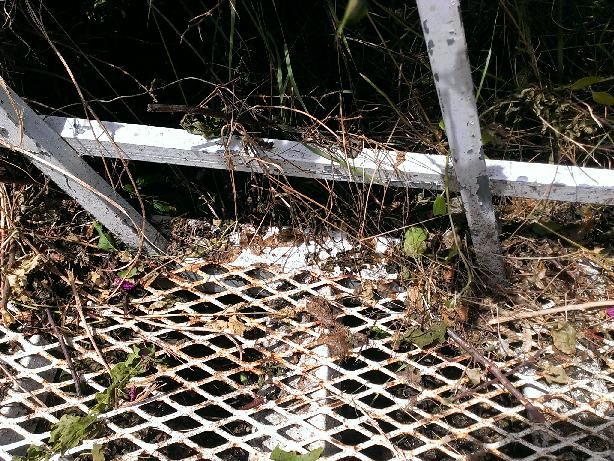 Everything is solid, strong, and all the members are welded.
There are five existing members across the bottom, with a mesh over them, spot welded to these members.
My plan is to first remove the mesh, a combination of aviation snips and angle grinder.
Once I have it removed, I will have five rock solid steel members across, each with a cross section about the size of a 1x3.
I am trying to figure out what is the best way to construct a set of stairs with PT lumber?
If I can utilize these steel members I won't need any stringers, and there is no way I can install any stringers with them there and they will be more solid then any wood stringers.
Here is what I am thinking. In a profile view. Sorry I drew the steel members as a 2x2 square when it should have been rectangles.
I can use 2X8 PTs and rip them to precise widths. Then I will tap holes in the steel bar and drive stainless steel bolts through the wood to attach them. Between the wood I would use deck screws. I will recess all the bolts to make sure they are flushed and no tripping hazards. Will this work?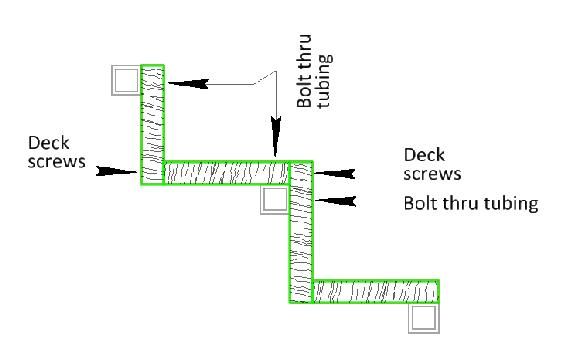 Thanks in advance for any comments and suggestions.
Sponsored Links
08-29-14, 08:27 AM
I'd be inclined to aggressively wire wheel what you have and apply a good solvent based primer followed by 2 coats of exterior oil enamel. It looks like dressing up what you have would be less work and should last longer than wood. IMO don't fix what ain't broke
08-29-14, 11:11 AM
Stairs
---
Think about adding a landing at the top to push the stairs out enough to use stringers on top of the metal frame. This may or may not work. It is hard to tell from the pictures. My idea may make the railing too low.
08-29-14, 03:52 PM
Your best bet may be to remove the mesh like you are planning to do and then weld new steps to the existing stringers. If you can't do it yourself it shouldn't be too expensive to hire somebody to do it for you. It's probably going to take some welding anyway if you want to reuse what you have as a basis for new wood steps so just well the entire thing and be done with it!
08-29-14, 06:26 PM
I took some measurements and drew it to scale.
The slope is about 26 degrees. A distance of 67" with a fall of 33". In between five equally spaced steel beams size 3" wide and 1.5" deep.
These steel beams supporting the mesh, is pretty much exactly where I want the steps.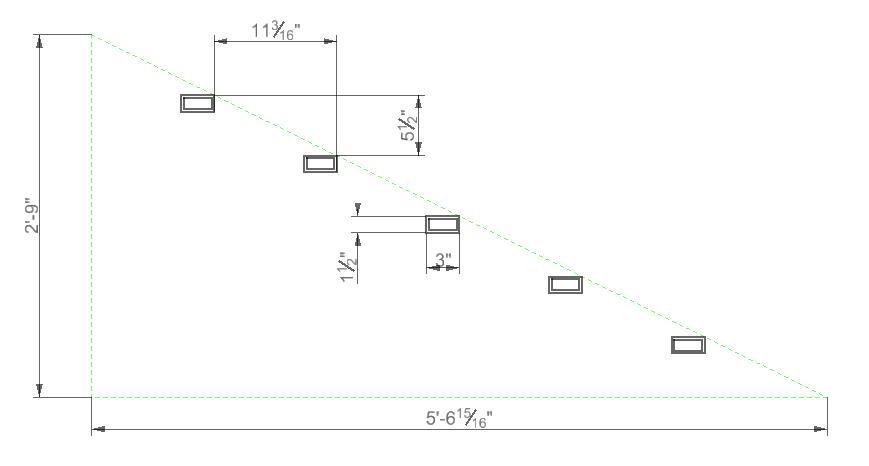 08-30-14, 07:56 AM
This morning I looked at it again and here is my latest thinking.
The fact that the beams are 3" wide and can support two 2X on their ends makes it possible to configure it such that it will support the treads on both ends if I do it this way.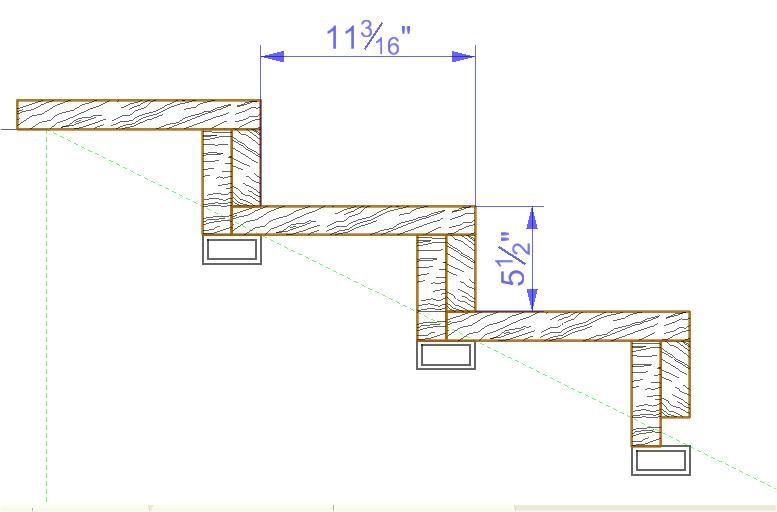 This way the tread is supported on both ends. The inside edge supported by the steel beam directly and bolted to it as well as held by the vertical piece from the higher step. The outside edge supported through the two vertical 2Xs.
08-30-14, 09:28 AM
The biggest issue is wide boards tend to warp, that's why you usually see 2 - 1x6s or 2x6s per tread instead of 1 - 2x12 Have you figured out how you will secure the risers to the metal framing?
08-30-14, 02:49 PM
Not sure about how the PT lumber will be secured to the steel beams. I am still chewing on that.
My initial thought was to use SS bolts and drill holes through the tread and the steel beam, secure with nuts. The two vertical pieces will be glued together, plus a few deck screws from the top and back side. Sort of like this.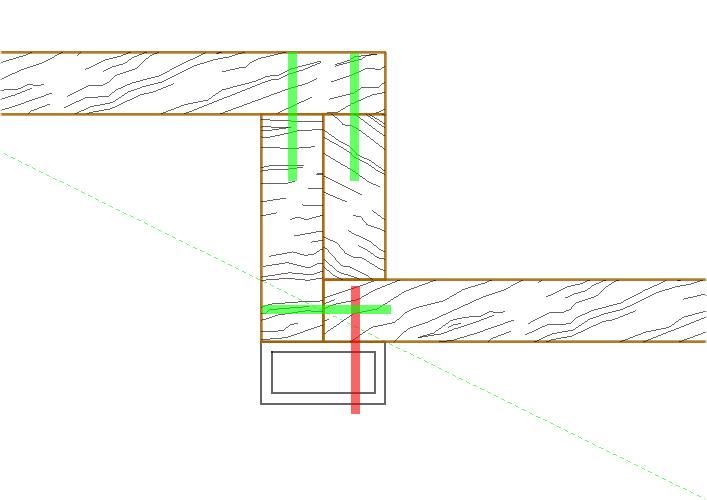 But I am not 100% sure yet.
Posting Rules
You may not post new threads
You may not post replies
You may not post attachments
You may not edit your posts
---
HTML code is Off
---