Do I have any options here? - Footings - First deck
09-10-14, 02:47 PM
Join Date: Aug 2014
Posts: 10
Received 0 Votes on 0 Posts
Do I have any options here? - Footings - First deck
---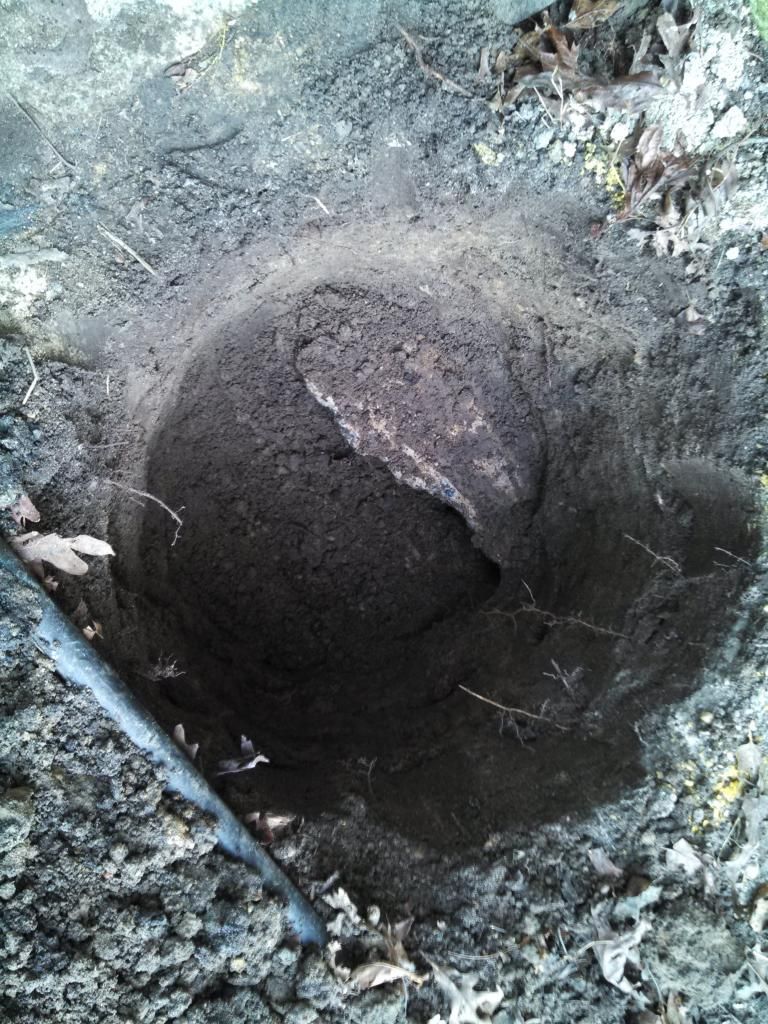 My deck permit has been approved. Free standing deck that is to be an inch from the house. 10 total 18" footers.
I have the footers away from the house dug with with a 2 man auger. The auger couldnt get close enough to the house to do the 3 footings against the house exterior. I am in Southern New Jersey so soil is very easy to dig. The above picture shows the house footing that I ran into about 20" down. Right in the middle of my footing.
Do I have any options here other than to redraw plans and build in a bigger cantilever? (Right now 12" cantiliever all the way around the deck)
details:21 foot against the house Deck projects out 23 feet. 3x 18"x10" footings on the exterior beams. 4x 18"10"footing on the center beam.
Sponsored Links
09-10-14, 02:56 PM
You would do best to contact your building department, since whatever you do has to have their blessings. If it was mine, I'd lengthen the cantilever distance (in the house direction), making appropriate accommodations for strengthening the cantilever members if necessary.
09-10-14, 02:59 PM
Join Date: Aug 2014
Posts: 10
Received 0 Votes on 0 Posts
I am planning on talking to the building department. I think that is my best bet. I am just somewhat confused as before I submitted my plans I went and had a quick conversation about them. One of the changes he had me make was instead of 24" cantilever go to 12".

Thanks for the advice.
09-10-14, 03:06 PM
You might mention the requirements of DCA 6 to the building department guy. For both joists and beams, they give their (conservative) approval for cantilevers of up to L/4. Certainly your main span is greater than 4', yes?
09-10-14, 04:41 PM
Join Date: Aug 2014
Posts: 10
Received 0 Votes on 0 Posts
Yes my beam spans are 10'6 so I am fine on L4.

I was fine with my original plan he just said "I would make the cantilevers smaller if it were me". More like I know 24" is fine and would pass but I recommend 12". I had no reason to doubt him.
09-10-14, 06:09 PM
He's playing with you, and toying with the regulations he's supposed to be following. A logical reason "for doubting him" is that he's extremely conservative, moreso than DCA 6 (which is notorious for being very conservative). You should request that he show you in writing where he came up with the 12" maximum cantilever value he quoted to you, so you have it for the project records and to satisfy any future buyers inquiries.

Maybe he'll prefer a maximum 2" cantilever next week--would you have no reason to doubt him on that, too? I've run across a few of these guys who think they are little gods, blurting out ridiculous numbers while having exactly zero structural backing.
09-11-14, 07:06 AM
Join Date: Aug 2014
Posts: 10
Received 0 Votes on 0 Posts
Thanks Bridgeman. You have given me confidence in the added cantilever.

I will let you know what township guy says.
09-12-14, 10:35 AM
Join Date: Aug 2014
Posts: 10
Received 0 Votes on 0 Posts
Well I spoke with the inspector. Surprisingly enough he told me to basically proceed like the house footings arent even there. Pour the concrete in the hole and let it envelop the exitings footing and place the peir on top.

Doesn't seem that logical but I dont have to dig new holes.
Posting Rules
You may not post new threads
You may not post replies
You may not post attachments
You may not edit your posts
---
HTML code is Off
---