Pergola construction question: Attaching 2x6 to 2x8
10-02-14, 09:09 PM
Join Date: Jan 2014
Posts: 25
Received 0 Votes on 0 Posts
Pergola construction question: Attaching 2x6 to 2x8
---
What is the best way to attach the 2x6s to the 2x8 cross-beams? I am notching the 2x6s to fit over the top of the 2x8s. I was planning on making the notch 3" deep. I was going to just use screws, but this would require at least a 4" screw if not longer. Is this the best way to do it or am I missing something? Professional diagram below.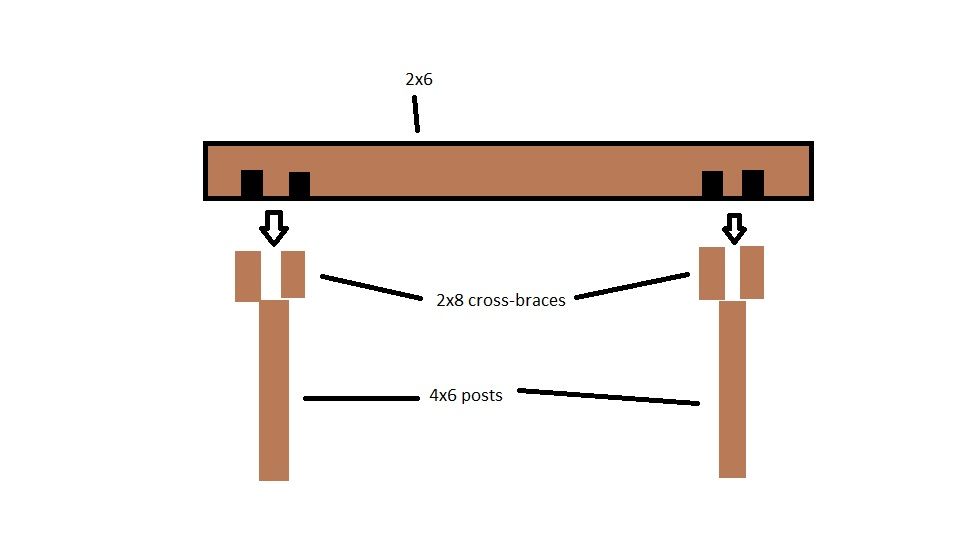 Sponsored Links
10-03-14, 04:59 AM
It is usually best to cut notches in both pieces of lumber. That way you could cut 2" slots in each board, achiecing better stability. Drive your decking screws at an angle from the top side, capturing both pieces. The way it is pictures, your beams have nothing to rest on. Posts are not providing a stable base for the cross pieces.
10-03-14, 07:35 AM
Join Date: Jan 2014
Posts: 25
Received 0 Votes on 0 Posts
Thanks for the response.

My 4x6s are notched and the 2x8s are resting in the notches, it just isn't shown in my 5-min MS Paint diagram. So you're saying to drive the screws in at an angle from the side versus straight from the top using a longer screw?
10-04-14, 11:25 AM
Keep in mind that if you cut 3"-deep notches in 2 x 6 members, you'll only have about 2-1/2" of material left to carry applied loads. And the small "tooth" between notches will have no strength, meaning you've created one very large notch at each location.

Not very sound construction practices.
10-04-14, 10:21 PM
Join Date: Jan 2014
Posts: 25
Received 0 Votes on 0 Posts
I ended up cutting 2.5" notches and using 3.5" screws at an angle.

In-lieu of starting a new thread, I'll ask here. Are the diagonal braces that go from the posts to the support beams required, or is it situation dependent?
10-05-14, 04:21 AM
It will depend on how your structure is fastened at the base. If sitting on concrete with post bases, definitely cross bracing will be required. Our swings were set in concrete because of natural swaying action. The small side braces helped keep down any unwanted side movement. I would brace it off.
Posting Rules
You may not post new threads
You may not post replies
You may not post attachments
You may not edit your posts
---
HTML code is Off
---