Converting deck framing to support roof
09-08-15, 09:22 AM
Join Date: Jul 2015
Location: USA
Posts: 2
Received 0 Votes on 0 Posts
Converting deck framing to support roof
---
Hi Everyone,
I'm in the process of building a deck. My wife and I decided we'd prefer a screened porch. Unfortunately I designed the framing to just support a deck, not a roof. Now I need to figure out what I have to change. Here's what I have so far:
-Dimensions are 12'x13'
-Six 12" footings 52" deep (frost depth is 48")
-6x6 post on each footing notched for beams
-4x8 beams (two 2x8s each) attached to posts with 1/2" carriage bolts
-2x8" ledger attached to rim joist of house with 1/2" lag screws every 16"
-2x8 joists 16" oc
My issue is there's no way with my current framing to carry the load of the roof down to the footings. I was thinking if I double up all the rim joists on the deck, then those will be 4x8, that will carry the load to the beams which will carry to the load to the posts then the footings. Here are a couple photos of the existing framing: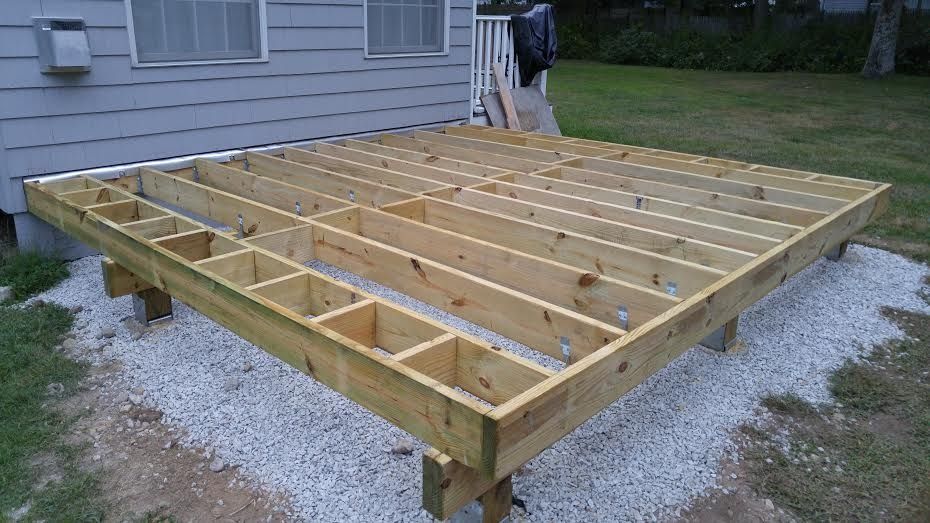 Thanks for any input you can provide!
Brett
Sponsored Links
09-08-15, 12:27 PM
I think it would probably be better off having the posts for the roof (6x6) extend down to the 4x8 beams. That should provide plenty of support for the roof structure. Have you revived your permit application for the deck to include the roof structure? The building department should be able to advise you about what's the norm for your area and what they will approve when they do the inspection.

It also looks kind of strange where you attach the deck to the existing wall of your home. It looks like you didn't remove the siding before attaching to it. Definitely need to remove the siding before you install the appropriate flashing. Actually in this case you probably would've been better off making the entire deck freestanding.
09-08-15, 01:49 PM
Join Date: Jul 2015
Location: USA
Posts: 2
Received 0 Votes on 0 Posts
Thanks for the reply. I did remove the shingles prior to attaching the ledger. Just hard to tell from those photos.
Posting Rules
You may not post new threads
You may not post replies
You may not post attachments
You may not edit your posts
---
HTML code is Off
---