Help needed with Pergola stability
11-15-16, 02:08 PM
Join Date: Nov 2016
Location: USA
Posts: 5
Received 0 Votes on 0 Posts
Help needed with Pergola stability
---
Long story short, the wife wanted a 12'x12' cedar pergola so I decided to build it myself rather than pay someone else to do it. That being said, I think it came out fairly nice, but it still needs some additional stability in one direction (longitudinally, not side to side on the beam connections) because it wobbles a bit when forced. In other words, it wants to move more easily to and from the back door. It's not about to fall down or anything, but I want it to be more solid than it is. I came back and added a few braces to no avail, so I'm open to any ideas you have (aside from tearing it down, major rework, or something that makes it look cobbled together).
In hindsight, I probably should've sunk the yard posts in concrete as opposed to using the Simpson post bases, but I was paranoid of rot. Additionally, I don't want to connect to house since that adds some complications to the permitting process from the city.
Some specs:
-6x6 posts, 2x8 cross beams, 2x6 joists, 2x2 slats (all rough Western Red Cedar)
-Simpson Z-max post bases fastened to concrete with Tapcon LDTs
-6x6s fastened to post bases with Simpson Strong-Drive #9 screws
-Posts notched for 2x8s which are fastened with 1/2" galvanized carriage bolts
-2x6s attached to cross beams at each intersection with 8" Timberloks driven straight down from the top, and additional toe screws at the sides
-Most connections are with GRK R4 structural screws (very good pull out, tensile, and shear strength)
-2x2 slats attached to 2x6s with 3"x.120 galvanized ring shank full head framing nails
-Ready Seal Pecan stain
Both sides of the pergola move together, so there isn't significant racking movement going on at the top. Thanks for any input y'all have!
A few pics so you have a better idea: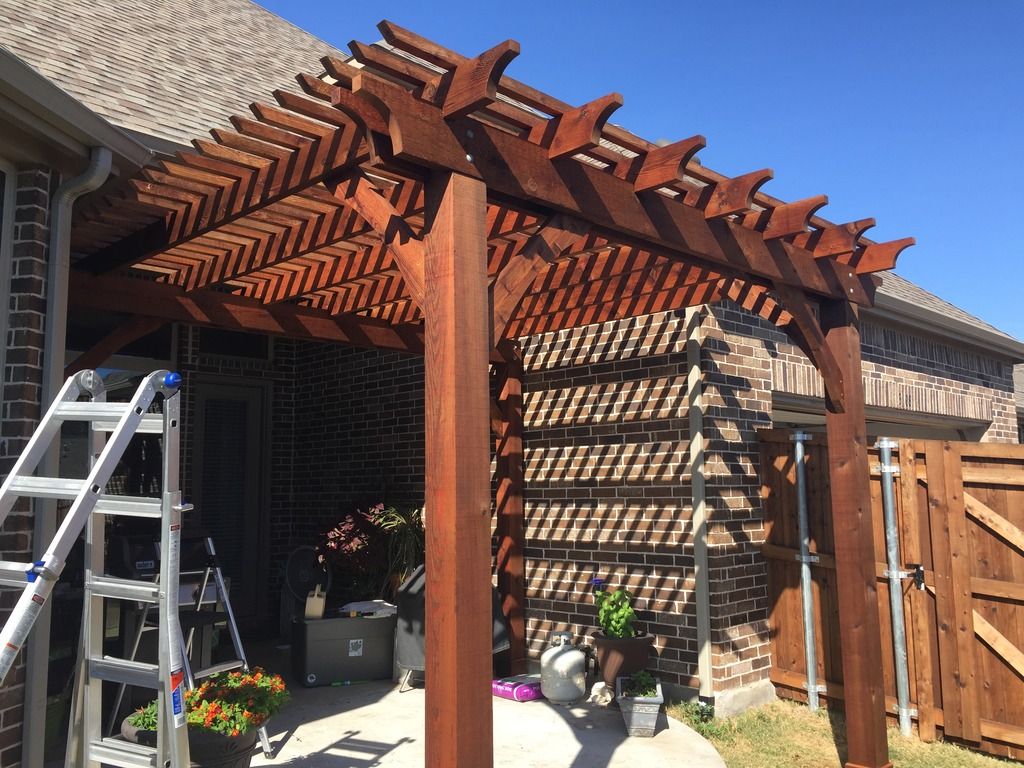 A photo showing the additional bracing I added from joists to beams up top: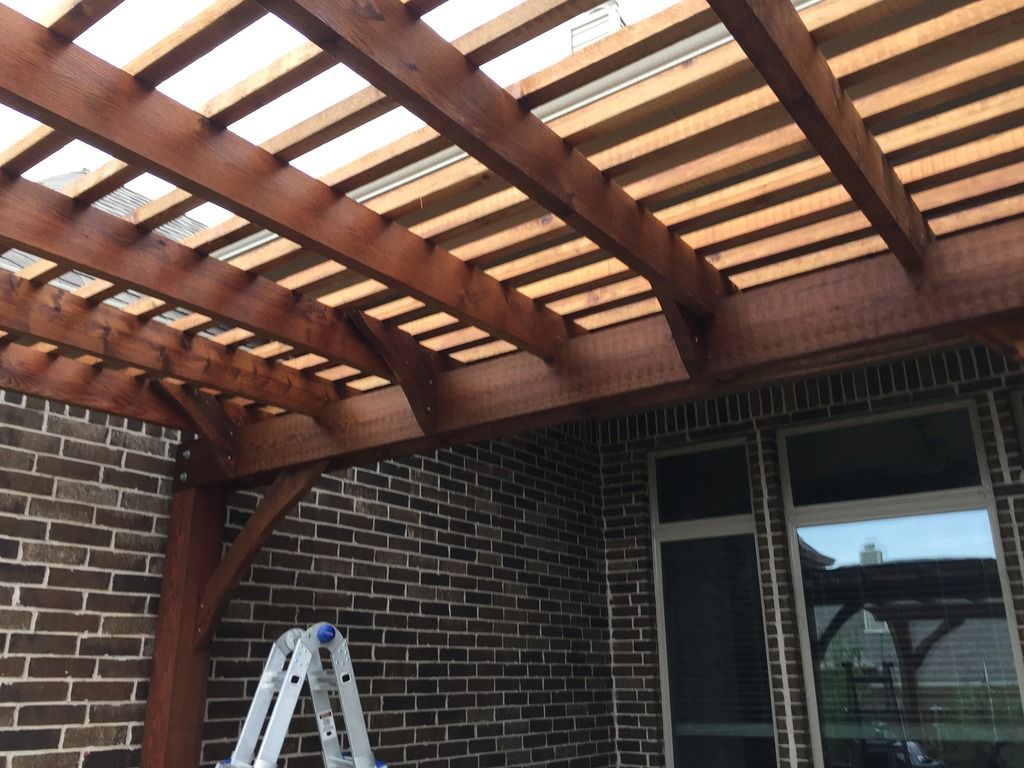 MG]
Sponsored Links
11-15-16, 04:04 PM
Looks really nice!

It looks like you are just missing a gusset on the 6x6's that are closest to the house. Make them match the ones in front.

You might want to get a big hay ratchet strap and wrap the front and back 6x6's together to pull them together as tight as possible- to take out any play- and plumb the posts one last time- before you connect that last gusset. Once it's bolted you can release the strap.

Not sure, but you might be getting a little play due to the way you toenailed/screwed those gussets. Countersinking a pair of long lag bolts w/washers might make a stronger connection with less play.
11-15-16, 04:19 PM
Join Date: Nov 2016
Location: USA
Posts: 5
Received 0 Votes on 0 Posts
Thanks for the reply! Yeah, I'm trying to figure out an easy way to add longer knee braces at the back post. I might have to use some more advanced angles. Here's a top down diagram showing what the structure looks like (light blue lines are existing braces):
11-15-16, 04:47 PM
OK, well dare I say it, but maybe you could anchor to one of the mortar joints if you put a spacer in between, like a few galvanized washers. Do it as high as you reasonably can. Use a 7 or 8" long sleeve anchor or wedge anchor.
11-15-16, 05:19 PM
Join Date: Nov 2016
Location: USA
Posts: 5
Received 0 Votes on 0 Posts
Would a mortar joint be strong enough for something like this? I'm just paranoid of messing up my brick fascia.
11-15-16, 05:27 PM
As long as you put washers to space it apart from the brick, it will be fine. You don't want to push and pull on the brick, but laterally it will be strong enough to stabilize your 6x6 and prevent it from moving. Measure carefully so that you hit one of the level mortar joints... use the smallest long anchor you can find... hopefully something 3/8x8.
11-15-16, 05:39 PM
It looks like you are just missing a gusset on the 6x6's that are closest to the house. Make them match the ones in front.
Agreed. California is strict on posts, beams, and connection methods and you are fine.
This is a work of art and just needs that final touch.
Right now, the posts standing closet to the door are doing nothing except hold up weight.
11-15-16, 08:25 PM
Join Date: Nov 2016
Location: USA
Posts: 5
Received 0 Votes on 0 Posts
Ok thanks for all the help! I think I've accepted that I need to tie it to the wall. I'll probably shim that 2.5" gap about 8' up with some cedar and actually anchor into 2 mortar joints on each side. Should be inconspicuous enough and give me the desired effect. Here are a few more drawings to give you an idea if dimensions. It's pretty tall because I wanted to maintain 8' of clearance, so that's obviously working against me.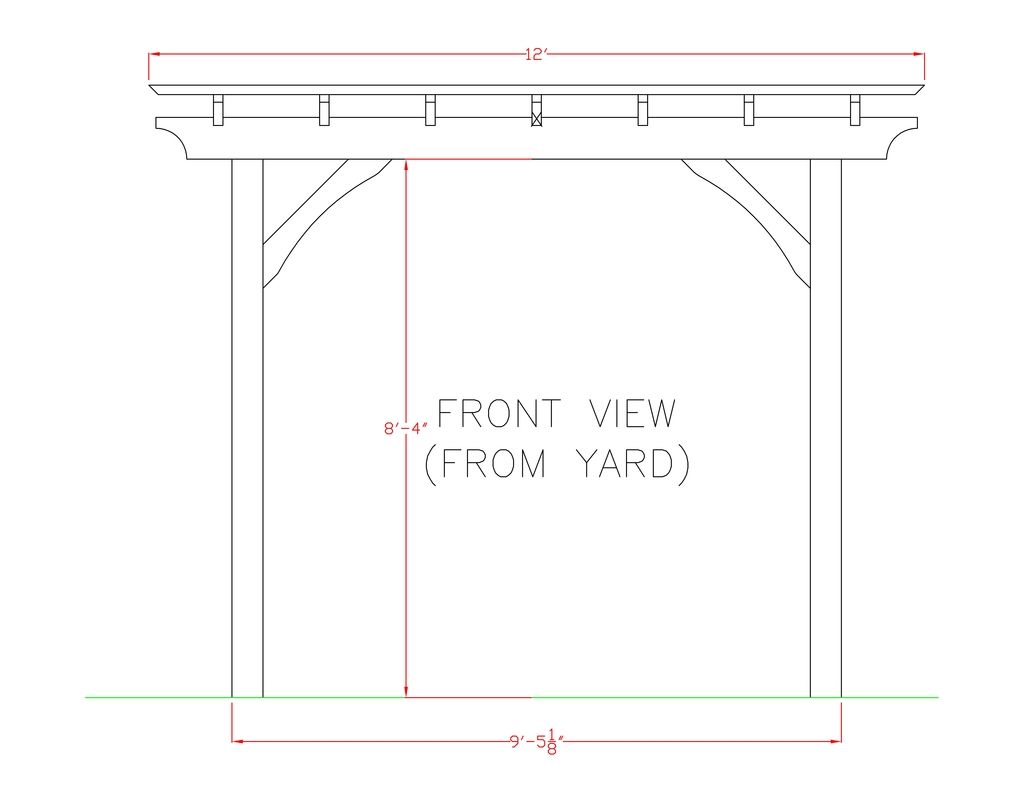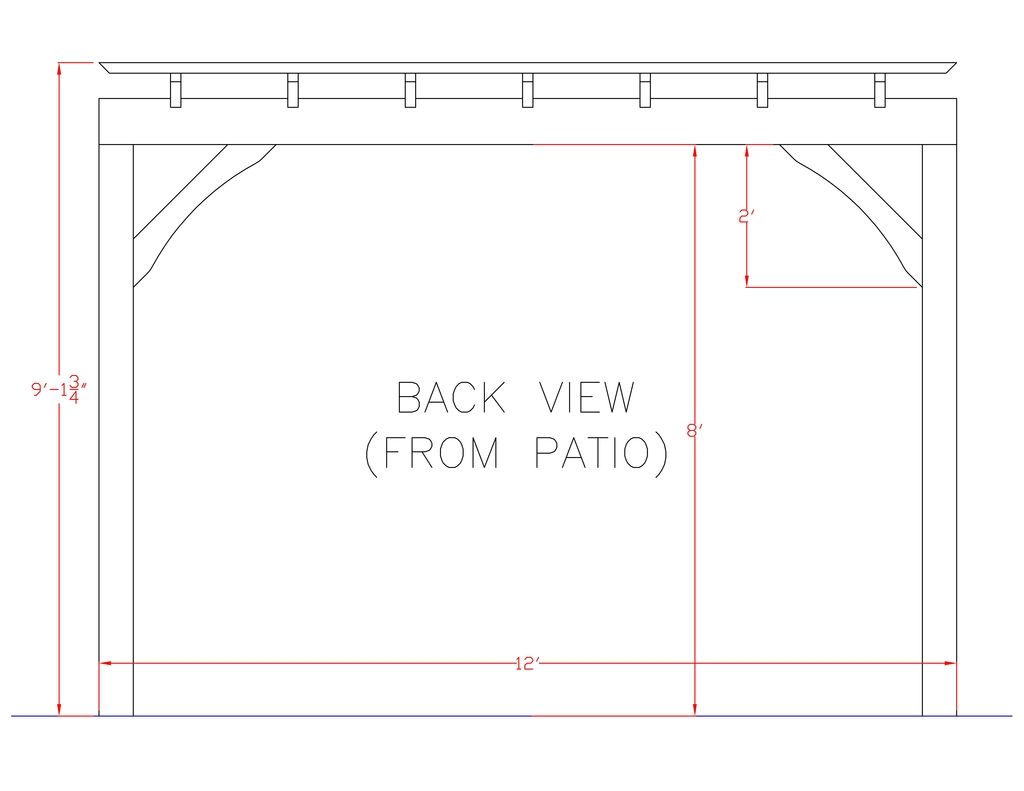 11-17-16, 11:38 AM
Join Date: Nov 2016
Location: USA
Posts: 5
Received 0 Votes on 0 Posts
I've decided that it will be pretty difficult to run fasteners all the way through the post and into the brick wall, with the fasteners landing exactly where I want them. Secondly, I was thinking about a way to spread the load a bit better on the wall so the below drawing is what I came up with. Do you think this will work OK?
Each spacer will be made from cedar and the shim next to the post will be custom made to the gap. I'll stain to match and bevel the edges to make it look decent. Spacer will be attached to the brick mortar joints with four Toggler Alligators, and the post will be attached to the spacer with two 8" Timberloks.
Thanks for the help!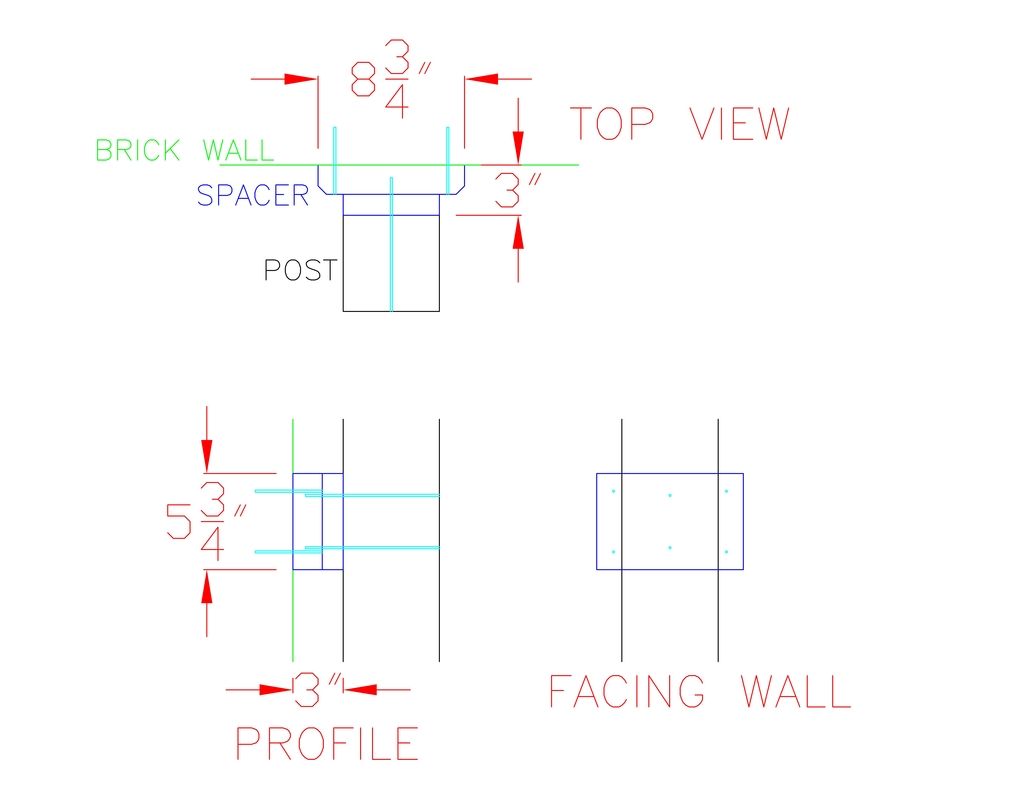 11-17-16, 06:04 PM
I don't think anything needs attached to the walls.
You are missing your front to back braces as said in post #2.
In other words, your side elevation drawings (as far as providing lateral strength) should match your front and back view except for the cover.
Posting Rules
You may not post new threads
You may not post replies
You may not post attachments
You may not edit your posts
---
HTML code is Off
---