Foundation for outdoor kitchen
12-06-17, 12:02 PM
Join Date: Dec 2017
Location: Usa
Posts: 3
Upvotes: 0
Received 0 Upvotes on 0 Posts
Foundation for outdoor kitchen
---
I am building an outdoor kitchen. Frame is metal studs. While waiting for the concrete to be filled and re-sealed, i went ahead and built the frame for kitchen. When I snug it up to the wall, the bottom of the frame is flush against the wall, but the top is away from the wall about an inch all the way down. This is due to the patio sloping away from the wall for drainage. Everything is plumb and level in the frame.
Ideally, I would like to put GFRC concrete countertops on the frame.
How should I account for the slope?
The counter in question is the one on the left in the picture
Thanks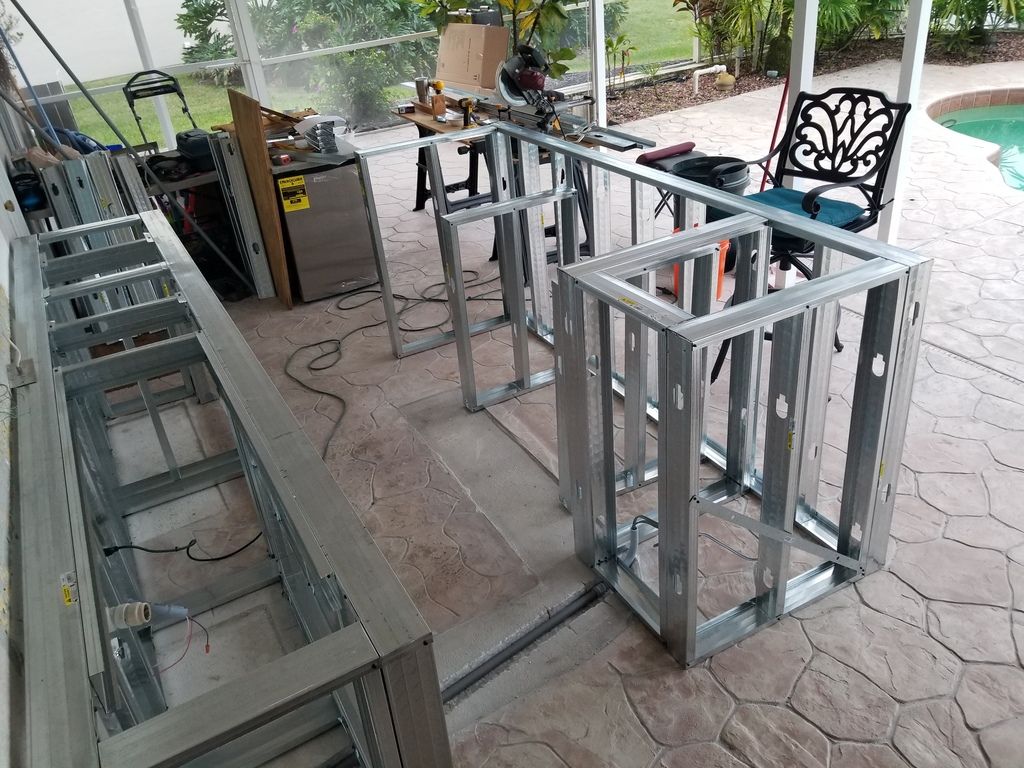 12-06-17, 02:55 PM
Join Date: Mar 2003
Location: NC, USA
Posts: 26,800
I would have built the frame to account for the slope in the floor. That way the sides of the cabinet/enclosure will be vertical and the top will be level. Right now it sounds like the sides of the cabinet and top are slightly out of plumb and level because of the slope of the concrete. Since you've already got the frame built I would shim it up to be level then pack mortar underneath.
12-06-17, 04:47 PM
Join Date: Dec 2017
Location: Usa
Posts: 3
Upvotes: 0
Received 0 Upvotes on 0 Posts
Thanks Dane. I can still take out screws and readjust the frame, and then replace the studs along the front with slightly longer ones without too much trouble. I also thought about making really long shims on the cross pieces and a long trex deck piece along the front. But packing mortar underneath is something i hadnt considered. Thanks for the input.
12-08-17, 05:17 AM
Join Date: Mar 2003
Location: NC, USA
Posts: 26,800
Certain kind of what?

For the shims I'd use something that doesn't rot or rust like stanless steel nuts or scraps (I have a metal fabrication business so bits of scrap are easy to come by). That way the shims can be left in place and just pack mortar around them. The shims don't have to extravagant or very structural. You just need to hold the steel framing in place until the mortar cures. The mortar then will be the structural support for the cabinet.

As for which mortar I'd use whatever you have. Type S or N masonry mortar would work and I might even be tempted to use thinset if I had an open bag lying around as long as you don't need to fill a gap more than an inch or so.