Pergola Rafter Advice
06-26-18, 08:13 AM
Join Date: Aug 2017
Posts: 16
Received 0 Votes on 0 Posts
Pergola Rafter Advice
---
Hey gang,
I'm preparing to install the rafters on my pergola. The design of it (if not that clear from the pictures) is two 2x10s parallel to each other around the perimeter making the square.
I want to drop in 2x8 rafters, just not sure what will be the strongest connection. I've figured the 2 designs below (#1 left, #2 right) would be the most pleasing to the eye, but I think #2 would be the strongest in that the weight of the rafter would be better spread over the 2 end beams with the extended part of the 2x8, rather than just to rest it on the bottom piece and just against the inside beam.
Green - 2x3 blocking between the beams
Pink - this is either a 2x3 with side of 2 1/2 ripped to 2" (#1 picture/option) or untouched (#2 picture/option)
Purple - 2x8 rafter; either untouched, or cut/notched at end so that it overhangs the 2nd beam (picture #2)
In both cases, I will use 2 x Headlk/GRK or Simpson Strong Tie screws to connect from the outside beam, through blocking, to rafter; one at the top and one at the bottom.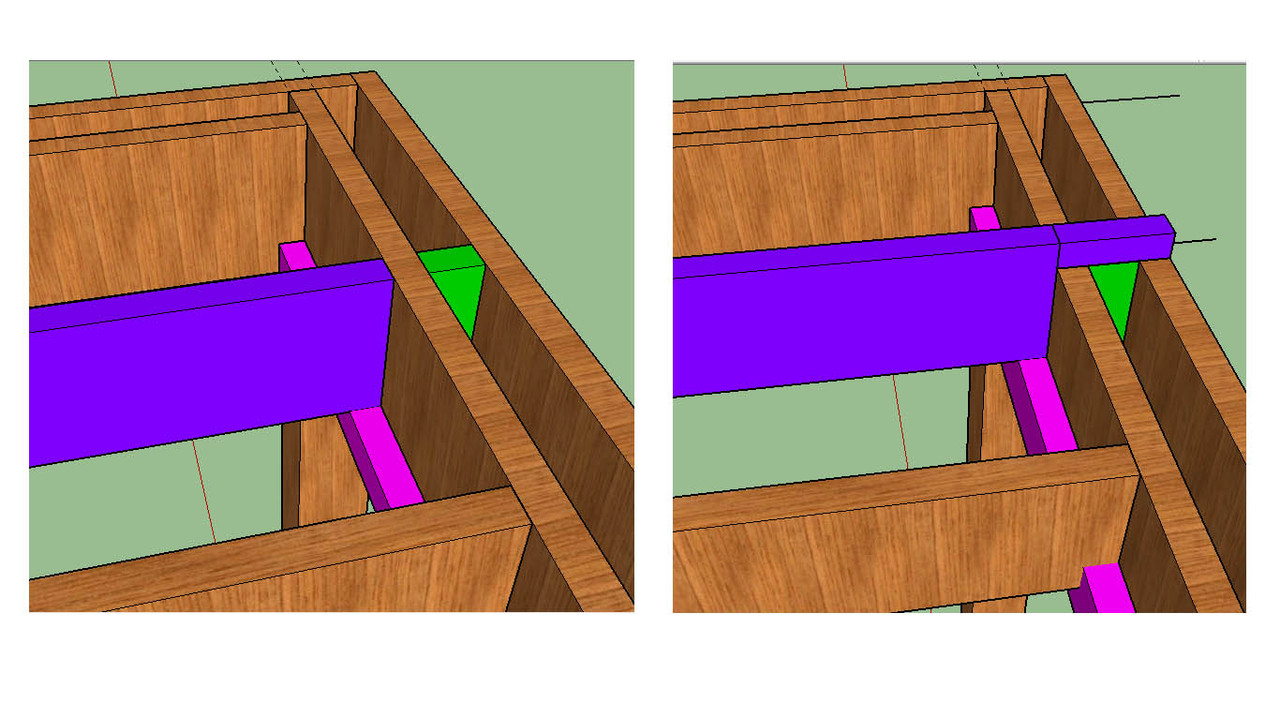 Ideas/Thoughts on this would be appreciated!
TY
Sponsored Links
06-26-18, 11:38 AM
Your second picture is not really stonger because any weight at all would cause the joist to split at your notch... if the ledger was not there, that is. So imo, the notch is a waste of time.
06-27-18, 06:41 AM
Join Date: Aug 2017
Posts: 16
Received 0 Votes on 0 Posts
Fair; with that ledger in place and the two structural screws going in, I really don't want any more work.

Plus, option 1 I think would look cleaner as the rafters would be flush with the beams at the top.

Is it recommended to put in blocking on the rafters to prevent twisting? I haven't seen any in pictures, but these rafters will be pretty long, 14 feet.
06-27-18, 06:46 AM
Yes, but if you will have any 2x2s running across the tops of the joists (perpendicular) that will help keep them straight. I also once used airline cable run through drilled holes and swaged ferrules on each side of each joist to take the place of blocking.
06-27-18, 02:36 PM
Join Date: Aug 2017
Posts: 16
Received 0 Votes on 0 Posts
Wasn't planning on 2x2s on top as I wanted a clean look, but then putting in 2x8 blocking would not make it a clean look.... hmm.... I may consider the 2x2s on top, maybe at 16" OC.
07-02-18, 01:14 PM
Join Date: Aug 2017
Posts: 16
Received 0 Votes on 0 Posts
For any particular reason?

Just trying to understand, because I like the cleaner look of beams and rafters at the same flush level at the top rather than one of top of the other.
07-02-18, 03:11 PM
Mainly because your second 2x10 is doing nothing structurally. But if you set your rafters over the top of both, then both will carry the load instead of just one. But it's your plan.
07-02-18, 03:50 PM
Join Date: Aug 2017
Posts: 16
Received 0 Votes on 0 Posts
Ok, I figured it was based on something structural related. But I plan on putting a block between the two beams, and using 7" (or 7 1/2" structural screws.

So the ledger will rafter have a 7" screw from the inside, to the outside of the beams. Rafyer, beam, blocking, 2nd beam.
1.5"+1.5"+2.5"+1.5". This will tie the rafter into the first beam and to the 2nd beam.

Then the 2nd screw will be from the outside of the perimeter, through the 1st beam, blocking, 2nd beam, and top of rafter. At this point, I'm just unsure how much penetration I should have into the rafter for that top screw. I imagine 1.5/2" would be enough, any more won't make much difference?

I will then toe-screw the bottom of the rafter into the inside beam with deck screws.

Thanks my plan anyway. If there are better suggestions, I'm definitely open.

thanks
---
Last edited by teredactle; 07-02-18 at

04:38 PM

. Reason: Minor edit
Posting Rules
You may not post new threads
You may not post replies
You may not post attachments
You may not edit your posts
---
HTML code is Off
---