Best way to cut half rotten railroad ties for disposal
03-07-19, 05:06 PM
Best way to cut half rotten railroad ties for disposal
---
I have some 8"X8"X8' railroad ties that were used as borders to patio stones in the back yard. They were there when I bought the house in 2011 and now are badly rotted. Some of them are hollowed and I saw lizards and squirrels go in and out of them.
So I finally took them out and I need to get rid of them.
The city told me if I cut them into manageable sizes (say 3-4' lengths) they can pick them up on bulk trash collection day. I need to cut them up anyways so I can bring them from the back yard to the front yard.
These have been half buried in dirt for years. There are roots and dirt/sand inside of them.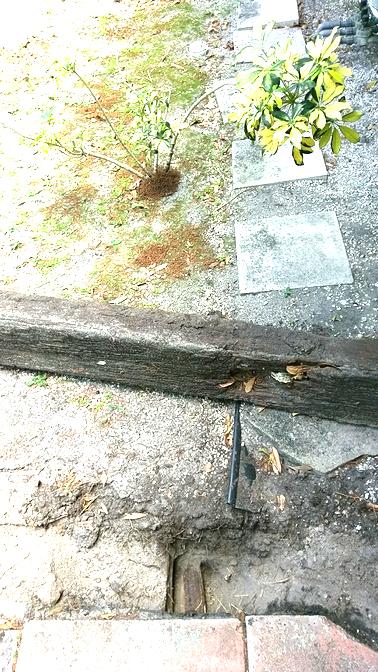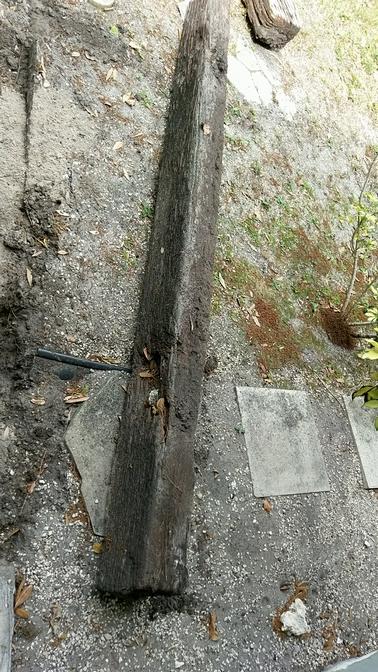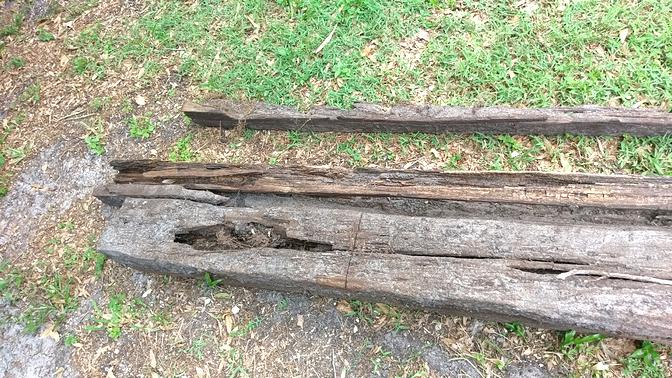 I tried a recprocating saw with a fresh pruning blade on one and it cuts about 1/2 inch thick in a minute. At that rate it will take 15+ minutes to make one cut. Too slow.
What is the best tool to make these cuts?
A circular saw rotating the log making 4 cuts one on each face?
A chainsaw?
Sponsored Links
03-08-19, 12:35 AM
A chainsaw will cut them, but from a retaining wall project years ago you will go through a lot of blade resharpening, any dirt or small stones will dull the blade in seconds!

If they are that dried out, just get a hot fire going and burn them!
03-08-19, 04:13 AM
I've always used a chainsaw when I needed to cut RR ties. Just like cutting logs you do your best to knock off any dirt and keep the ties slightly off the ground while you make the cut.
03-08-19, 07:02 AM
Originally Posted by Marq1
If they are that dried out, just get a hot fire going and burn them!
I agree, if you only have a few ties, the simplest solution is a quick campfire.
For large wood, a combination of parallel and star works best.
Set the two best condition ties side by side, about 4" apart, build a small teepee or jenga tower from the smaller broken off pieces at the 4' mark in (the center). Layout the other ties radially, with all the tips meeting at the center and sitting on top of the base logs.
The "parallel" configuration allows you to start a fire with large logs, the "star" configuration allows the heat to bake the moisture out of the log so they burn, and raising the ends up ensures enough air to burn well without smoke. You'll have to occasionally 'bump' the star logs into the center as the tips burn away.
Many towns have a "no burning" ordinance, but there is almost always a "campfire" exception. So, find a comfortable chair, beverage, listen to a baseball game.
03-08-19, 01:02 PM
Creosote treated lumber will burn hotter too. A friend of mine had some and loaded up his shop stove with it - got him very concerned about his chimney. After that he just added one stick of creosote lumber to the fire.
03-08-19, 07:35 PM
Originally Posted by Norm201
If those are treated (creosote or PT), DO NOT BURN. Toxic! If the town woion't take them then bury them.
From the pics they're 8" landscaping ties, not actual 7" x 9" x 8' RR ties (which would be "juicer" and would not have rotted at the center).
03-09-19, 07:08 AM
Chainsaw is best. Maybe rent one. Will definitely be hard on the blade. Pruning blade in a sawzall isn't going to cut it. Or maybe you have one of those playschool sawzalls with no balls.
03-09-19, 08:17 AM
Originally Posted by Wirepuller38
I vote for a chain saw. Sharpen as needed.
I would NOT use a chain saw on "groundwood", you spend WAAY too much time sharpening.
For rotted wood sitting on the ground, you use a 30" bow saw or an axe.
Here, probably a bow saw AND an axe.
You actually don't want a pruning blade- they're meant for cutting live (soft) wood, usually on (soft) fruit trees, lots of small teeth that make a clean cut, but don't work well on grimy wood.
You want something closer to a "buck saw" blade, turned upside down it looks like "fox-mountains-fox"
Make a pile of ties so you don't have to bend down when cutting.
Use a bow saw with a buck blade and make a cut in the middle of the tie, go about 2-3" down into the tie. Should take under a minute. Flip over, cut down 2-3" again.
Pivot the the cut RR tie 180 degrees to the pile so that one end is on the ground, other end in the air, cut section is supported by the pile.
One good whack with the blunt end of the axe on the suspended portion of the tie should break it clealy in two.
Re-stack and repeat.
03-09-19, 09:29 AM
While I wouldn't think twice about cutting a RR tie I wouldn't do so with it laying on the ground, prop it off of the ground with something just like you would a tree. You should be able to visibly check the timber and knock off any accumulated dirt.
03-09-19, 11:24 AM
You should be able to visibly check the timber and knock off any accumulated dirt.
not so worried about surface dirt sand rocks, more worried about those that are embedded on the inside hollowed sections of the ties. I got holes big enough with squirrels going in and out of them so I don't think I can get rid of the stuff inside and that's why I am hesitant to put chainsaw on them.
Posting Rules
You may not post new threads
You may not post replies
You may not post attachments
You may not edit your posts
---
HTML code is Off
---