Faux tin backsplash
02-22-11, 06:49 PM
Faux tin backsplash
---
We are thinking about installing a faux tin backsplash in our kitchen.

Has anybody used this product? Do you like it? Would you use it again?
Sponsored Links
02-24-11, 01:23 PM
Join Date: Dec 2005
Location: USA
Posts: 39,967
Welcome to the forums! I put one yesterday for a client. The panels were about 12 x 12 and had edge trim pieces as well as inside corner pieces. She had it all bought and sitting there. I just did the install. It is plastic, and I had to read that on the label to know for sure. It looks like real tin!! The directions are clear and you just install them with PL adhesive, use a pair of cutting shears to trim them to size.
Here's a pix before we got the hood installed and the range pushed back in. Phone pix, so it lacks quality.
02-24-11, 06:16 PM
Join Date: Dec 2005
Location: USA
Posts: 39,967
Gosh, Renee, I believe they are a corian type material. I did the backsplash on the opposite and 90 degree short wall in 1" glass tile. Here, again, she purchased it and I installed it. I like the tile better than the "tin", but that's a personal preference.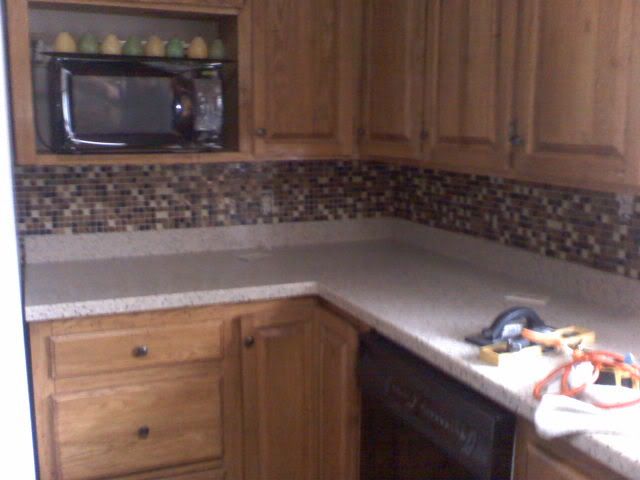 02-24-11, 06:31 PM
You look pretty handy!!!! I am not ...... and at this point I can't even decide what to put on the counter tops. We currently have 30 year old laminte that I hate. Do we go with granite, Corian or what?
Posting Rules
You may not post new threads
You may not post replies
You may not post attachments
You may not edit your posts
---
HTML code is Off
---