Need Ideas for Recessed Kitchen Ceiling Lighting Cover
08-31-11, 03:40 PM
Join Date: Aug 2011
Location: USA
Posts: 2
Upvotes: 0
Received 0 Upvotes on 0 Posts
Need Ideas for Recessed Kitchen Ceiling Lighting Cover
---
Existing recessed "box", 2'x4'x12.5". Previously had a 4' fluorescent strip and a frosted panel like what you'd find in an office drop down ceiling.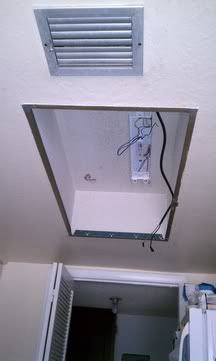 The strip broke loose from the ceiling so I'm taking this opportunity to rethink the previous owner's design as I redo the thing. I need ideas on a cover or panel for this thing.
Previously in order to install the translucent panel you had to bend it enough to get it to fit onto the frame lips. Problem is most drop down ceiling panels are pretty rigid and would crack when I tried to fit them in there. The ones that were flexible enough never would sit flush within the frame.
I was thinking of some kind of frame that I can slide a panel in and out if I need to replace a bulb but I'm not a woodworker, etc and I don't have an idea of how to do that.
I also thought of a hinged "door" similar to one of those see-thru cabinet doors but again, I don't know how to do that myself.
Anybody got any ideas?
Thanks,
Tony
09-01-11, 06:38 PM
Join Date: Nov 2007
Location: United States
Posts: 13,868
Is this your kitchen?

A few ideas come to mind.
1) Remove the light, frame it in and install to can lights. Sheetrock the opening, tape, sand and paint.
2) Do same above but install a box for a surface mounted light fixture
3) Look in the suspended ceiling dept. and buy some L metal like you would attach to the wall in the room. Buy one 2' Tee. Get two 2x2 tiles. You will likely be able to tip the tiles into place with 12.5" of headroom. Again cut the tiles for can lights.
4) Add another strip fixture (One is a bit wimpy) install some 3500K T8 lamps and get another plastic lens. If needed attach some ceiling L to hold the panel in.
09-03-11, 06:46 AM
Join Date: Aug 2011
Location: USA
Posts: 2
Upvotes: 0
Received 0 Upvotes on 0 Posts
Thanks for the ideas.
Mr. Ironhand, I thought about your #1, installing recessed can lights in the top, but the A/C duct runs right along the top of this opening. #2 and #3 are interesting. I'll look at those.

I did add another 2' light strip. These photos were taken before I did that.

Thanks again.