Custom shower idea
12-13-11, 06:53 PM
Custom shower idea
---
I'm working on some ideas for a custom shower on a new house. (Open to any suggestions on sites with custom built showers, I figured there be a ton, but not finding anything unique).
Anyways, I have a Kohler DTV system now, and was probably going to use the same parts. A shower head, body jets, and a rain tile. I had an idea, but didn't know how well it would work. If I would just end up with water everywhere.
It's basically a corner shower, but with all the hardware mounted on a central tower spraying towards the back corner. Entrances on either side. Here's a picture, options or suggestions on sites appreciated.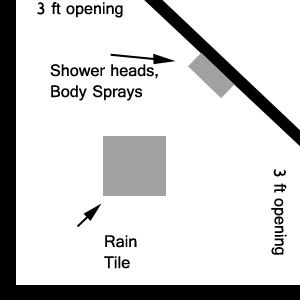 12-14-11, 06:54 PM
Thanks for the welcome. My wife and I wanted something big, and that would look different. We figured this would look nice and open. As cliche as it is, I guess it was a 'sexy' design.
We thought about making it flush with the floor. We could always use a trench drain at the doors, but with the water hitting the back, I'm hoping there won't be that much splash. I thought about actually bringing the tile out a little past the opening.
Again, thanks for any thoughts.
12-15-11, 07:04 AM
I like the idea of two openings. Not only is it an interesting design, but the opposing openings will promote good ventilation.

Have you considered locating the controls and body spray in the corner and having the facing wall half glass? Another option to think about in a shower this large is a bench.
12-15-11, 06:07 PM
I originally thought about doing the thin wall in glass and spraying out of the corner, but I'm afraid the body jet sprays would either be too wide and overspray, or the splatter when they hit might spread out through the doors. I had planned on a corner seat, I just didn't draw it in.