Co-ordinating kitchen colors
09-16-15, 09:56 PM
Co-ordinating kitchen colors
---
I don't have much of a good eye for color combinations but we'd like to update our kitchen with me doing as much of the work as possible (hopefully everything but counter tops). As you can see in the pics, the walls are a decently dark brown. We really like the dark wood look of refacing cabinets but don't think it would go well with the brown walls.
So I'm thinking we would keep the cabinets white and replace the doors with either shaker or euro-style doors and new hardware. Then I would imagine a black or dark colored granite countertops and probably subway tiles for the backsplash - but not quite sure what color. Then I would assume a dark tile floor but I'm not really sure.
I want to see what some of you would come up with if you've got a better eye than myself if you kept the walls brown.
Oh yeah, and the tile would meet laminate wood floors so I believe wood-look tile wouldn't be part of the equation.
Anyway, here are the pics of how it currently is. Disregard the messiness
. It doesn't look too bad in the pictures but the choice of floor, granite and backsplash the previous owners chose before moving out really don't jive with each other.
09-17-15, 07:11 AM
Join Date: Mar 2003
Location: NC, USA
Posts: 28,592
I wouldn't start with the cabinets. I'd focus on picking a new paint for the walls. The tile back splash is a warm brown/tan with pinkish undertones and coupled with brown/tan walls and brown/tan floor tiles is a bit much. They are all different but not enough to be a statement.

The cabinets being white can go almost any way but the elephant in the room is the cold toned granite. While it goes great with the cabinets the back splash tile, floor tile and wall paint are all warm tones. As a more major step I'd consider re-doing the back splash and floor tile in addition to a new wall color.
09-17-15, 07:46 AM
Well we actually like the wall color (we chose and painted that) as it flows nicely in the rest of the main spaces of the house. The kitchen shares a wall with the living room.
I may have not made it totally clear, we're looking to ditch the backsplash, floor tile and countertops completely and go with something more bold but not tacky - as opposed to changing the wall color (which can obviously be done "easily" but as stated, we do like it). In my opinion, it's currently tacky looking and the color/material choices were probably just made by the previous owners choosing whatever was cheapest when they were re-finishing the house before selling.
Like the following seems pretty good looking to me and they seem to have similar colored walls, I just don't know what I'd do about tile color since I'd like to avoid extending the laminate floor into the kitchen in case any water leaks ever occur.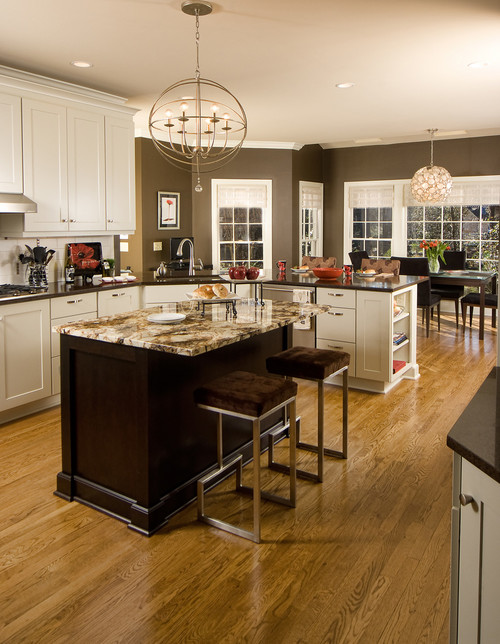 09-17-15, 07:31 PM
Join Date: Oct 2012
Location: Jersey
Posts: 71,670
Dane mentioned the wall color as that's the easiest to change. You want to go all out.
The wood floor is nice.
I'm not big on the type of backsplash. I like the smaller tile look.
The countertops are what your eyes see when you first look in. They need to be darker.
Maybe a walk thru a granite or countertop store to get a feel for what's available. I'm getting ready to change mine and there are a lot of choices.
09-18-15, 07:44 AM
Join Date: Mar 2003
Location: NC, USA
Posts: 28,592
If you're going big that opens a lot of possibilities. Since you like the wall color keep that as your base and start working from there. I'd be tempted to stay with the white cabinets and doors. I don't think you'd get a dramatic enough difference by just changing to door style but you could change the hardware.

If you have some of the wall paint I'd paint a piece of cardboard or piece of wood. Also paint a sample with a white similar to your cabinets, or remove the face from a small drawer to take shopping with you. There are a million shades of white so I don't like to assume it's just white. Then I'd go to a couple granite warehouses. Not retail stores but the big warehouses where the granite people get their stone and walk the aisles with your samples to pick a stone. Take some pictures and maybe get a sample of what you like then start looking at flooring and back splash options.
09-18-15, 01:57 PM
That's a really good idea. The only trouble is my mind can't picture how things will go together when I'm just holding small samples together but it would definitely help some.

And yeah, I believe we'll definitely keep the cabinets white.

As far as doors, in my opinion, the existing faces are just very 90's and my wife and I both really like the shaker or euro type doors. We'll probably have to repaint whatever we end up with since, as you said, there's no way the differing whites between the new doors and old cabinet boxes will be the same.
10-30-15, 05:21 PM
Well I caved and ended up painting over the brown with Behr Clary Sage. I think the decision might have saved us $3000 or so in that it seems that we may be able to keep the kitchen counters with this color. The backsplash is obviously way out of place now with the new wall color, but I think with some white/transparent white subway tile backsplash and dark charcoal-sh (or something) floors we could pull off a good design without changing the counter tops. What are y'all's thoughts?
(crappy cell photo doesn't accentuate the color well - will have to get a DSLR picture later)