Granite overhang support question.
01-10-16, 03:18 AM
Join Date: Jan 2016
Posts: 8
Received 0 Votes on 0 Posts
Granite overhang support question.
---
I need some guidance on how to properly support a granite over hang.
I recently had some 3cm granite counter tops installed. But I need to replace the back side of an L shaped cabinet (i damaged it during demo) and install the supports for a 12 inch over hang.
Here is the cabinet/counter tops.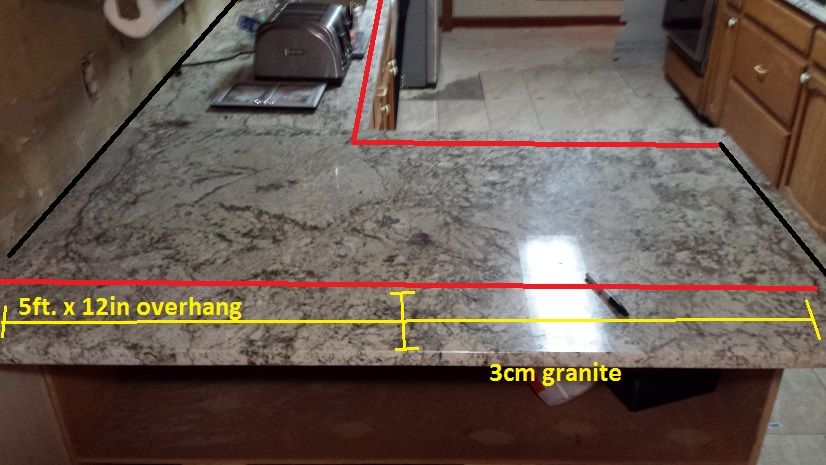 The 2 black lines are the sides of the cabinet that to go all the way from the granite to the ground with 3/4 inch ply, The red lines just have a 3/4 inch board running across. Here is the side view.
So i wondering what type of support bracket I should use.
I had a piece of OBS plywood hanging around so I had planned to cut it to size (and seal the edges) along with a thin piece of oak plywood as a veneer then useing those for the new cabinet back and added support. Then attach an L or T bracket to the back of existing support beam to support the overhang.
Im really just not sure which type of bracket would be best suited to this application. L, or T shaped, or I could easily sneak a 4x4 behind the exiting support beam and use a flat style bracket..
Thanks in advance.
Sponsored Links
01-10-16, 05:24 AM
Join Date: Jul 2008
Location: NY
Posts: 10,986
Received 0 Votes on 0 Posts
Did the previous counter top have the same overhang or did you extend the granite? If so, how was it supported? Suppose you built a small header & enclosed the entire space? 12" are a lot to support.
01-10-16, 06:27 AM
The flat bars needed to be installed before the counter. They could still be inserted, but it's more difficult now. Let us know if you want to go that route.

I would use L brackets, they must be forged steel designed for this purpose. Recess the back of the bracket into the OSB (I would use plywood instead of OSB), screw the brackets through the backing into your support beam. Cover with the plywood cabinet skin.

3cm can have an unsupported overhang of 10", you're pretty close to that after adding the plywood and the skin. So you can add your support, but it's not critical. Personally I would add some type of support for assurance.
01-10-16, 02:24 PM
Join Date: Jan 2016
Posts: 8
Received 0 Votes on 0 Posts
The previous counter top was concrete that I poured in-place. it was supported by steal wire grid internally and by the underside of the mold that acted as underlay. It was very robust. It was attempting to demo that that cause the damage to the cabinets.

I L brackets will do the trick ill likely go that route. They should be a simple install and i have a router handy.

Why kind of ply wood would you suggest? Im not to knowledgeable in that area. Would just standard pine with an added veneer work or should I go with a hard wood?

Thanks for the help.
01-10-16, 03:57 PM
Would just standard pine with an added veneer work or should I go with a hard wood?
Any type of plywood will do, it will be covered with your finished (1/4"?) skin. Even the OSB would work, but I wouldn't like working with it or seeing it inside a cabinet.
I would use A-B plywood, one good face, 1/2" or 3/4".
01-10-16, 06:11 PM
Join Date: Jan 2016
Posts: 8
Received 0 Votes on 0 Posts
That was the initial plan. I just used the OSB because I already had it and it was taking up space. 5x8 is a good deal is space. I figured I would just nail what ever thin piece of hard wood i could pick up at my local big box for less cash than buy cabinet grade plywood with similar thickness.

I usually have more room wiggle room in my budget but besides the granite I just installed new floors though out the house and Im in the middle of completely remodeling a few small rental properties as well. So my hands are full and my eye is on the budget. But damn ive learned a lot. Water heaters, soldering, wall board, and electrical from the plumbing to the sealing things LOVE to break!

These bracket sellers are crazy. For the prices they are asking I could buy steel, and the materials to build a forge and temper the steel myself and probably save 50%.

But im ranting.
Thanks for the help and advice.
01-10-16, 06:36 PM
These bracket sellers are crazy.
Keep in mind the 10" overhang I mentioned. You are only a little over that after adding the cabinet back. It's your call if you need support.
The installers I work with must install support to meet warranty specs. In all reality, snapping off a piece of 1-3/16" granite is pretty hard to do.
Posting Rules
You may not post new threads
You may not post replies
You may not post attachments
You may not edit your posts
---
HTML code is Off
---