Trim for an entryway......
11-11-07, 05:19 PM
Trim for an entryway......
---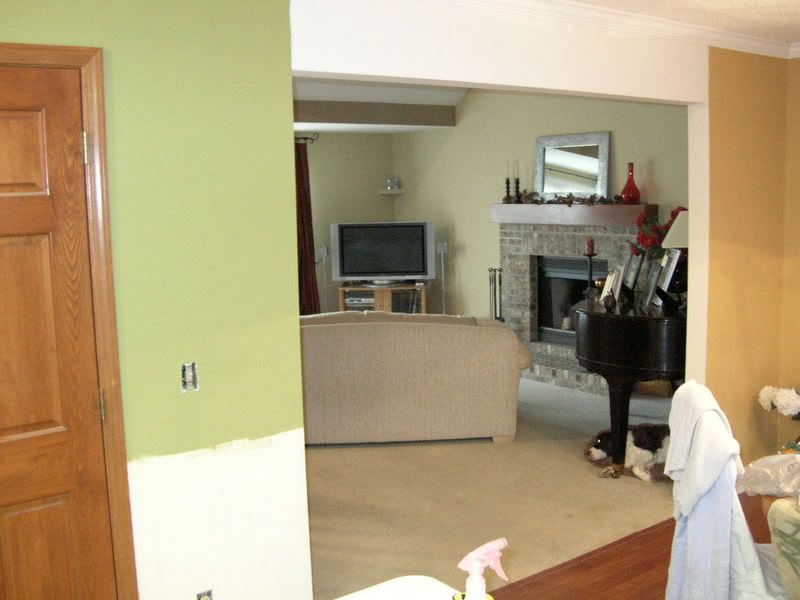 As you can see, this entryway (doorway?) is approx. 82" x 92". I would like to add casing (painted) to dress it up a bit.
Questions:
1: Since I'm painting the trim, I don't need to add a new jamb, do I?
2: Is it possible to add a crown to the trim on the entryway?
All replies appreciated.
11-11-07, 05:45 PM
A jamb is not necessarily needed. You'd probably just leave a 1/4" reveal around the opening and hope that it's straight and square.

If you wanted to use crown moulding, you'd probably want to use a 1x4 trim on the sides and 1x6 (or 5/4 x 6) on the top. Then surround part of that 1x6 with the crown. You could also select some sort of fluted trim for the sides or choose to use a plinth block near the floor.

You could also forget the crown and just trim it with casing that is similar to the stuff on the left. Or even pick a completely different larger size of casing. But if you compare the height of the top casing on the left with the casing on your proposed cased opening, there will likely be a little bit of a difference in height.

You'll obviously need to remove the baseboard that runs around this opening and cut it back if you decide to add casing.
11-11-07, 09:11 PM
Actually, the more I think about it, you probably would be better off removing the drywall and corner bead and installing a jamb. I think you'll be much happier with the look.
11-12-07, 01:36 PM
Tearing it out would be the way to go for a couple reasons. If you go to the big box to by jamb stock, it's going to be 4 9/16" wide. If you measure your entryway wall, I'm guessing that with the corner bead on there, it's closer to 4 3/4. That would mean your casing won't lay flat.

Also, if you line the opening with a jamb, you especially want the head of the jamb to be level with the head of the door that is pictured on the left. I'm guessing that can only happen if you remove the drywall on top.

You really have nothing to worry about by tearing out the drywall and corner bead. If you score the wall with a utility knife about 1 1/8" from the corner, when you tear out the corner bead it should come out cleanly. If you go with standard 2 1/4" casing, 99% of what you tear out will all be covered by the casing. If you go with something wider, it will most certainly all be covered by the trim.

If you don't tear out the drywall and corner bead, you would have to rip a board down to the exact size to equal your wall thickness from corner bead to corner bead (which I'm guessing is 4 3/4"). And since corners are only mudded with a 6" knife, I think you'll find that the wall tapers down by at least 1/8" as you get farther away from the corner bead. You won't notice this until you go to put up some casing. It will mean the outside edge of the casing will probably have a big gap where it meets the wall and you'll need a big bead of caulk there.

Do what you like, but I'd tear it out. You also might consider what will happen at the bottom of the entryway where the baseboard currently wraps around the sides. If that baseboard is removed, what will be exposed on the floor covering? You'd likely want your new jamb to cover this up, but I can't say for sure since it isn't shown in your picture.
01-28-09, 08:00 AM
Update
---
I forgot to update and post an "after" photo to go with the "before" photo.
So, here it is: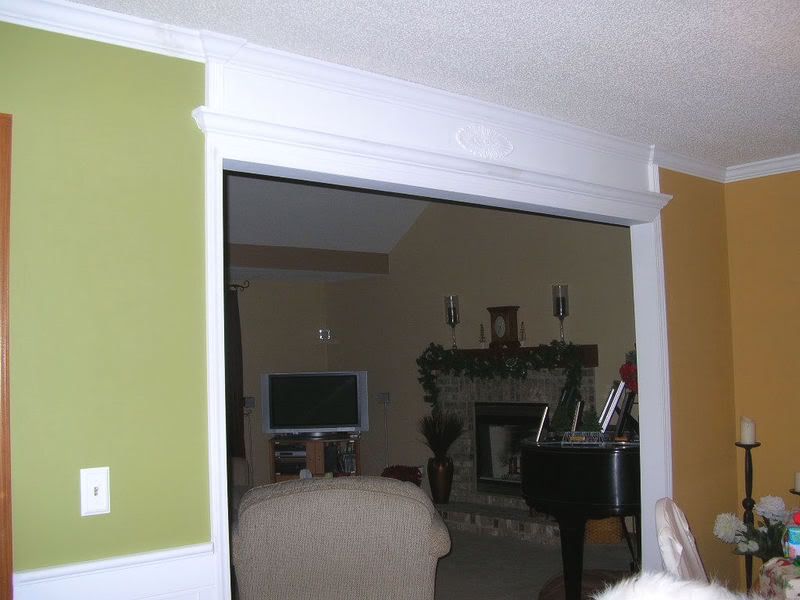 I tore out the drywall and corner bead (like XSleeper said). It was messy, but not all that difficult. Put in jambs and a header, made a plinth block for the base (you can't see that in the photo) added casing, used some old baseboard as a spacer above the casing and nailed the crown to it. Added a dust cap, and the faux corbels, put the medallion in the middle. Then I used putty and paint to finish it off.
As you can see I added wainscoting on the left side. I bought a flat-panel wainscoting kit online and I am very happy with the results. I would strongly recommend that a homeowner should own a tablesaw if they install wainscoting. For me, that made a big difference.
Best of all, my wife was very happy with the results. She now thinks I'm some sort of carpenter or something. No sooner was the project done than she told me "It would be great if you could tear out that fireplace mantle and install a new colonial-style mantle and surround."
Anyway, I just wanted to say thanks to XSleeper for the advice... so.. "thanks".
01-28-09, 08:36 AM
That looks amazing! Glad you found the confidence to give it a shot. It's pretty satisfying to stand back and admire your work.