Repair or replace door? (pictures included)
07-23-08, 08:14 PM
Repair or replace door? (pictures included)
---
My (wooden) bedroom door was shut too hard and is now cracked through the handle and almost end to end. So, I was wondering -- should I attempt to fix it or just get a new door? Also, if it's the first, what would be the best method?
Thanks,
Wes
[IMG]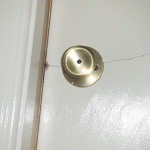 [/IMG]
[IMG]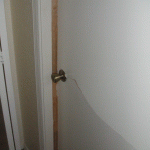 [/IMG]
07-23-08, 08:30 PM
Join Date: Dec 2004
Posts: 26,416
Hi Wes, welcome to the forum. I'd say that door has outlived it's usefulness. Replacement would be the best option.

If one were to attempt a repair, I think the easiest thing to do would be to laminate a sheet of 1/4" veneer plywood (or luan) onto the entire side of the door that is broken. This would make the door thicker on one side and might look a little odd, but might not be that noticeable to the untrained eye.

Remove the door, place it on a set of sawhorses. Remove the door knob... apply contact cement to both the surface of the door and the back side of the 1/4" sheet goods, then bond them together. You'd benefit from some experience with using contact cement because it's tricky to position something exactly. The best thing to do would be to apply sheet goods that are extra large, then trim off the excess with a laminate trimmer and flush trimming bit.

But it would be a heck of a lot easier to just get a new door slab, and would probably cost about the same... or less.
07-24-08, 04:01 AM
Join Date: Mar 2005
Location: USA - N.E.Tn
Posts: 45,240
If I see correctly, the crack is on the outside of the door so if you laminated plywood on it - the door might not close properly without moving the door stop.
I agree it would make more sense to replace the door
btw - welcome to the forums Wes!