replacing doors
02-12-09, 07:52 PM
Join Date: Mar 2008
Location: USA
Posts: 55
Upvotes: 0
Received 0 Upvotes on 0 Posts
replacing doors
---
Getting rid of hollowcore slab doors with 6 panel doors. Home Depot just went to $19 per door. $34 per door for holes and notches put in them - I believe I can handle the holes and notches for $15 X 9 doors!!!
Glad I hadn't put them up already - thunder makes our dog really nervous - - -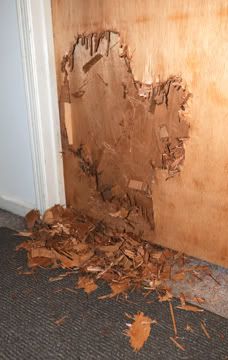 Yep, I got nerve pills for the dog now!!
bamakodaker
02-13-09, 01:33 PM
The holes for the doorknobs and the mortises for their latches are very easy and very forgiging if you get them off a 1/16" or so. That's not the case with the mortises for the hinges. The hinge has to seat fully in the mortise with no wiggle room top or bottom. When I replaced about 10 or 12 I made a jig so my router was cutting each mortise precisely. After that, it's just very care and extemely accurate measuring involved.
02-13-09, 02:03 PM
Join Date: Dec 2007
Location: USA
Posts: 19,281
Hey lefty...not fair answering questions that weren't asked...lol

Bama...if you plan on using a router..they sell inexpensive jigs for the hinges that will work just fine.

Lefty is right...measure the hinge mortices very carefully. Measure 3 times (in this case) rout once...