Installing brick mold on replacement windows....
11-10-09, 08:32 AM
Join Date: Nov 2002
Location: MD
Posts: 374
Upvotes: 0
Received 0 Upvotes on 0 Posts
Installing brick mold on replacement windows....
---
Hi,
I'm in the middle of replacing a bunch of windows in my brick house, the double hungs are in and now I'm doing several larger casement windows. The windows are Jeld Wen, aluminum clad wood windows. The windows I'm replacing are older vinyl - the main reason I'm replacing them is all the windows (and doors) in this house (build in the 50's) are all cased in an ugly metal pan: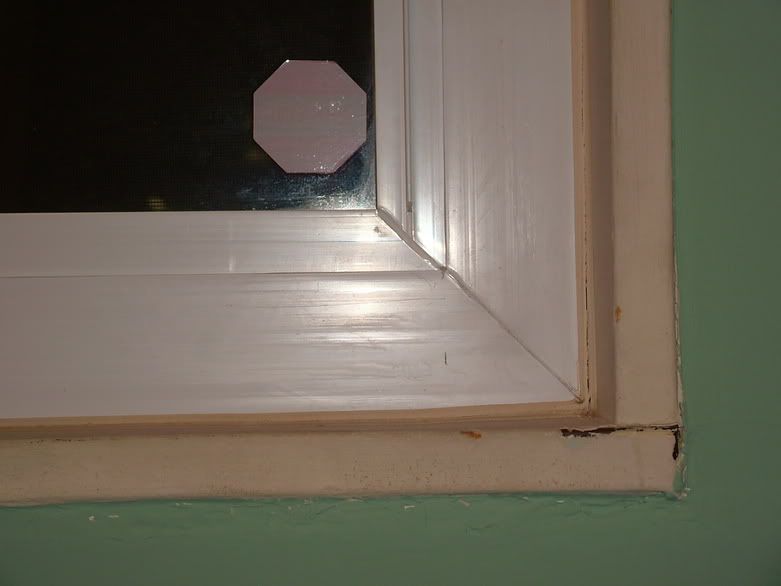 Anyhow, I've ripped out the metal pans, used some flashing and put in the windows. One of the windows I will be installing was custom ordered - it was an odd size. A couple of other windows that I have to install were stock, but in retrospect I probably should have order custom ones. I need to pad both sides of the jam to make the rough opening smaller, I'll probably use a 2x6 to do this (the windows are a little over 6" deep). I'll also need to pad the top or bottom w/ a 1x6.
Anyhow, my question has to do with brick mold (I'll use vinyl). I've never installed it and have a handful of questions:
1. Do you frame the entire exterior frame or just the sides and top?
2. Is the best joint butt or do people miter them?
3. How is the mold attached? Do you use construction adhesive on the aluminum exterior or do you drive nails? And regardless, is it best to use caulk before attaching?
4. While I haven't measured yet (since I haven't done those windows yet) can I pad the brick mold in case it isn't wide enough to cover the padding I've done to fit the window in a larger opening? I may not need to do this but if I do, I'll try to use a vinyl or composite 1x to accomplish this.
5. Any other tips?
FWIW, here's a picture of a rough opening before I put in a window:
Thanks!
Bob
11-11-09, 06:50 PM
Join Date: May 2008
Location: Central, IL.
Posts: 106
Upvotes: 0
Received 0 Upvotes on 0 Posts
Last summer I installed new construction 6" deep aluminum clad exterior, wood interior double hung windows. My walls are 2x4 with about 1" gap to brick exterior. I ripped out the old windows including the frame. Donw to bare studs and cement window sill. I built a box frame to fit the old opening from 2x6. I installed 2x6 verticals within that frame to box the window in on each side. Teh window sits flat on the bottom 2x6 and I framed the top down and nailed that board to the two verticals. A box within a box if you will. I set the boxes into the opening so that when the window is installed it is flush with the interior drywall. Then nailed the exterior box to the 2x4 interior walls that framed the old windows, ensuring it was level and plumb. The 2x6 provided a nailing surface on both sides, interior for drywall, exterior for brick mold. I applied a 50 year chaulk all the way around the mounting surface to seal out any air leaks and hung the window. For the exterior I used 3/4" exterior grade plywood and cut all my pieces to fit. 50 year chaulk to seal the window to the box and seal the brick mold (3/4" plywood), adn finished with two coats of paint. I used expanding foam between the two boxes and window expanding foam between the window and inside box. Trimmed off excess foam. then came the interior finish work. If your lucky enough to get by with a standard dimensional drywall, good. I wasnt so lucky and had to rip 3/4 board down in thickness so the 1/2" drywall fit flush to wall and window edge. Drywall tape and compound. sanded smooth paint to match rest of wall. Tehn I sanded, stained, and polyurathaned all my windows interior surfaces and the trim boards. I finished the trim boards before I cut them to length, this way the only thing I had to touch up was my cut ends. All ends were 45'd. I did 8 double hungs, 1 double wide double hung, and a 8' wide bay window this way. They turned out absolutely beautifull. shoot me an email address and Ill send you some pics of the process and finished work. Unless I can figure out how to get pics posted on this site.
11-12-09, 04:57 AM
Join Date: Dec 2005
Location: USA
Posts: 36,608
Upvotes: 0
In addition, the amount of tearout you have done indicates replacement windows aren't what you need, but full sized windows to fit the opening. Replacements are installed with the existing framing and sill in place.
11-12-09, 12:11 PM
Join Date: Nov 2002
Location: MD
Posts: 374
Upvotes: 0
Received 0 Upvotes on 0 Posts
Chandler - right, I replaced the windows with full size windows, not replacement windows. Thanks for the clarification. However I wish I had custom order a couple so I wouldn't have so much padding to deal with but what is done is done.
Hanr3 - thanks for the input - very nice! Just to be clear, was it just caulk that is holding in the brick mold? And is the brick 'framing' the entire window frame (top/bottom & 2 sides)?
As for me, I did pretty much the same thing - a frame within the frame. One difference, I wanted the windows to sit back a bit so they weren't installed flush with the wall. That would have been easier but I wanted a deeper sill and a bit more depth for blinds. If I had to do it over again, I might have made them flush, it would have been easier. Another difference is my walls are plaster - I wish I had smooth and flat drywall! What I did was inserted the window in my 2x6 frame and then started building extensions (sill, jambs & headers) to make it flush with the wall. Here's a picture of a an extender for the sill & header that have been installed, I now need to do the sides:
As you can see, I've got lots of filling to do, I could stuff a bunch of small animals in those cracks. However once I fill them and tape and paint, it will look nice. Here's a window that is much closer to completion:
Looks a lot better than the originals!:
11-16-09, 12:13 PM
Join Date: May 2008
Location: Central, IL.
Posts: 106
Upvotes: 0
Received 0 Upvotes on 0 Posts
your welcome and your windows look great as well. Nice job!

I used trim finishing nails to secure the brickmold to the 2x6 frame. Countersink and fill with wood putty and paint.