steel casement window removal and replacement
07-28-10, 09:46 PM
Join Date: Jul 2010
Location: usa
Posts: 2
Upvotes: 0
Received 0 Upvotes on 0 Posts
steel casement window removal and replacement
---
Hey guys,
I've searched these forums for info on my particular windows with no luck. I think they're unique, maybe not. It looks like the frame, to which some of you are affixing replacement windows, actually comes out. There are two screws per edge that I think are keeping the frame attached to a steel trim that is then buried in the stucco. One pic shows where the frame and trim come together. The other shows where I removed the screw. You probably think that you're seeing the sash closed against the frame. The window is actually cranked open all the way. I assumed that if I removed the screws, I could knock the frame out of the trim that's sunk into the stucco. I hit it pretty hard using a 2x4 to spread the impact. It didn't really move. When I use a prybar between the peices, they flex away from each other. The house was built in 1952 and maybe these two peices are rusted together a bit and need a good whack. I just though I would check with some pro's before I really put my back into it. I don't want to knock anything away from the stucco!
I figure that I'll get a bigger window by using the full cavity, if my theory is correct.
Any help would be greatly appreciated.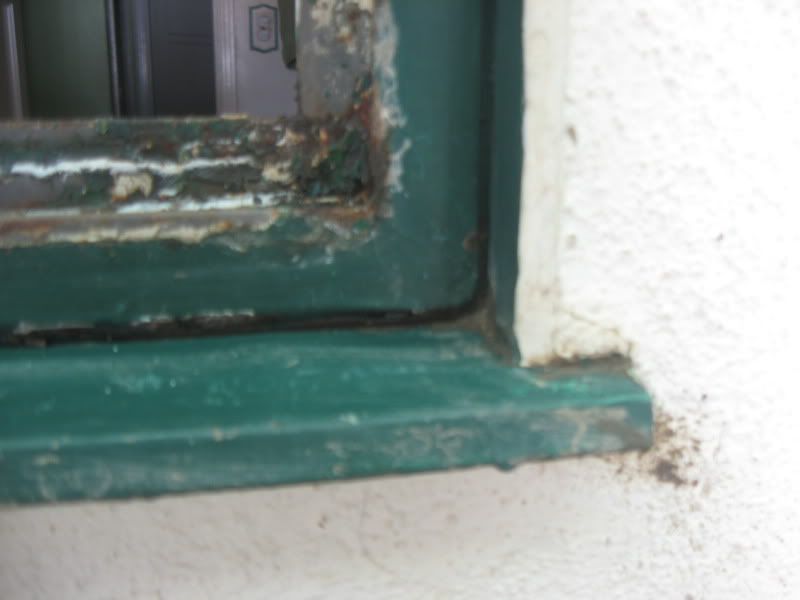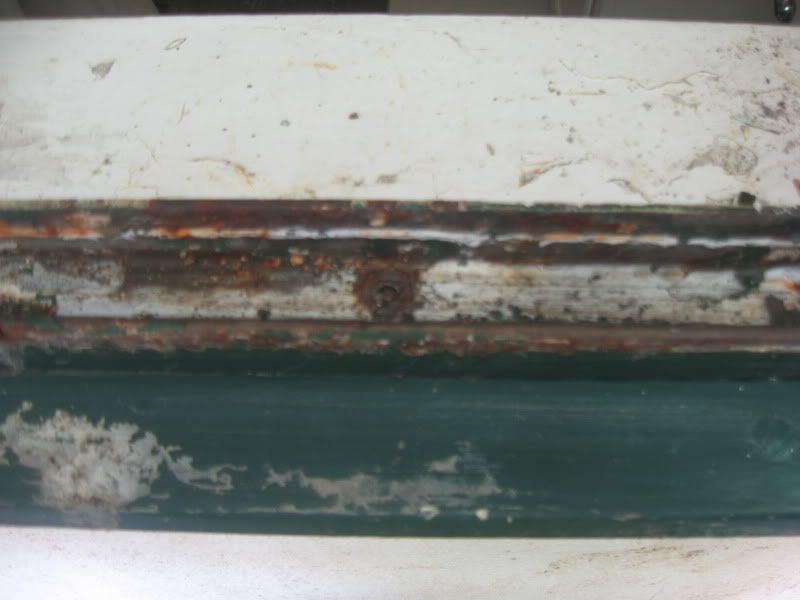 07-29-10, 09:39 AM
sawzall?
---
How about using a putty knife blade to check that the frame will separate where you expect it to? I have seen contractors use a sawzall to cut the sash from the frame on wood windows. Maybe a demo blade could help you here?

I don't think you want to use a hammer or other impact to break it free. fixing that stucco or fracturing it could be a bigger pain.

- Peter
07-29-10, 09:02 PM
Join Date: Jul 2010
Location: usa
Posts: 2
Upvotes: 0
Received 0 Upvotes on 0 Posts
Thanks for the reply!
It's hard to tell from the pic but the "trim" comes out further than the frame about an inch or so, which keeps me from getting a putty knife in there and behind the frame. But I can get a pry bar in there. Problem is, when I pry, the frame flexes away from the trim, but towards the interior, or other side of the window instead of outwards. Because the frame is set inward, past the surface of the outer wall, the back of the pry bar tends to flex the trim against the stucco.
I'm worried about using a sawzall for fear of damaging what may be the frame that I end up stuck with, if I end up having to use a flange.
07-30-10, 05:24 AM
Join Date: Dec 2004
Posts: 26,230
Use a 4 1/2" grinder with a steel cutting abrasive wheel, and make incisions all along the perimeter of the frame. This should weaken the frame enough that you can take out a small section at a time. Removing a 1' section is easier than removing a 5' section. Once you get one piece out, it will become clear how it was assembled. Use the 1/16" thick blades- you will probably need quite a few of them.
05-29-12, 10:54 PM
what was the conclusion?
---
Hi,
I'm looking to replace the original steel casement windows in my 1954 stucco house. It looks like I have the same windows that you showed in your pics & describe in your post. I have been searching all over to find the answer to the question you posed a year ago. I'm curious if you were able to remove the trim from the frame to maximize your window area without damaging the stucco. If you still use this site, please let us know what happened. I would really appreciate the help!
Thanks.
05-30-12, 03:29 PM
Join Date: Dec 2005
Location: USA
Posts: 36,608
Upvotes: 0
The OP was a two time poster and has been gone for two years, so I doubt he will return. Use XSleeper and lpjaffe's comments and ideas to remove yours. You don't have many options. OH, welcome to the forums!!
05-30-12, 05:10 PM
no harm in trying...
---
Yes, I realize my chance for reply is slim, but no harm in trying! His was the only post I saw (in several days of searching) that was attempting to figure out the same situation I've encountered. I appreciate the reality check, but am still hopeful that someone out there knows
Thanks for the welcome... happy to be here.
Cheers.
05-30-12, 05:26 PM
Join Date: Dec 2004
Posts: 26,230
lyonlion,

just so you know, it's not possible to remove the frame without doing "some damage" to the stucco. The exterior side of the frame has been covered up with at least 1" of stucco. If you want absolutely no damage to the stucco, you will have to leave the frame intact and just remove the sashes, and then cut/grind off any vertical mullions, getting a window to fit inside the existing frame.

My post on 7/30/10 was meant to counter the idea that a reciprocating saw could be used to remove the frame without doing much damage. Sashes, yes- frame, no! While a reciprocating saw might be used at some point in the demo, the grinder will be your best bet if you want to try and avoid a lot of damage.