What are good replacement Windows?
10-24-12, 06:42 AM
Join Date: Dec 2010
Location: USA
Posts: 384
What are good replacement Windows?
---
Which brand is good and affordable and I don't know if wood or vinyl.

Thank you
Sponsored Links
10-24-12, 07:10 AM
Join Date: Oct 2004
Location: WI/MN
Posts: 18,651
I've been pretty happy with Marvin. I have a coworker who is replacing the windows in her house and she's going with Renewal by Andersen because they handle everything - she doesn't have to buy the windows from one place and then hire a contractor to install them.
10-24-12, 08:10 AM
I am sold on Renewal by Andersen. - Not cheap, but good and installed totally correct.

My experience is with oversize custom replacement sliding doors. Because of the size, the price was slightly higher than normal and the extra manufacturing step delayed things. The installation (the most important thing, as it is with any decent window. Here, the installers are not actually Andersen employees but working as independent contractors on a long term exclusive contract and are not just guy working for an installing company that works for many window brands. The price is determined by the salesman and a measurer comes out a couple of days later to make detailed interior and exterior measurements for fabrication and installation. He also takes about 10-20 photos for the installer to see before the actual installation and make sure he has all materials. The measurer and installer call a day before their arrivals and also 15 minutes before the actual arrival.

My installer had a 20' enclosed trailer with 2 generators, 2 compressors, extension cords, metal break, flashing, caulk in controlled temp container, mats, tarps, vacuum cleaners, other clean-up supplies and a camera for photos. since I wanted unfinished wood trim on the inside, he showed me the wood before cutting and installing. From arrival to leaving after removal, installation, disposal, clean-up, vacuuming and photos the time was 2:30 including the installation of smoke detectors (required in our community), scheduling the permit inspection. He also stopped back a couple of months later to see if everything was working O.K.

I just ordered another sliding door that will be installed in a week and look forward to finding and excuse to upgrade my windows with something good. On the door I just ordered, I required the same installer and they guaranteed it and commented that he installs about 700-800 doors a year, but does not do windows, but assume the window installer would be very similar.

Dick
10-24-12, 09:03 AM
I had cheaper replacements put in and they are fine. Its not so much the window IMO but how its insulated around it.
The guys that installed them was putting minimal around. I took the time and followed them insulating each window as they installed them. This was before they put the trim ion the outside.
You see the gaps around the original window? They installed the windows inside the casement. There was no, or minimal insulation so new windows without insulation would have been a waste IMO.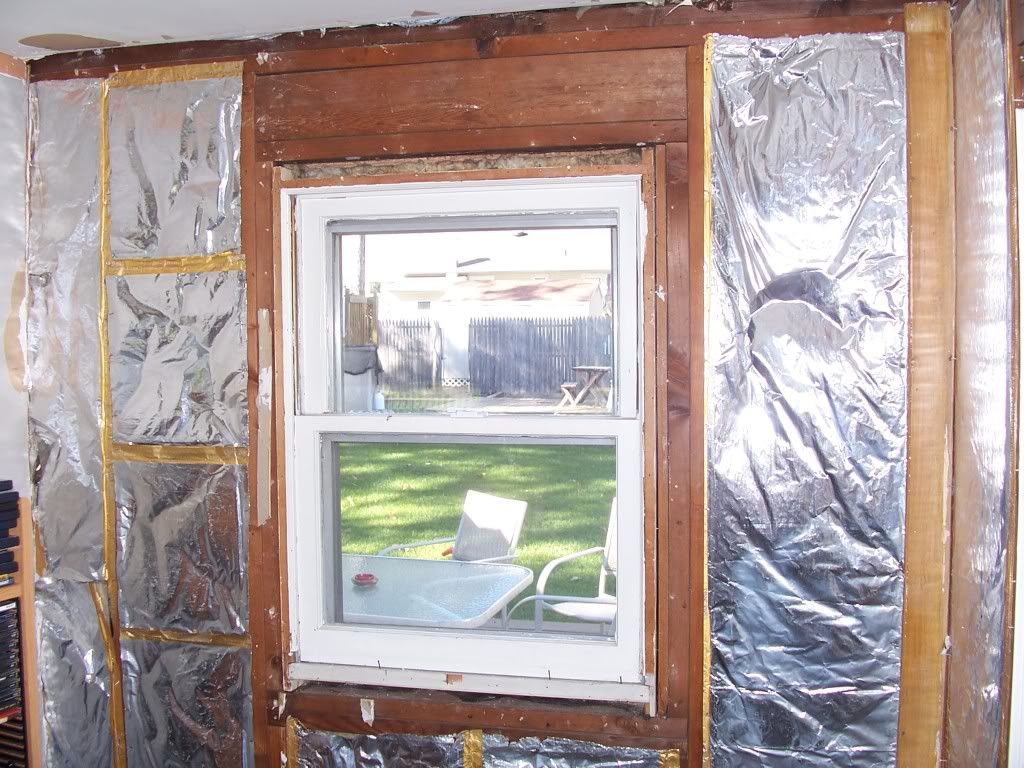 [IMG]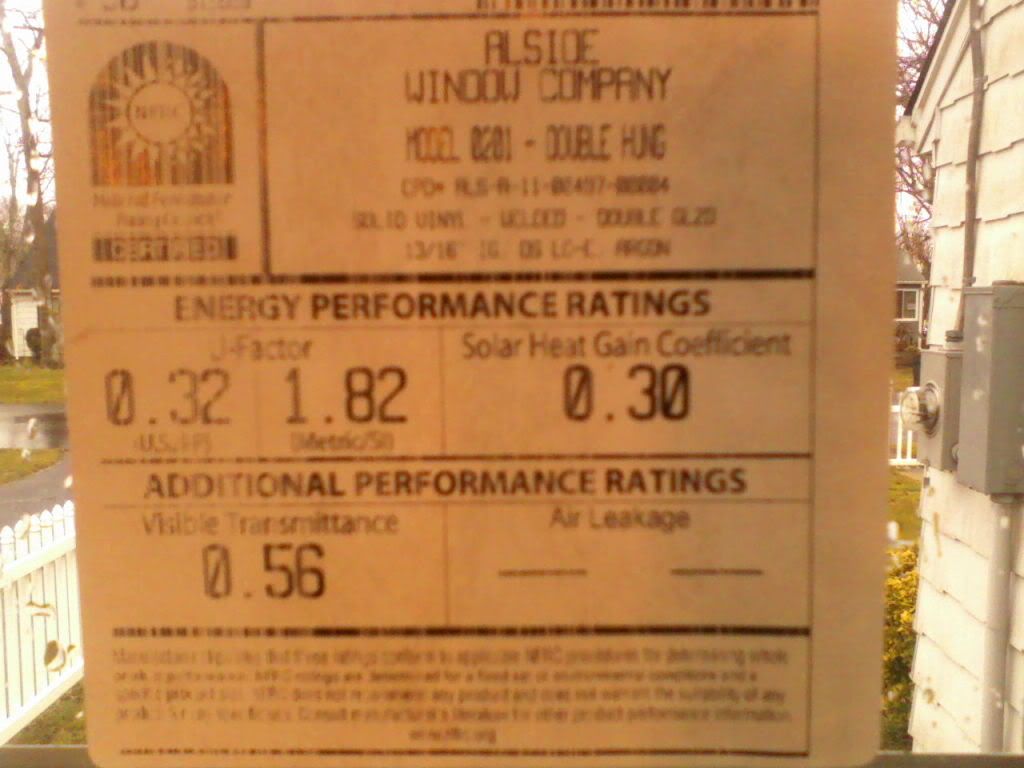 [/IMG]
10-24-12, 10:44 AM
IMO, asking what kind of window is good is like asking what kind of car is good. There are probably hundreds of windows with a variety of prices. I really think this is something you need to shop for yourself.
10-24-12, 11:29 AM
About the only good advice I can give is to go with a brand that has a large dealer network and has been in business for a while. By a while, I mean 20-30 yrs. Even some good manufacturers have gone out of business in the last 5-10 yrs. Many of them were regional and just did not have a large enough customer base to keep them afloat when the economy stumbled.

I know some may disagree...and I sorta do myself (and it's my statement!), but if you buy one of the major brands like American Craftsman by Anderson or Thermostar(?) by Pella....there's a good chance they will still be around in 10 yrs to honor their warranty if needed. I know there are better products out there but as long as you don't get the bottom of the line windows from the bigger brands, they are a pretty good product for the money.

I saw some windows being installed at a job site about 6 yrs ago and didn't recognize the name, so I stopped and asked. Turned out they were made in Germany and some of the heaviest, nicest looking, best designed windows I had ever seen. They also cost almost double any other locally sold brands. And what happens in 10 yrs when the installer/distributor is long gone?
10-24-12, 12:05 PM
Gunguy's observation on the Germany windows is typical of most European windows. They are expensive and probably worth the investment. Closing one is just like closing a freezer door or a door on an old VW Beatle where you have to keep the window ajar to be able to slam the door tight.

I ran across some windows in Poland where they tilted in and out, swiveled and could be operated like casement window also. They do not close quickly because of the air pressure difference.

The best window performance cannot be obtained with a poor installation. I learned this while doing mold and moisture damage investigations where the damage leads you to the cause, with is improper flashing under the primary moisture barrier all around the window and idea that caulk really does anything weel except keep moisture inside until there is a break in the caulk to let it out (which is after everything is soaked). Foaming interior gaps in the wall thermal barrier with the proper material is a no-brainer. That is why about 2/3 of all windows are really installed improperly even if they look good from the outside (including caulk). It is why many builders are not letting their carpenter install windows (insurer requirement) unless they are certified installers.

Even though a great window is installed properly, it is really still a "hole in the wall" that loses heat. A properly installed window is no better than a 8" plain, uninsulated concrete block area and worse in some ways. People just want and need them.

Dick
10-26-12, 06:38 AM
Join Date: Dec 2010
Location: USA
Posts: 384
Hello and thank you all for your replies.

After the last two posts I was thinking putting windows in I grew up with. German windows which are called Tilt-N-Turn Windows. I found a German company down in FL who builts German windows and has been in business for more than 20 years. They warranty is also 20 years. Got already a prices and must say that they not that more expensive. May only 25%. I also found out that Marvin and Pella also make Tilt-N-Turn Windows. I am going to check them out too.
Posting Rules
You may not post new threads
You may not post replies
You may not post attachments
You may not edit your posts
---
HTML code is Off
---