Do I need a stronger header here for a new sliding glass door?
10-08-13, 01:52 AM
Do I need a stronger header here for a new sliding glass door?
---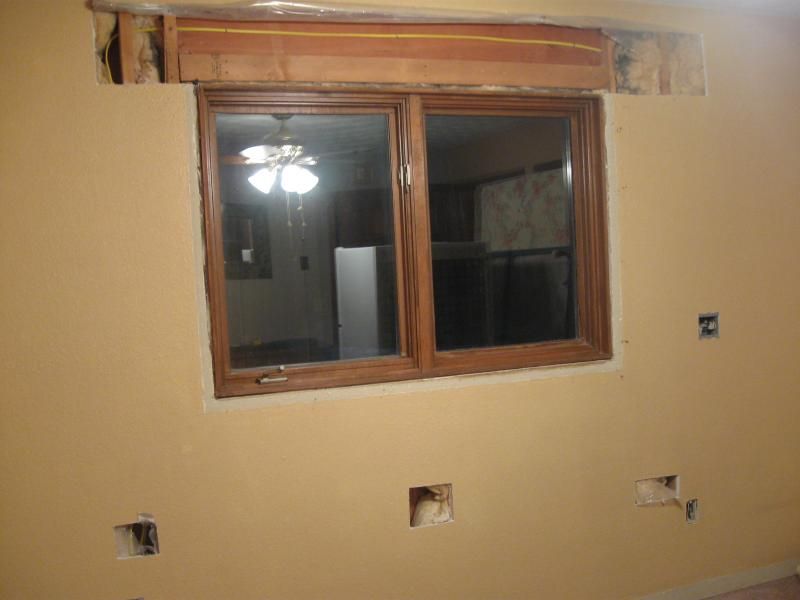 Hello, I am replacing this window with an Andersen sliding glass door. The door is 59-1/2 wide and 80" inches tall. It will open from the left to right on the outside. I have 6" inch walls but the slider only comes with a 4" inch depth. My contractor is going to build out the frame with 2x6" boards. He said he needs to rebuild the header as well. My question, is the existing window header in pic not enough support? Does it need to be stronger for the door install? If I'd had a 72" wide door, then I would understand a better header but the door is only 59-1/2" inches.
Also, I tried to find a diagram online of how to install a 4" inch deep door into 6" walls but nothing has come up. Want to see how to build the door jamb frame out for 6" inches. Contractor called and he will be here on Wednesday to do the install and not tomorrow. Thanks to everyone!
10-08-13, 02:41 AM
Unless the header is 63" or so wide, then it isn't sufficient for a door header. It must span across the door and rest on jack studs on either side just as the one pictured. You need to re route that 12-2 that is stapled across your header at the same time. I know what you have done, and it can't stay that way. You will either need to move that cable up into the attic or below to the basement and make your lateral run across.
10-08-13, 05:09 AM
10-08-13, 05:03 PM
Hello, thanks for answering. What? The electrician has already moved that romex(it's new wire) from the middle of the wall and up. What do you mean that has to move again? Why does it need to go that high(attic) or that low(crawl space)? The new door should only come up to the top window sill and no higher. If he needs more height, there still 1" more up the front 2x4 header. The wire won't be pinched once the drywall goes up as it is inset on the header.
In today's pic, the window across is 59" inches. The header is 63" and measuring both outside jack studs, the width is 66" inches. The wood behind the front smaller header is a 2"x12"x 63" inches main header. This should be enough header for the 59-1/2" door, right?
Since you mentioned it. I thought all doors come with door frame and jamb? I wondered where the frame was? What is protocol? With or without? Thanks!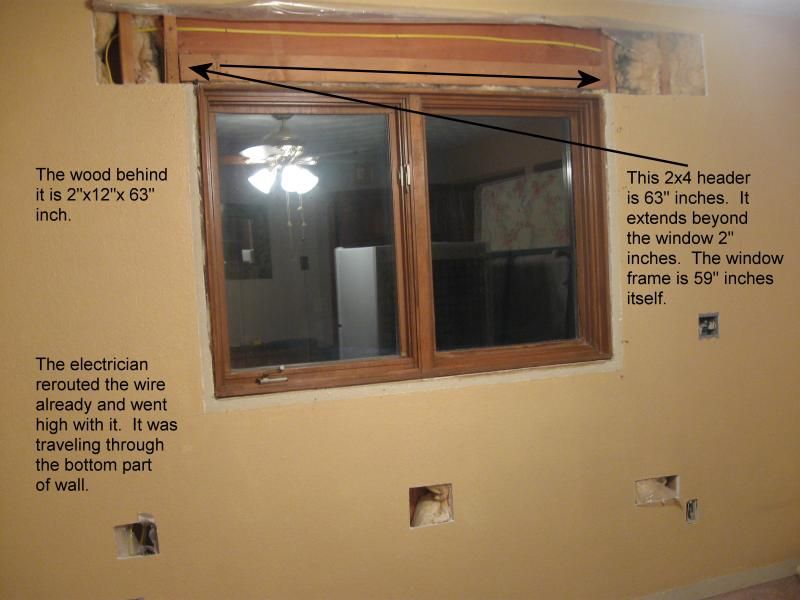 I know the door should stand up right but this is how they left it. I can't lift it.
10-08-13, 05:53 PM
Just talked to Home Depot Bill(second door buy) and sliding glass doors never come with a door frame, no matter the brand. HD charges about $100. to build a door frame and jamb for sliders(I knew this). My contractor was going to have to built it no matter what. Bill said any other doors DO come with the frame, etc. I didn't think my room was big enough for an in-swing door. And have heard out-swings are just not sturdy enough. The bed has always been under the window but moving it to the opposite wall.
10-09-13, 03:30 AM
Your header set up is good. It is difficult to determine measurements with just a pix, but you confirmed it. The electrician should know better than to run an unprotected wire where you can drive nails through it. The cable must be protected. How does he propose to do that? YOU will know where it is when you install your sheetrock, but someone may come behind you and hang pictures, or curtains and can penetrate the cable. It has to be moved or protected. In addition how did he make his connections where your original receptacles were? Any junctions must be in boxes and must remain exposed on the finished wall. Hopefully the wires weren't just wire nutted and poked back in the wall. Let us know on that. He may need to come back and do it all over, and do it right this time.
10-09-13, 05:44 AM
Join Date: Dec 2004
Posts: 26,197
With the 2x4 furring on top of the header, and the romex is laying on the header, isn't the wire the minumum of 1 1/4" back from the front edge of the studs, as electrical code says it must be?
10-09-13, 02:41 PM
Sorry, I should have put those measurements in the first post. I might have him put that window in the garage wall?? Or sell it on Craigslist. ??

Power comes from the right in window picture. That would be correct as the electrical panel in the garage is that direction. Right now there is just wire nut connections tucked inside the wall, you can't see them. He talked me into Insteon switches but didn't have them on the truck so he will come back. I think I just want good 'ol flip switches on the wall and none of the fancy stuff. I read somewhere that with time, Insteon Lights' contacts on the switch wear out fairly fast and you have to keep tapping them to turn the light on, or something like that.

We have had some real rainy weather here and strong winds so waiting for a good day to open up the wall.....no problem....soon. I will let you know what height the deck comes in at. Thanks for everything!
10-09-13, 03:32 PM
The wire nut connection requires in a "J" box, accessible later, as Chandler said. The header requires foam board per WA energy code. The slider requires jamb extension kit from box store, as Joe said. The header may be strong enough without replacing, find snow load, house span, floors, etc. here;
Chapter 5 - Floors
Gary
10-09-13, 06:41 PM
I should think if the header were strong enough for the window, it will be for a door in the same location. Building your own jamb extensions will work as well if you have the equipment to do it with.
10-10-13, 11:25 AM
Chandler, you may be correct, I agree- but did not state that as OP is concerned about legitimacy of the contractors future actions; "He said he needs to rebuild the header as well. My question, is the existing window header in pic not enough support? Does it need to be stronger for the door install?".

I gave the link for an example of loads to check on his contractor as the house may be over a few years old and codes change every 3 years, up-dated for safety, etc. Or simply ask him where/show the info on need to change header. Hustling more work, point loads above we are unaware of, cracking of drywall, and other things need to be on-site for...

Gary
10-28-13, 04:12 PM
Hello again everyone! I got the door put in and the deck is lower than sub-floor by an inch. Thought it would be even to the sub-floor so glad about that. The contractor was correct in his measurements. He did not need to change out the header. It was 63" across and the 59-1/2 slider fit. He beveled a piece of wood to meet up with old deck. I am on my way to fly so won't be back here for a couple of days. Any questions, I will catch up with you all. Thanks for all your help with this!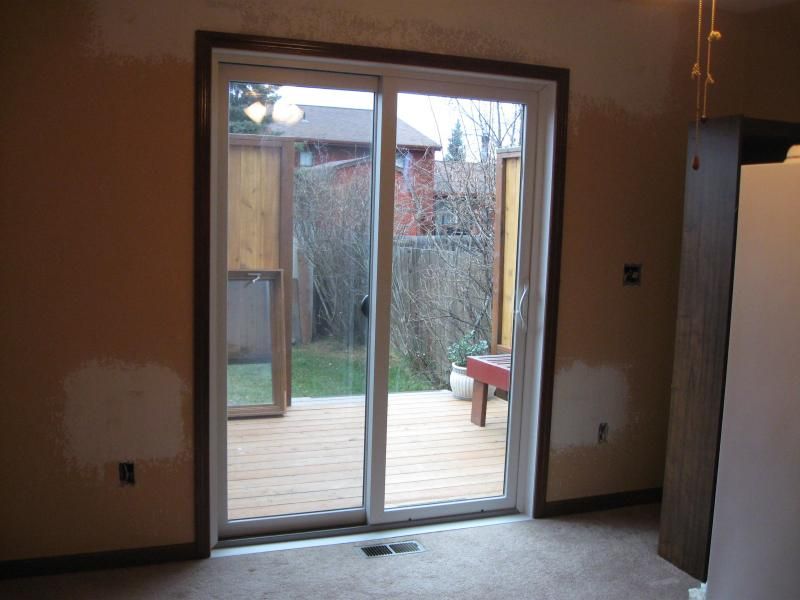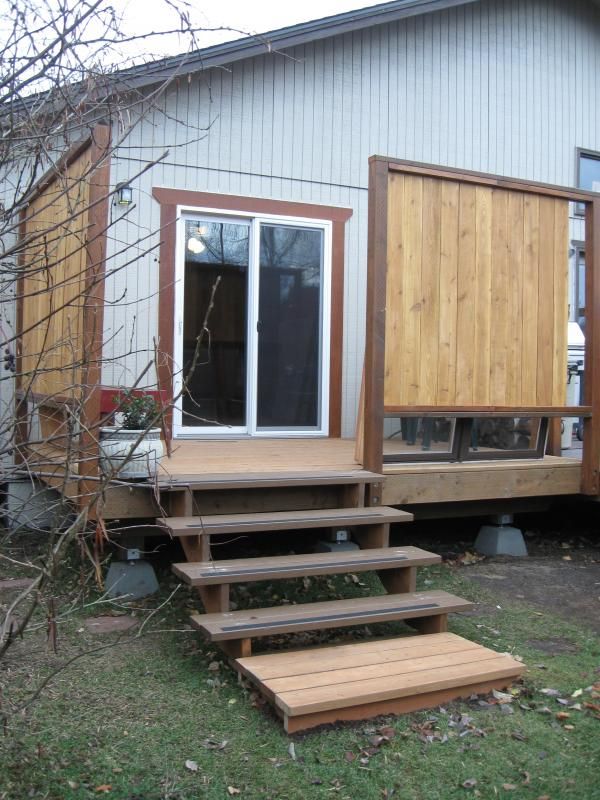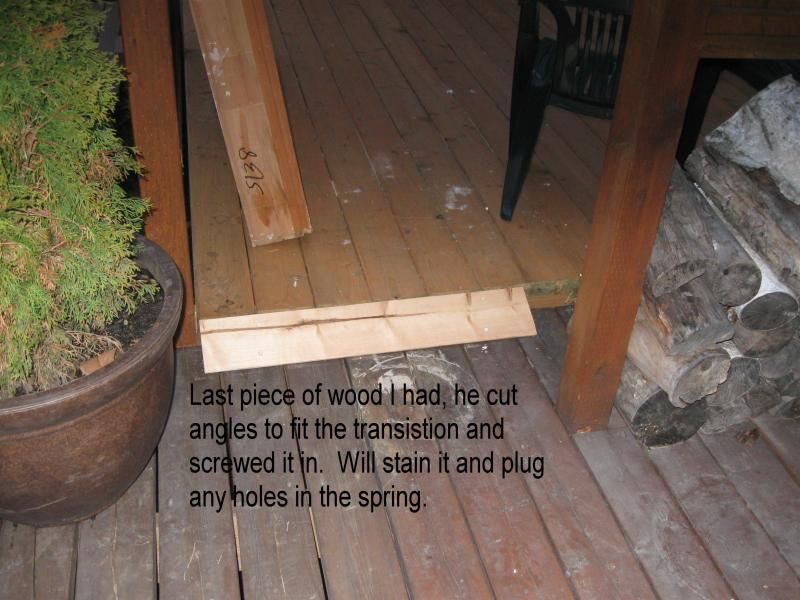 10-28-13, 04:19 PM
I like the composite framing inside but I don't think it can be painted. Or very hard to paint from what I understand. He was pretty adamant about using the composite. He did ask if I wanted textured composite but thought the smooth would be easier to clean or paint. He put 1"x 6" cedar trim on the outside and it looks great. The door is paintable and I may put some color to it in the spring...lots of fine painting there...ugh. Thanks so much for all your help!