Window Leaks with Rain - Afraid of Snow
11-13-13, 10:59 AM
Join Date: Jun 2013
Location: USA
Posts: 11
Window Leaks with Rain - Afraid of Snow
---
Hello. I'm renting and this window is located in the basement of the house. I apologize as I'm not familiar with the proper name of the part of the window I want to describe. This is the bottom of the window (which swings up and out) meeting the top of the bottom frame.
I located the leak after spraying a hose against the window from the outside (originally we thought there might be a foundation leak). It turns out that the window just isn't sealing tight enough when closed.
I don't want to replace the window - I'm looking for a cheap & easy repair. Does it exist?
Thanks for any help.
Sponsored Links
11-13-13, 11:06 AM
Join Date: Oct 2004
Location: WI/MN
Posts: 18,657
If you're renting, this is the landlord's problem and you shouldn't be making any changes.
11-13-13, 11:15 AM
Join Date: Jun 2013
Location: USA
Posts: 11
Normally I'd agree. In our case we were allowed use of the basement under the conditions that if there were any problems they wouldn't be held responsible for them. This leak is preventing us from using a room that we need for storage so if there's a simple solution without replacing the window I'm sure the landlords would be okay with it.
11-13-13, 11:19 AM
Join Date: Mar 2003
Location: NC, USA
Posts: 17,768
Can you post a picture of the window taken further back. The one photo is zoomed in so close you really can't see much. Being able to see the whole window from the inside and outside would be a help. But without seeing what you've got I'm wondering if you could build a little "roof" on the outside to stop rain from hitting the window.
11-13-13, 11:20 AM
OK, just asking, but it seems the landlord will have bigger and more expensive problems down the road if he doesn't replace (or at least fix) the window.
Does he even know about it? I'd at least mention it in case he doesn't.
11-13-13, 12:25 PM
Join Date: Jun 2013
Location: USA
Posts: 11
Our landlords don't seem very interested in fixing much of anything.
I'm in a rush but here is the best I could do for pictures:
OUTSIDE:
INSIDE:
As a reminder the leak comes from where the moving part meets the frame (I guess this could be called a sill in this case?).
11-13-13, 04:26 PM
The solution: It needs a storm window on the exterior side.

Also why do people always think that pouring concrete right up against the house is a good way to fix drainage problems? The concrete needs to be caulked where it meets the foundation and where it meets the wood sill of the window. I bet that if the cement isn't sloped correctly, water runs right over that window sill. Can't wait to see what that does when snow and ice blow up against it.

A self levelling sealant might work well for narrow gaps since it will seep down into them. For any wider gaps you will want the same sealant but for vertical surfaces. Loctite S10 and S20.
11-14-13, 05:26 AM
Join Date: Mar 2003
Location: NC, USA
Posts: 17,768
If the concrete slopes toward the window it will be a difficult problem to nix. A storm window would help keep water away from the inner window. You also could look for a window well cover and caulk at least the top edge to the house to prevent water from running down and into the window. They come in various sizes and you may be able to turn it sideways so it is taller and does not stick too far out from the house.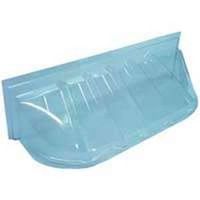 11-14-13, 01:47 PM
Join Date: Jun 2013
Location: USA
Posts: 11
Thank you for the great ideas so far. I took some more pictures today before sundown:
OUTSIDE:
INSIDE:
WHERE WATER LEAKS IN:
The white aluminum trim is covering it up, but the edge you see in the picture is where the window meets the frame when closed. Window & frame are both wood -ignore the white. It looks like it was screwed shut at some point - possibly because of this very problem...
Posting Rules
You may not post new threads
You may not post replies
You may not post attachments
You may not edit your posts
---
HTML code is Off
---