Is there a way to bend metal z flashing a little bit without messing it up?
01-17-14, 03:50 AM
Join Date: Mar 2012
Location: USA
Posts: 378
Is there a way to bend metal z flashing a little bit without messing it up?
---
I am finally going to install some metal z flashing above my window. I need to bend the upper part of the z flashing so that instead of a 90 degree bend it has maybe a 60 degree bend to better fit the contour of the siding I have.

I have tried to use some pliers to gently bend this, but the results were terrible. The sheet metal of the z flashing kept getting mangled. Is there some method or a simple tool that will help change the bend of the metal flashing?
Sponsored Links
01-17-14, 05:10 AM
You should be able to gradually relax it with your hand. Or sandich the upper leg between. 2 boards and screw them together. Then bend it gently.
01-17-14, 05:20 AM
Join Date: Mar 2003
Location: NC, USA
Posts: 17,779
There is a special tool for doing exactly what you want. It's a siding brake. It's a bit of a specialized tool and too expensive to go purchase for just one little job but you might find someone with one that could quickly form the bends you want. Check with siding contractors or building supply centers (not big box places like Lowes or Home Depot). You can also check with tool rental stores. If you just have some quick bends they may just let you do it at their place without actually renting the tool.
The brake has a long clamp on top actuated by a lever to grab your metal. Then hanging down in front is a bar you pull up to bend the metal however far you want. Look online for some videos so you can get an idea how they operate so you might be able to "borrow" someone's brake for a few minutes. They might be more helpful if you have a bit of a clue what's going on. They'll probably see that you're inexperienced and offer to help you out.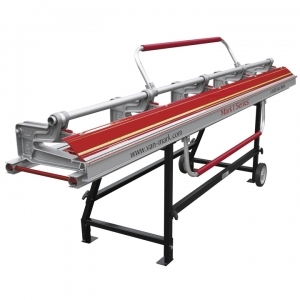 ---
Last edited by Pilot Dane; 01-17-14 at

05:21 AM

. Reason: changed picture
01-18-14, 02:01 PM
Bending sheet metal is easily accomplished by first clamping the extended leg of the flashing to the top of a workbench or other firm surface, using a flat 2 x 4 to hold it down with C-clamps on each end. Then grab the projecting portion of the metal using a pair of vice grips made for working sheet metal (they have wide, flat gripping surfaces), pulling or pushing it to where you want it, one section at a time.
Posting Rules
You may not post new threads
You may not post replies
You may not post attachments
You may not edit your posts
---
HTML code is Off
---