Gap under threshold of newly installed door (with pics)
08-31-14, 04:07 PM
Gap under threshold of newly installed door (with pics)
---
Hi all,
I have visited this forum many times over the years and usually found the help I needed just by searching. This is the first time I've had to post a question, and I really hope you can help.
I just had a handyman replace an exterior door (garage entrance) with a prehung Masonite door. He is not finished yet and will be back tomorrow to complete the job. I have been looking at how-to articles on installing exterior doors, and I am worried that the door was not installed correctly.
The door is installed on top of a cement slab (basically the garage floor) and there is a large gap between the slab and the aluminum threshold. Should this have been addressed during installation? Is there anything that can be done at this point to fill and support it? The threshold flexes when stepped on.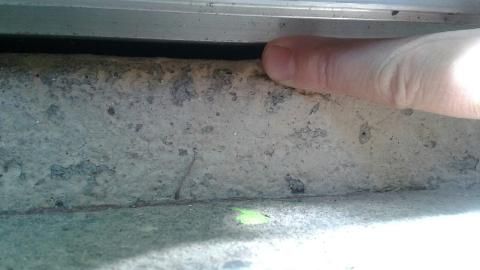 This is a picture taken from inside; you can see how much daylight there is between the slab and the threshold.
Please tell me what the best course of action is to make this door weatherproof and bug-proof. I appreciate your insights.
Marla
08-31-14, 04:23 PM
I usually try to grind the slab flat and level with a cup grinder before I install a door like that. But it almost looks like he intentionally shimmed up the ends. In the bottom picture it would have helped to see the entire door, not just half of it.

If he's not taking it back out, he needs to shim under the sill every 8-10" or so, then seal it to the cement on the inside with a polyurethane caulking. (you usually run a bead of sealant on the cement and then set the entire door into that). On the exterior, I'd recommend taking a piece of window and door flashing and tape it to the bottom of the aluminum sill. Then the space under the aluminum sill will need to have a filler installed to solidly support it to the cement. This is almost always a tapered piece since the cement is almost never perfectly straight. I prefer to glue those in place so they don't work back out. It can be about anything. Treated wood, redwood, composite, PVC, whatever. I often like to use a piece of composite decking.

Hopefully the door has an adjustable threshold that can be adjusted once he's done to eliminate the gap under the door bottom.
08-31-14, 04:53 PM
Thank you for the advice. If it comes to it, I can ask him to remove the door and reinstall it (or have someone else reinstall it). I want it to be adequately secure and weatherproof, and if taking it out is the best way forward, I will go that route. If the other fixes you suggested will be enough, though, then I will choose to do that.
Here is a picture taken from inside showing the whole door. I don't think it has an adjustable threshold, but that is a whole other problem. I was thinking we'd have to replace the sweep with a wraparound one.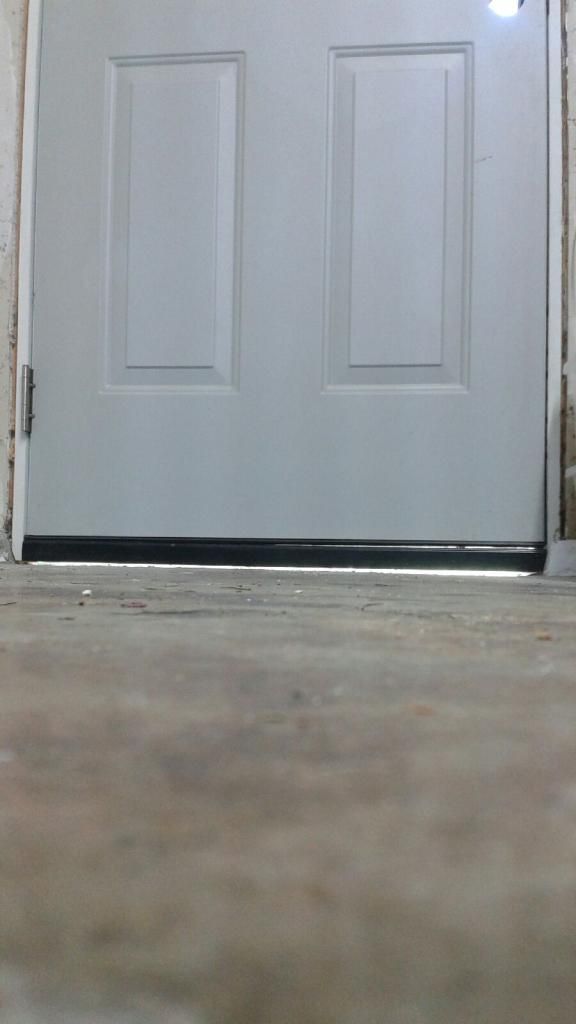 Thanks for any additional comments you may have. At least now I have some knowledge to help me discuss this with the installer when he returns tomorrow.
---
Last edited by MarlaM; 08-31-14 at

04:54 PM

. Reason: photo problems