Replace rotting wood under door?
Join Date: Dec 2008
Posts: 47
WI
Replace rotting wood under door?
I know it's a long shot, but is it possible to repair the wood under my exterior door, without removing the whole door and frame? See photos. (I placed the expanding foam in there for temporary relief of bugs). Any suggestions would be appreciated...thanks!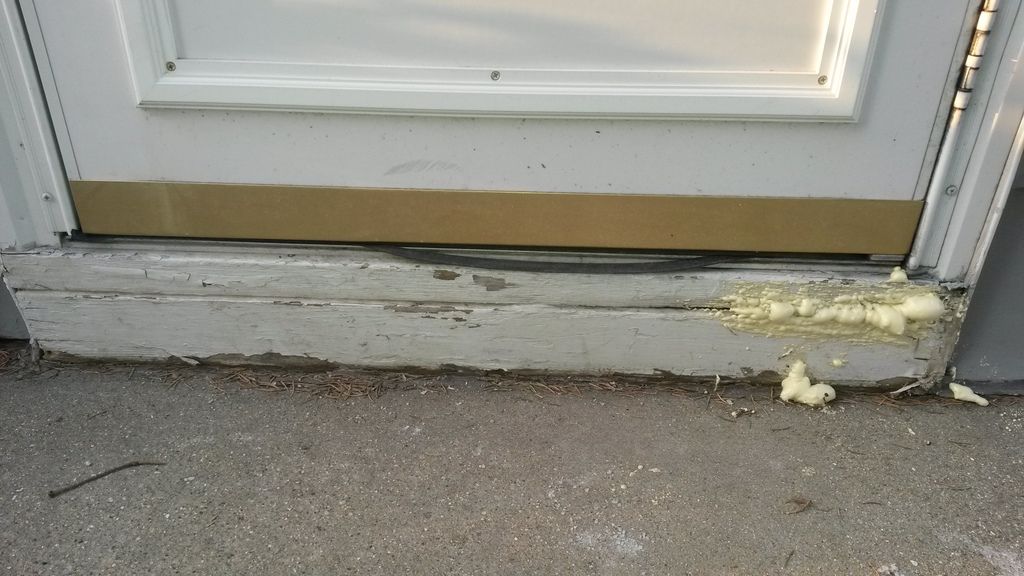 Sponsored Links
Join Date: Mar 2005
Posts: 42,811
TN
---
retired painter/contractor
avid DIYer
Join Date: Jan 2011
Posts: 3,968
VA
It's sticking out beyond the threshold so it's trapping water in that gap.
Made it a lot harder to repair by using spray foam.
Replace the wood with Vinyl lumber and it will never rot again.
Join Date: Dec 2005
Posts: 39,968
GA
You should probably replace both pieces. The threshold is the metal piece. The two pieces are there for support. IF your threshold has screws in it, remove them and remove the two pieces of wood. I would do it with a reciprocating saw starting in the middle of the top piece of wood and arc cut it downward making two or more pieces that would allow for its removal. The bottom piece should pull out rather easily once the top one is out.
Replacing the wood is fairly straight forward. One thing you need to do is purchase a properly sized threshold extension that will snap into your existing threshold to extend it out past this wood. That way the water will go past it and reduce infiltration. Yeah, spray foam is insulation, not construction sealer.
Join Date: Dec 2008
Posts: 47
WI
How do I remove this threshold from my exterior door???
I need to replace the rotting wood under the threshold, but I'm having trouble removing the threshold. See photos. Unfortunately the 2 screws shown that are used to elevate the threshold are stripped. I'm able to get under the threshold with a screwdriver, but it won't pry off. As you can see from the second photo, it's wedged pretty good under the side of aluminum siding. Any suggestions? I'd prefer the keep the threshold after replacing the rotting wood, but don't absolutely have to.
Thanks!
https://www.dropbox.com/s/o7nkeoziq1...02721.JPG?dl=0
https://www.dropbox.com/s/7239cwdyqz...02722.JPG?dl=0
Join Date: Dec 2004
Posts: 19,338
NE
The sill and threshold are one unit. The screws are stripped because they are not made to come out, they are only made to adjust the threshold up and down a slight bit before stopping.... so quit trying. If you try and take it apart you will probably be needing a new door.

If you need to replace the subfloor or the framing under the door, you will have to remove the entire prehung door unit to do it. If some wooden part of the aluminum sill and adjustable threshold needs to be replaced, you will also have to remove the entire prehung door unit to replace it.

Endura and I'm sure others make a composite (won't rot) prehung door sill/threshold, so if you have to replace it you might see if you get one of those.
Join Date: Jan 2011
Posts: 3,968
VA
So what's rotten and needs replacing?
If it's the subflooring it's because someone missing building 101 class and pored the slab or stoop in direct contact with the threshold and did not at least install a sill pan or at least proper flashing.
Join Date: Dec 2008
Posts: 47
WI
Join Date: Dec 2004
Posts: 19,338
NE
You could probably replace all that (from the exterior side of the door) without removing any part of the door, but you would need a multi tool and a few blades. The bottom exterior board is just a 2x4. Above that is what looks like an old sill nose. Either way, it could be split off, chiselled off, cut off with the multi tool. Then instead of using 2 separate boards, replace it with one piece of 2x6 cedar that is ripped to fit.

As Chandler mentioned in the other thread (why start a new thread?) adding a short aluminum sill nose extension (the one on the left that he linked to) would help prevent water from going under the door.