Repairing front door jamb
08-12-17, 01:16 PM
Join Date: Apr 2016
Posts: 44
Repairing front door jamb
---
My front door jamb has been messed up since i bought the house, need to fix it but if i could do so without buying either a whole new door jamb kit or a whole new door that would be ideal. Looking at the piece in the picture below is it possible to just take this individual piece out and replace it? Or take it out and maybe just put a piece of wood there? Its like that where the screen door connects at the bottom as well. When i went to take out the bracket they had moved from the standard screws to screws that are probably 4 or 5 inches long. They must have had the wind catch the door numerous times and instead of fixing it figured longer screws would solve it which isnt the case.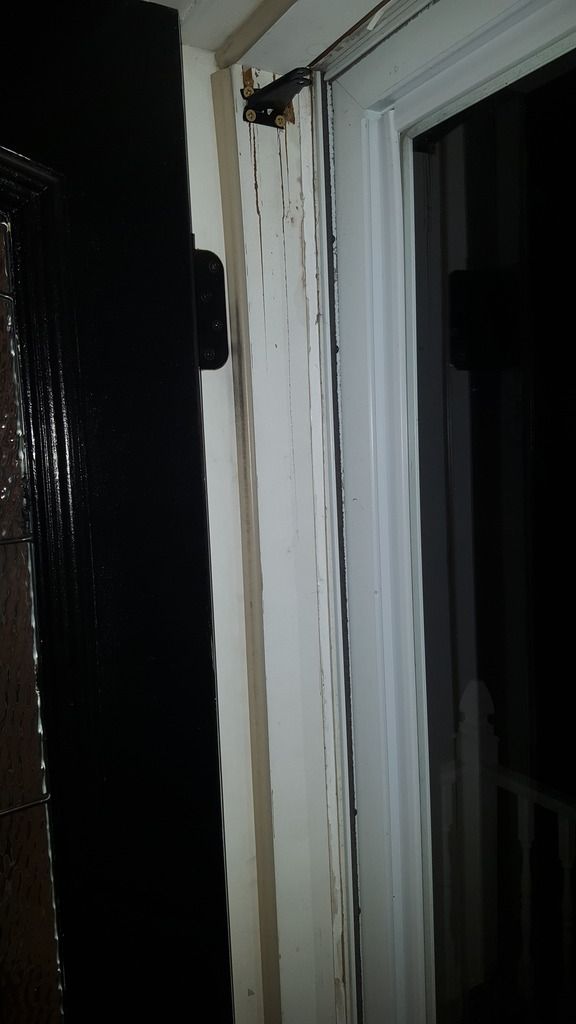 Sponsored Links
08-12-17, 08:25 PM
A jamb that is that far gone would need to be replaced if you want it to be like new again.

If you just want a cosmetic fix, remove your closer then coat the cracks with bondo. Wipe it into the cracks and scrape off any excess. When it's dry, sand it with an orbital sander then give it a second coat of bondo. When it's dry, sand it again.

Prime and paint. Then mark your holes and drill 1" deep pilot holes this time. (5/32") Then use the 3" screws to reattach the closer. And buy a "safety chain" to put on the storm door. It is what will prevent the door from getting yanked farther than 90 degrees.

And by the way, when you put the closer on, there should only be 1/4"-3/8" between the edge of the closer bracket and the storm door.
08-12-17, 09:50 PM
Join Date: Apr 2016
Posts: 44
It cant be a cosmetic fix because the closer wont stay screwed in they musy have tried screwing it 10 different times with very long screws. Right now i have the door closer disconnected because the jamb is so ****ed up. My only thought other than getting whole new jamb was that that piece the closer screws into appears to be not connected to the top its almost like a 1 by 4 or something, i was hoping i could just take that out and screw a 1 by 4 (or whatever its actual demensions are) in and place a weather strip on it but im assuming by your answer thats not possible? Have alot of experience working on stuff around the house but none with doors and door jambs so not sure how they exactly go together and this one looks different than most ive seen
08-13-17, 02:28 AM
Join Date: Mar 2005
Location: USA
Posts: 43,782
If that door stop is separate from the jamb [often they are one piece -jamb and stop] you can replace it although the weatherstripping could be a challenge. The stick on weatherstripping in a roll would work.
08-13-17, 05:36 AM
Like I said, move the bracket closer to the storm door and use long screws. You have 3" of stud behind the door jamb so the splits in the jamb are a cosmetic problem. If you position the bracket roughly 1" to the right, and 1/4" away from the storm door there are no cracks or holes there. Drill 5/32" pilot holes and use 4" screws.
08-13-17, 08:32 AM
You can also reposition the closer to be at the bottom of the storm door. Then do the cosmetic repairs to the top of the jamb as previously mentioned.
Posting Rules
You may not post new threads
You may not post replies
You may not post attachments
You may not edit your posts
---
HTML code is Off
---