Installing bifold glass doors into doorway with molding
04-19-20, 06:52 AM
Installing glass door into doorway with molding
---
*** Note title says bifold but that has now changed to a standard door.
I am trying to hang a glass paned door on a currently doorless, built in China closet/cupboard. I don't have a picture of the actual space but it is effectively a nook in our dining room that has a 'standard' doorway opening (with molding around it) and on the inside is shelves. The molding/finishes of the opening look like the first picture below and the concept of the built in shelving through a doorway is the second picture (ours is wider and deeper so fits china). The third picture is the style of door we would like to hang.
The opening is roughly 79"h x 29"w. The depth of the molding in the opening is 5" and this surface is completely flat with no trim or anything obstructing the 5" panel. Question is - Can I build the hinges and stops directly into the molding - effectively using the molding as the jamb/casing? Obviously no need for air tight seals.
Thanks in advance.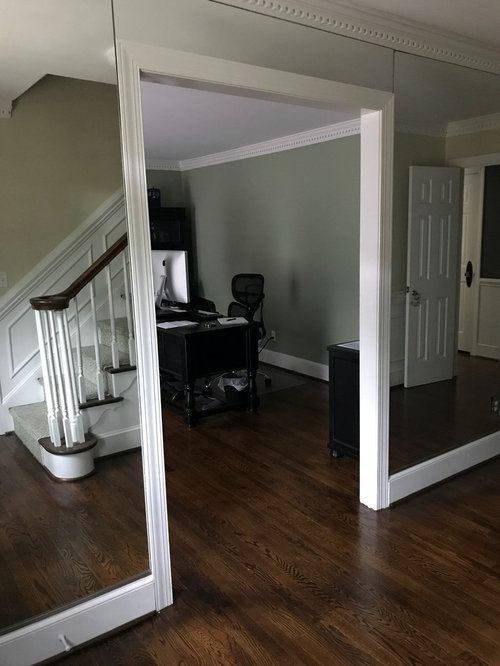 ---
Last edited by bcscasse; 04-19-20 at

07:35 AM

. Reason: Error
Sponsored Links
04-19-20, 09:52 AM
Assuming the door can be trimmed to fit the opening exactly if the opening is not exactly plumb, yes you can mortise hinges into the jamb, hang the door, and add door stop behind the door perimeter. Easier said than done but if you need assistance we can guide you through it.

Cased openings are not always installed as straight and true as a door jamb needs to be.
04-20-20, 11:44 AM
It's not plumb. Top of opening is 29" w and bottom is 28 3/4". Would I trim door on an angle or use a 28" door and there would be slightly larger gap on bottom (3/8"on each side) vs the half inch gap on each side at the top?

And structurally, the hinges mortised directly into the molding would hold the weight of the glass door?
04-20-20, 02:23 PM
I would take the casing off, cut the jamb out and reinstall the jamb so its plumb and the right size for the door. This might mean new casing or baseboard. And you mortise the hinges into the jamb, (its called a jamb, not a molding). Just like any other door. You would replace at least a couple of the short screws with long screws that would hit the stud behind the jamb.

if you want real answers post a picture of what you actually have so we arent guessing. There might be something pertinent we are missing by not seeing your opening.
Posting Rules
You may not post new threads
You may not post replies
You may not post attachments
You may not edit your posts
---
HTML code is Off
---