Replacing Picture window
06-23-20, 08:41 PM
Replacing Picture window
---
I'll be replacing a picture window in my garage. I've removed the window (it's a IGU) to make sure I get accurate dimensions. I'm just replacing the glass. It was held in by foam glazing tape. I've attempted to remove most of the foam but there is still a gummy residue. Is it okay to use something like xylene (happen to have) on the vinyl to remove the tacky residue? Also, from what I've read where the replaced tape meets up in the corners, a small dab of silicone caulk should be used. Can any generic 100% silicone caulk work? Lastly, any product to use to enhance the white vinyl? It's kinda chalky. Maybe use plastic polish?

06-23-20, 09:27 PM
One thing that is critical (besides width x height) is getting the right thickness of glass AND right thickness of glazing tape. If your glazing tape is too thick or thin, your stops wont snap back in correctly. (Assuming this is the type of window with vinyl stops that pop off) There are 2 main thicknesses, and various widths of each. I avoid the glazing tape with the paper backing, and only want the stuff with the blue poly backing. Trust me!

3M adhesive remover is typically what I use, if I use it. I have never used Xylene, not that it wouldn't work but it might be a little harsh. Also is very bad for your nervous system, hope you wear chemical resistant gloves with it. You could use Goof Off in a pinch. I use a 1/2" - 3/4" wide *sharp* chisel and draw it backwards (pulling it toward me) while holding the chisel at almost a 90 degree angle to the glazing residue... using the chisel like a scraper. (Flat side toward you as you pull, handle leaning slightly toward you) You can get 99% of the residue off this way. And the vinyl doesnt need to be 100% clean anyway. It just cant be dirty/dusty or wet.

At the corners where the glazing tape meets at the corner of the sash, yes, a dot of silicone (or better yet Geocel 2300 clear). I don't trust any of the box store silicones, especially not Dap. Best silicone IMO is Dow 795. (Or 790 but the application varies) And it isnt cheap.

Use a block of wood and a hammer to tap the stops back on. A little silicone spray in the groove can make this easier.

Silicone spray and a rag works well to shine up vinyl. Alternatively you can scrub the vinyl down good with a rag and lots of Soft Scrub first.

And save the old rubber setting blocks if you can, if not you will need to get new ones.
06-24-20, 02:04 PM
06-24-20, 03:43 PM
Yes, but 1/16" x 3/4" is not commonly used. Most often I have a roll of 1/16 x 1/2 and a roll of 1/8 x 1/2 depending on what was on there before.
For the adhesive remover, this is the one I use: 3M 08987 General purpose adhesive cleaner 15 oz aerosol.
Dont know where you can source the Geocel in your area. A roofing supply company should have it.
This
is an equivalent that Menards sells locally. I forget where you are at.
07-07-20, 12:00 PM
So pulled the window and removed the old foam. It looks to be 1/6" X 1/2". Your trick with the back side of the chisel worked great. I was only able to find this adhesive remover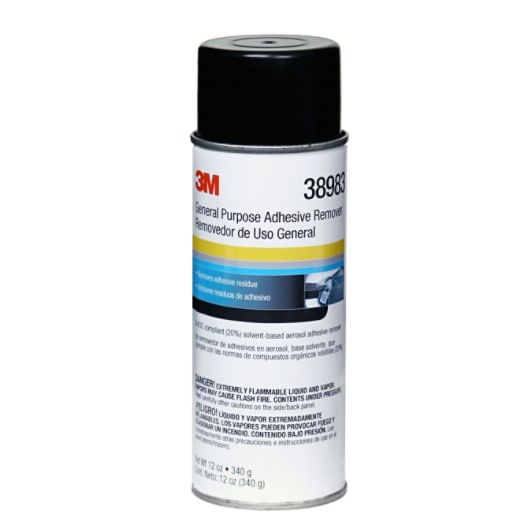 Unless I had 99% of the previous glazing removed, the 3M stuff really just smeared the remainder around. If there was no foam then it worked fine. I used Flitz polish to clean/polish the vinyl and it came out looking pretty good. Not sure if I'll even need silicone to shiny it up. Local HVAC supplier has the Geocell 2300 in stock which I'll get when I pick up the replacement window in about a week.
I thought I remember reading something that said when reinstalling the glazing tape I should do the verticals first, then the horizontals between the verticals, then silicone at the joint. Is that correct or backwards (horiz then vert)?
07-07-20, 12:47 PM
I do bottom horizontal first. Then verticals, then top. The geocel is just barely a dot in the corner of the frame where it will barely show.
07-09-20, 12:49 PM
When installing the glazing tape I found some instructions to make a small tab out of the
blue poly
"Pull back a short length of the liner to create a tab.
Center and install glass
Remove the liner by the tabs and press the glass into the foam tape."
I'm reading this as I'm going to push the window up against the blue poly, somehow keep the window up, go inside and pull out the blue poly by the tabs, go back outside and push the glass to promote adhesion.
Any issue with just removing all the blue poly and installing the IGU? Not sure the purpose of those instructions. I guess I could do this with just making tabs on the side and bottom and use the top tape with all the poly removed to hold the window in initially.
07-09-20, 02:18 PM
When you pull those tabs back you need to scotch tape them to the frame so they stay out like tabs. It's best to do an inch on each corner. Generally you set the glass on 1/8" rubber setting blocks, because the glass needs about 1/8" of space around the edge of the glass on each side. As the sides slip into the frame, you hold setting blocks on either side of the glass as you push it in. Once the glass is in, I will typically snap the glazing stop back on one side, or at least get it started on one corner. That will hold the glass in place while you go to the other side. Once all the tape is removed, then go back in and finish snapping the glazing stops back on.

If you remove all the tape, you just need to be sure it's going to fit and that you have it centered because once it touches the tape there is no moving it left or right, up or down. And if you try to pry on the glass edge so that you can slip in a setting block, it will break the glass guaranteed.

07-11-20, 09:02 AM
Arg...so the replacement IGU is a smidgen to big. The glass panels are offset from each other maybe 1/16" for a total of a little less than 1/8". When I ordered the panel they said tolerances were 1/8" so not sure of what they'll say on Monday. The panel fits w/o the setting block, slides right in. With the blocks it's scraping the top of the vinyl jam.

So, what occurs if installed without the setting blocks? Or could they sand 1/16" off the top instead.
07-11-20, 01:21 PM
That can happen in manufacturing or it can happen when the pane of glass leans up against a wall for a period of time... the glass can actually slip slightly and shift due to it's own weight.

How critical it is depends on the kind of window it is. Casements need to have support on every edge of the glass since the sash will only be as square as the glass is. So a casement would sag without setting blocks at every corner.

On a picture window it wouldnt matter too much, although you like to have the space there for drainage and for expansion and contraction. Professional glaziers carry various thicknesses of spacer blocks... so if an 1/8" block wont fit, they use 1/16" blocks. And sometimes you just make it work.

No I dont think they would grind your glass edge down. If you could set it on 1/16" blocks it would probably work fine.
07-13-20, 01:32 PM
I talked w/the company today and no, they wouldn't try and modify it. They did say that if I installed it and it had trouble in the future they'd go half and half w/me (I had them put it in their customer notes). I was able to secure the 1/16" blocks from another glass company and it just barely fit (squeak). So got the first one installed and ordered the second one that sits next to it (in a slightly reduced size).
As an aside, removing the grids really makes the window seem much larger.