Pellet Furnace Add-On to Oil Furnace
10-31-08, 07:29 AM
Pellet Furnace Add-On to Oil Furnace
---
Hi everyone,
I'm new here and hope this is in the right forum. I have 2 questions:
I'm getting ready to start ductwork on a Traeger GBU-070 pellet furnace. My manual shows the following for a backdraft damper: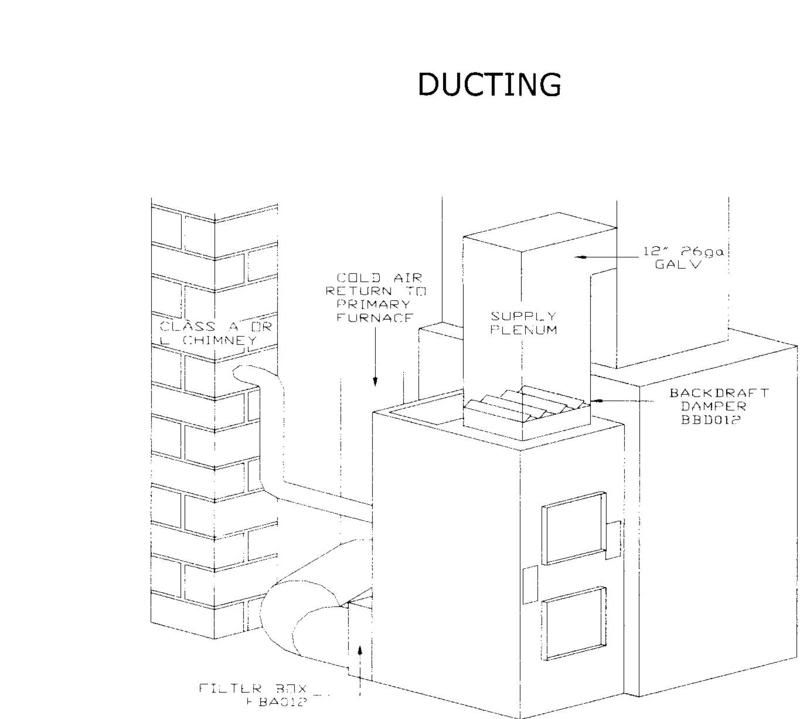 It only shows a single damper installed on the pellet furnace plenum. Does this seem right? I don't understand what would prevent the hot air from the pellet furnace from circulating at least a little bit through the oil furnace.
I called a dealer and was told that:
A. The hot air will naturally rise
B. The air flow would follow the path of least resistance
C. Most people don't have a damper in their primary furnace
I would like to do this right and not have to re-do stuff.
So question #1:
Does it seem like there should be another damper in the main supply plenum, on top of the oil furnace too?
Question #2:
The two furnaces are side by side:
Sorry for the poor lighting. If you look close you can see the cold air return on the right of the green oil furnace that runs into the side. I think the easiest way to duct would be to build a box that would join the tan pellet furnace to the rear of the green oil furnace so that they could share the return air duct. You can see the back of the squirrel cage on the pellet furnace and if I remove the cover on the green furnace you would see the squirrel cage there too.
So question #2 is:
Can this be done without starving one or the other furnace? I don't want them to run at the same time but I live in an area where the temps could drop to -20 and even -30 (rarely) so who knows?
Thanks,
Wayne
10-31-08, 06:15 PM
These systems never work correctly. Yes you should have another backdraft damper in the oil furnace plenum. Ideally, you would have a new "Y" plenum fabricated with the dampers installed. I would be more concerned with your chimney at this point. Read instructions carefully and contact your insurance company. I am assuming the oil and pellet furnaces are sharing the chimney.
11-01-08, 12:33 AM
You are correct: they do share the same chimney. It's about 40 foot high and the draft can easily put out a match some days. I'm going to Tee out the joint and use a 6 to 4 reducer to attach the pellet exhaust to it.

I'll have to see how it performs. I've got a closed floor plan and the only way I could see to use pellets and effectively distribute the heat was to hook into the existing hot air ducts. I'm not sure about investing in a Y-plenum at this point until I see how it's going to perform when it really gets cold. I might just make up a couple of sliding type dampers where I manually open and close one or the other. I've got the thermostats side by side and I was going to set the oil about 5 degrees cooler but not sure on that yet.


Wayne
11-01-08, 05:27 AM
Before using the wood burner I would carefully check that the pellet stove is certified by a recognized inspection agency.

If the pellet stove is fully approved for connection to an existing furnace, part of that approval is an accompanying manual which will clearly describe how it is to be installed.

Here there are no add on furnaces allowed to be installed in parallel the way yours is.
Also, there are very restrictive regulations on having two appliances connected to one chimney to make it nearly impractical.

You need to follow codes to the letter or your fire insurance will be invalid!

I have a wood burning furnace connected in series with an electric forced air furnace which works flawlessly as far as airflow is concerned.
This is a very common installation here where problems are virtually unheard of.
11-02-08, 01:48 PM
There are no codes in my area and there used to be a woodburning furnace that was hooked up to the same chimney with the forced air system although I could use the other flue if need be.

The drawing in my first post is an actual page from the manual. I appreciate the warning and I contacted Pinnacle stoves which is the manufacturer of Traeger. They agreed that I need a damper in the hot air furnace too and didn't say anything about not being able to hook up the way I have it. I had phoned two dealers where I live and neither said anything about not being able to connect in parallel. The only disagreement was that one said I needed a damper in both furnaces and the other said I didn't. I'm trying to track down the dampers now which is fun. Apparently my trunk size of 20 by 20 is not common so I'll either have to have one custom built which sounds expensive or I'll have to find a size that's close enough and go from there. Hopefully I can get this done soon so's I can be
11-03-08, 04:01 PM


There are International, National, State, County, City, and Local Codes.

Perhaps there are no Local codes you are aware of because no one has caused enough damage to warrant any being implemented?
11-05-08, 11:59 AM
Yes they are not implemented..

I'm not looking to circumvent design safety here I'm looking to do it correctly. I am alone in the house, no kids, family etc. so I'm not being reckless with the safety of a family. I've got the exhaust going into a separate flue now and am still working on getting the dampers. They are hard to come by. I could probably put in a manual type damper until I find a reasonably priced source but I'd rather just get it done the way I'd like the first time. It's hard enough to do a project once, never mind twice.

Wayne
01-06-09, 09:49 PM
Just an update.
I ended up putting dampers on both the oil and pellet furnaces. They work fine but I had to do some modification to make sure they would open and close as needed. I had to add a very light spring and also I had to make a stopper with a nut and bolt. The spring is adjusted just enough so that a breath opens the louvers and the stopper keeps the spring from overshooting its own pull. This means the louver shuts as soon as the blower air stops. A small side effect when the oil burner comes on is that after a heating cycle complets and the louvers close, enough residual heat builds up to trigger the blower for a short time. Other than that, there's no difference in operation.
Furnace has been working now for over a month, averages about 2 1/4 bags a day to heat an 1800 sq ft house with 100" ceilings to 65. I like the heat from the pellet furnace better as with the fire burning, the blower cycles on and off. This keeps the heat level more constant. The oil furnace fires up till the thermostat shuts it off and then the place cools down till the t-stat calls for heat again. There are more cool areas during the cycle.
Since it was mentioned that add-on's never work right I just wanted to let people know that the installation was successful and works just fine. I don't run both at the same time though. I keep the oil furnace shut off all the time as the pellet furnace has no problem heating the house even when it was -11F. I was originally worried because the oil burner is rated at 125K while the pellet furnace is rated at 70K. The hopper in the furnace holds 3 1/2 bags so I only load it once a day. I also replaced the metal duct running to the t-stat room with flex duct and will do the rest of the ductwork as time allows.
I think the decision to go with a pellet furnace instead of a stove was the right way to go for me anyway.
Wayne
01-07-09, 03:35 AM
Thanks! Yes, I bought the furnace last year on craigslist. I originally had a woodburning furnace but it never really seemed to heat the house. It was installed when I was just a teen and I didn't really pay much attention. When I removed it I saw that it really hadn't been put in right. After I bought the pellet furnace was when pellet prices started rising and behaving like the oil prices were. I had originally planned on selling my wood burner but I think I'd be very foolish to do so in this economy. So it sets next to my oil tank and can be reinstalled if push comes to shove.

I got the pellets this year from a fellow over the hill who decided to get rid of his pellets when he found out they couldn't install his stove till December. It's 3 1/2 ton and about half Energex and half LG I believe. I think the LG is softwood, don't know for sure though. Energex is dark green and LG is a light tan color. I paid $265 a ton, not sure what my electric bill is going to be with the blowers and auger motor etc. With oil as low as it's fallen, I'm not sure I've saved too much money this year on fuel but I definitely saved on installing it myself. I paid $750 for the furnace, used all the ductwork from the wood burner so it was not a bad price for everything. I think I bought two boxes of sheet metal screws and some aluminum tape. Also an appliance dolly so I could move the furnace into place. My chimney has 2 flues so I was good to go. The exhaust pipe is longer than the oil burner so I get the added benefit of that heat in the basement too.

Wayne
01-07-09, 08:07 PM
Thanks for reminding me to never use the word "never". As far as these systems go what I meant by not working correctly was that no matter how they are installed, they arent the same as the original heat source. This leads to complaints about comfort or run time or a whole host of other concerns. But, the hands on homeowner such as yourself that understands the concept realizes there are differences and appreciates the benefits. We dont have many people here that understand their basic heating system let alone one like this. Good to hear you got it operating.
01-07-09, 11:31 PM
Hahaha. Psychologists tell us to absolutely positively never ever use absolutes.
I understand what you're saying. You sound like you're in the hvac biz so you hear all the negative stuff too. You don't know what the person on the other end of the line is actually doing or how technically inclined they are. I know that I've gained an appreciation for what hvac guys/gals do. I studied the manual end to end and did a lot of picking people's brains. In order to do something like this right, you kind of have to understand how the oil burner works too. It is certainly not something to take lightly as it could kill you and your family.
Here's some pictures of the finished beast. I had to Frankenstein everything together. I don't have a sheet metal brake so I had to take advantage of the bends that were already there. Took a lot of screws and tape: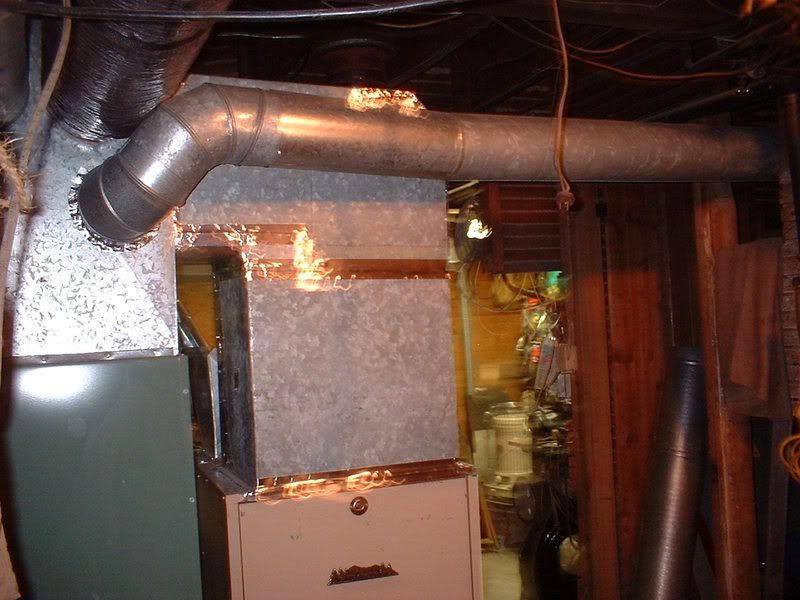 The metal duct in front goes to the bathroom and is going to be taken down soon. That's why it appears as it does, I just threw it together to keep icicles off when I shower. : )
Here's the business end:
You can't see it in the picture but I ran the power down from the ceiling as I live in a flood zone. I'm using a surge protected outlet as recommended. Perhaps it's something a lot of people miss? I say this because in researching my project I saw a lot of people with control panel problems.
02-06-09, 11:29 AM
Hello,
I'm looking for a dealer/supplier for back draft dampers. I live in New England, specifically the Rochester, NH area. I've searched far and wide and have not located any distributors of this sort of product.
I installed a wood hot air furnace. Right now it warms the house via convection. No ductwork connected yet. I have gotten some cold air return parts from the Standex company through our local Lowe's who sells this brand. They don't have any rectangular dampers except the single door type which really would not work for me. Any suggestions would be welcomed. Thanks in advance!
02-06-09, 02:23 PM
Hi Park,
Grainger sells them if you have one nearby. You can get them from Grainger online too but I bought mine from here:
Radford Brothers Industrial Supply
Both Grainger and Radford are wholesalers who only sell to businesses but they don't seem to be overly picky. Just register with a business sounding name and you should be ok. Radford didn't check, don't know about Grainger. I don't think they're overly strict about it though. Money talks these days.
Is your wood stove an add-on to an existing furnace?