Adding dampers to sub-plenums...
10-28-13, 06:54 AM
Adding dampers to sub-plenums...
---
Had my AC company out to do maintenance on my AC unit. While there, I discussed an issue where one of my zones is significantly deficient in air flow when all three zones are calling for air. Its so much so that when the sun is coming through the windows on that zone, it cannot maintain a 78 degree set point. After some looking around, they saw that each sub-plenum (one for each zone) is 12" or 14". The one that is the problem zone is 'closest to the fan' and I was told that its the one that ends up with the least amount of air. The suggestion was install dampers in the other two ducts where they come out of the plenum so that the air flow could be choked down a little on the two zones, forcing more air into the third. This seems very reasonable, but the charge for doing it is in the ballpark of 400 bucks. Thats a lot.

Is this something I can DIY? If so, what do I need? Also, where can I buy GOOD mastic, like they use on ducts and inside return air boxes?
10-29-13, 10:29 AM
Before we jump to too many conclusions let me add more detail. There are three zones. 2 downstairs and one upstairs. The one upstairs is literally about half of the upstairs. The other half has its own AC...its a long story, but it was designed and spec'ed this way.

Now, the problem zone it on the second story. It serves a single large room, and a bathroom. The registers for the room are literally on the other side of the wall from the air handler. How a room with few ducts, short runs, that close to the air handler is not getting air when its fed with exactly the same size duct to teh sub plenum as the other two zones with more area, 50' of duct, etc....i don't know. But the location of the feeders to the subplenum makes sense. They are side by side. The end farthest from the fan coil gets the bulk of the air, followed by the one next closest followed by the third zone which is closest to the air handler.

That was the way it was explained to me and what I saw when I looked at it.

If all three zones are calling for air, the two downstairs zones have more air flow. You can feel it. If the upstairs zone got more air, and the downstairs zones got less air, it would still cool very well. It is a two speed system with VS air handler.

Its fine to run calcs and install, but calculations and science don't usually translate 100%. This needs some tuning?

Knowing this, what do you suggest?

This system does have a bypass, and I suppose its interfering with the last zone depending on its placement.

The only solution aside from dampers that I can see is to make the subplenum feed for that zone slightly larger and/or increase the duct size to the two registers to that room. But that is pretty much the same thing as using dampers to choke down two feeds slightly.
---
Last edited by agdodge4x4; 10-29-13 at

10:52 AM

.
10-29-13, 07:25 PM
I checked it out earlier and it looks like the tech was wrong. I can feel that ALL zones have terrible air flow when they are all calling for air. They are also evenly weak, which pretty much means the ductwork is balanced. However, what the problem seems to be is with my bypass damper. I have a bypass that dumps a lot of air back to the return in case only one zone is calling, that way its not dumping 5 tons of air to one zone. But the damper is open even when all the zones are calling. When I disable it and CLOSE the bypass, the zones have adequate air flow, but I have a 'wild zone' that goes to my high cieling living room. That zone is running no matter what zone is calling as designed. Maybe that wild zone should be damped down, and the bypass adjusted or replaced with a better functioning unit?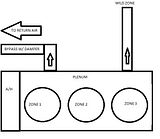 What is the solution?
---
Last edited by agdodge4x4; 10-29-13 at

08:15 PM

.
10-29-13, 09:48 PM
Join Date: Mar 2006
Location: Wet side of Washington state.
Posts: 16,321
As airman stated, you have a duct problem. While you MAY be able to cobble up some balancing dampers to effect a change the real problem is inadequate ductwork. This is all to common in residential work and often is a result of simply not having the room for proper ductwork. A complex control system may offer you some relief but it introduces other potential problems. These kinds of problems are why I do not advocate residential zoned systems.
10-30-13, 07:43 AM
Yeah, duct size seems to be the issue here. But I think its limited to the single duct dump zone. If that duct was off of the subplenum that actually fed that zone, then it wouldn't be noisy when all the zones were calling. Its only noisy because its a 8" duct piped directing off the main plenum when the rest of the air goes through three 12-14" plenums before being distributed.

I fail to see how that one single duct being loud equates to the entire duct system being too small.

Arzel Zoning says I should have a bypass OR a dump zone, but not usually both. Its a 5 ton unit serving 2400 square feet. They actually suggested a balancing damper in the dump zone...treat it like a regular branch duct.

I just would like to find the most cost effective and correct solution as it stands now. Bigger ducts obviously cannot be added due to size constraints.
---
Last edited by agdodge4x4; 10-30-13 at

08:28 AM

.
10-30-13, 03:46 PM
OK...Im a retard. When I 'closed' the bypass, I essentially shut off the vacuum. SO...the bypass closed...and so did all my other zones. The DUMP ZONE was dumping 5 tons of air. LOL.

When I shut it off and maintain vacuum for the other zones, the 'small zone' that is problematic actually gets a lot of the air. The other zones get less...which makes sense because they are farther away. Thats not a bad thing becuase the zone that gets the most air also happens to be in upstairs with the most heat load. SO...the issue must be totally related to that damn bypass.
---
Last edited by agdodge4x4; 10-30-13 at

04:19 PM

.