Mount Honeywell F200 inside air handler ?
04-02-14, 06:01 AM
Mount Honeywell F200 inside air handler ?
---
My air handler (Enerzone AHT 47-30) has a 1" 16x20 filter slot and then a 17" space for an A-coil. A few inches after that is the blower housing. We currently have no A-coil in there. The rated CFM is in the 1000-1100 range (with 1" filter and no A-coil).

Im thinking about fabing an F200 into the cabinet, up against the interior "hole" after the 1" filter spot. Hopefully I can trim it up nice and it should look ok from the outside.

Does anyone see a problem with this ? Every diagram I see shows these cleaners mounted in the ducts just outside of a furnace. Not much info on air handler boxes.

Will using up 7" of interior space preclude me from ever getting some type of a/c (A-coil) in there ? I'll only have 10" of space left.

Oh, and I assume it would be a good idea to leave a cheap 1" filter ahead of the F-200 as a pre-filter ?
04-03-14, 08:40 AM
Local supply house told me that the original F200 is discontinued, there is a new sub model number (F200F2028), it's still MERV 13 but no longer has the "monitor" function. So really now, the F100 and F200 only differ by the included filter.
The price has also gone down, of course.
04-03-14, 11:32 AM
I would rather see you remove the useless one inch filter frame and install a four inch frame. Then you could use a box filter that would be as effective as the overpriced Honeywell filter while most likely still having the area for the evaporator coil. Add a Dwyer Magnehelic filter gauge (around $25 on Ebay) and you would be set.

Maybe a few pictures of the existing installation would help one of us to make a better proposal.
04-03-14, 06:56 PM
I think it would take some major tin bashing to incorporate a 4 or 5" filter box on the outside of the air handler. If I could find a simple filter box, maybe I could fab it into the inside (instead of the Honeywell).
As for filters, so far Ive only been able to find Merv-11 ones, the F200 Honeywell's are Merv-13 (and 0.3" wc at pretty much my air handler's fps). Im hoping to stay with Merv-13 as this is gonna be helping to clean our smoking room.
Here's a pic of the return end of the air handler. The indented area would be the A-coil knockout, the 1" filter is just to the right of it at the very end of the cabinet.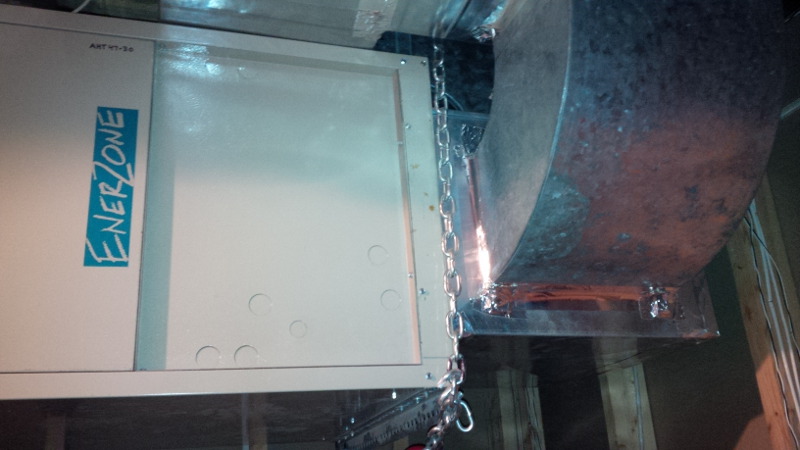 04-04-14, 12:39 AM
You might need to replace that elbow with a box with interior turning vanes, not an impossible thing and the benefits of the better filter would be worth it in my opinion.
Here is the filter frame I have.
Furnace Filter Rack - HVAC Accessories FAMCO
Be VERY careful using MERV 13 filters in a one inch thickness as they will have a very high resistance. I bought MERV 13 filters from this company in the four inch thickness.
AC Filters - Furnace Filters. Lowest Prices. FREE Nationwide Delivery. Order Online 214-377-1143
Reasonable prices in my opinion.
Also, get a Magnehelic gauge off of Ebay to determine when to change the filter. A range of 0-2 inches of water is good, I got mine last week for $25. including shipping and it also has a settable indicator hand which is normally a $16 extra.
Dwyer Magnehelic Pressure Gage Series 2000 Cat NO12 19335800 W647 | eBay
The Magnehelic is a very sensitive but also rugged gauge made for industrial usage and normally sells for around $60. I used to use them for tank level gauges when I was gainfully employed and in addition to filter gauges I have seen them used as boiler draft gauges.
(I have no connection to any listed supplier except as a satisfied customer.)
04-04-14, 05:23 AM
A little hard to tell from that pic, but the return box actually has two inputs from the same "mainline" return duct. One up top taps off in an elbow, the one in the forefront does a 90 then elbows in. My b-inlaw was a basher apprentice at the time and his calcs showed not enough sq inches with one elbow. Hopefully the air isnt swirling (as with one elbow into a box), but is more mixed via the two inputs ? Im not sure what result would be with turning vanes facing two different inputs ?

That filter site you use wont ship to Canada, but this morning, I found Aerostar FLG21542 filters.. a 4" Merv13 @ 0.23" @ 500fpm. A local shop has them for $36 each in a box of 6.. not bad.

That filter box looks perfect ! Thanks for the link. And nominally 4" wide, it wont be stealing much from my 17" space. (how big is an A-coil anyhow ??). I'd really rather not start ripping my tin apart.. very hard to reach in there, would probably involve removing the handler etc.

Meter ordered, thanks for the money saving tip !
04-05-14, 01:07 AM
Is the picture the correct orientation? Could you get some pictures with a wider angle or from further back so I can see the full installation? Is this a horizontal furnace/air handler?

The size of the evaporator (cooling) coil is dependent upon the "tons" of cooling rating so it is pretty near impossible to make an absolute statement that you need X amount of room to install the coil and the rest could be used for a filter frame.
04-27-14, 08:09 AM
Thanks, Furd, for that tip on the Dwyer meter, I got one and it looks sweet ! (larger than I thought it would be, but thats fine). I'll surface mount it at the low pressure side, reading directly out of the back port, and run a hose from the side port "high" side to a hole before the filter cabinet (no cabinet yet, Im just thinking aloud).
The air handler is indeed horizontal, hanging from the floor joists.. here's maybe a better pic..