Kenmore Elite Refrigerator won't stay cold
06-11-09, 12:34 PM
Kenmore Elite Refrigerator won't stay cold
---
I have a Kenmore elite (bottom freezer, french doors) that is 5-1/2 years old and appearantly the compressor stopped working this morning. Every so often, you will hear a "click" sound. The fan is running constantly but no cold is being produced. The first thing I did was unplug it and cleaned out all of the food. About 3 hours later, I plugged it back in and nothing had changed.

I opened up the service panel on the bottom of the back side, and found the compressor to be hot to the touch. The refigerator still keeps clicking every 30-60 seconds. It's unplugged now until I figure out what to do. Any suggestions?

The model number is 596.73504201

A sticker on the back has the numbers:

7-19881-12110-9
P73504000C1 73504
11048539CP


The compressor is a Techumseh TCL2 with these numbers on the label:

TP142AR22988
TPG13804XA R134a
F0203 254901 BC


Thanks in advance for any help!
06-11-09, 02:02 PM
I did some searching of other posts and found out to check the start relay. Sure enough, when I shake it, it sounds like it's full of sand and blackish flakes fall out of it. I would like to replace it but am unable to find a cross reference on the internet. Here are some pictures of it, on one side it says:
Made in Mexico
5SP04T419LFM
03 F03R
On the other side it says:
419LFBYY -77 FAZ2L
Any help would be appreciated, thanks.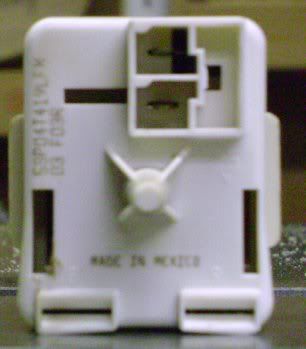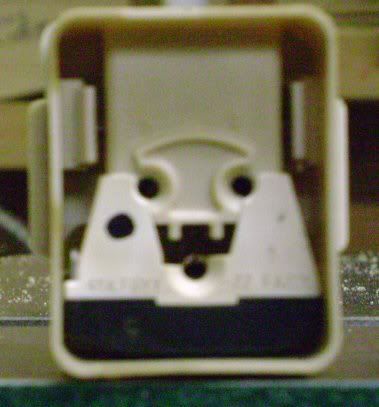 06-11-09, 04:21 PM
06-16-09, 08:50 AM
Banned. Rule And/Or Policy Violation
Join Date: May 2007
Location: Wisconsin
Posts: 8,627
Received 0 Votes on 0 Posts
As an aside, which is nice for people to know - I replaced these on my friends fridge like 2 years ago. It has worked fine since. No other underlying causes.
06-08-13, 05:24 AM
New overload relay fixed my 10 year old Kenmore Elite Trio
---
I'm chiming in to let the next person know that I replaced my overload relay part #67002783 and it resolved my refrigerator not cooling even as the fan was blowing and the lights were on. Sure enough, after I took off the relay I shook it and it rattled. Taking it apart there appears to be an electrically conductive disk that must shatter when it overheats owing to too many watts flying through it. It's pieces of this disk that rattle if the part is broken.

My relay blew while some contractors were replacing an upstairs HVAC. I expect the problem arose while they were flipping through the unmarked circuit breakers. Who knows exactly what happened? All I know is that a new part locally sourced from 1st Source ran a painful $67 with tax (it was only $40 delivered on Ebay, but that would have taken a couple days), but it was still a lot less than having a repair guy make a house call.

Gotta love this website and others just like it!

Regards,
Trevor in Austin
06-08-13, 09:45 AM
Join Date: Oct 2012
Location: Northern NJ - USA
Posts: 60,876
Glad you got it fixed.

The problem was most likely they flipped off the breaker with the compressor running and when the breaker was turned on the compressor tried to restart immediately.

It could have been old and on its way out too.