Countertop Microwave as Built-in
08-29-09, 09:48 AM
Countertop Microwave as Built-in
---
Are built-in ovens designed to vent differently inside a cabinet than countertop microwaves? We are remodeling our kitchen and would like to put our countertop microwave above the single oven to get it off the countertop, but GE says there is no trim kit to fit the countertop model. I'm trying to understanding why it won't work as a built-in if it is positioned inside the cabinet to vent according to GE's instructions. The outer trim will certainly fit the perimeter of the hole in the cabinet.
Thanks
08-29-09, 09:16 PM
Trim kits include a venting system to redirect the air out the front. Many of the GE ovens have kits available and many of them don't. You can build in one that doesn't have a trim kit, but it won't last long. Ask the appliance specialist to show you which ovens have trim kits available. The GE book clearly shows them and gives specs for the cut-out... most trim kits come in 27" and 30" widths. Be sure to match the trim kit width with the width of the oven it's going over or it won't look right.

Doug M.
08-31-09, 01:51 PM
Turning countertop microwave into a cabinet model.
---
I sold my over the range microwave but did not have the room for a standard built in unit. So I cut an opening under the microwave to allow air-flow.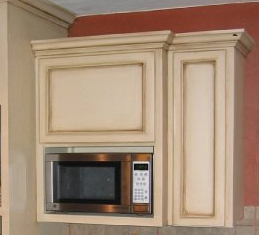 08-31-09, 10:05 PM
Countertop Microwave as Built-in
---
Sorry for the confusion on the previous post;

We have an older model double electric oven that is going to be replaced with a single electric oven, and we would like to build a shelf above the single oven and put a microwave oven in that space and close it out with a trim kit. We have had to replace microwaves before so I would like to have the option of replacing the microwave in the future in that hole in the cabinet. We have a countertop microwave oven now, and GE claims that there needs to be 3 inches on the top and sides of the oven to vent if it is not a built-in. We have 2.75 inches on each side and more than 3 inches on the top so will that work okay or do we need a special type of microwave to do this? If so, specifically what kind do we need; convection microwave not necessary.
We are having proper electrical work done to be able to plug the microwave into that spot so the cord won't show and the oven circuit will be on a separate leg.
08-31-09, 10:10 PM
countertop Microwave as Built-in
---
We definitely want to use a trim kit, so can we use for example a Bosch trim kit with a GE microwave if the microwave fits in the cabinet space? The trim kits have vents so I don't understand that if the spacing is adequate between the cabinet walls and the microwave why this won't work?
Please exlain
09-05-09, 02:06 AM
The issue is that a counter top microwave is not designed to fit into an enclosed space. The air you feel coming from under, or the back of the microwave is circulating air. Although you might not see any issues right away, I would be concerned about long-term use and its effects by installing it the way you propose.
30 seconds for coffee once a day probably wont be an issue, but prolonged, regular use might cause it to overheat without a fresh air source.

I have limited experience with built-in microwaves, but I thought the trim pieces were designed to work specifically with built-in units. Trying to retro-fit one onto a counter top version may be a futile effort unless you're handy with a dremel and solder.

You have a beautiful kitchen. And a quality built-in microwave is a big investment but are more reliable than their relatively cheap counter top cousins. It will look much better too.