Maytag washer timer replacement part
01-04-13, 07:48 AM
Join Date: Jul 2010
Location: USA
Posts: 36
Received 0 Votes on 0 Posts
Maytag washer timer replacement part
---
I have a Maytag close washer with a broken timer switch. I checked e-bay for a replacement under the part number 2-04454-2, and came up blank. Is there a different part number that superseded this timer number? Anyone have a source for the part? All help is apriciate. Earl.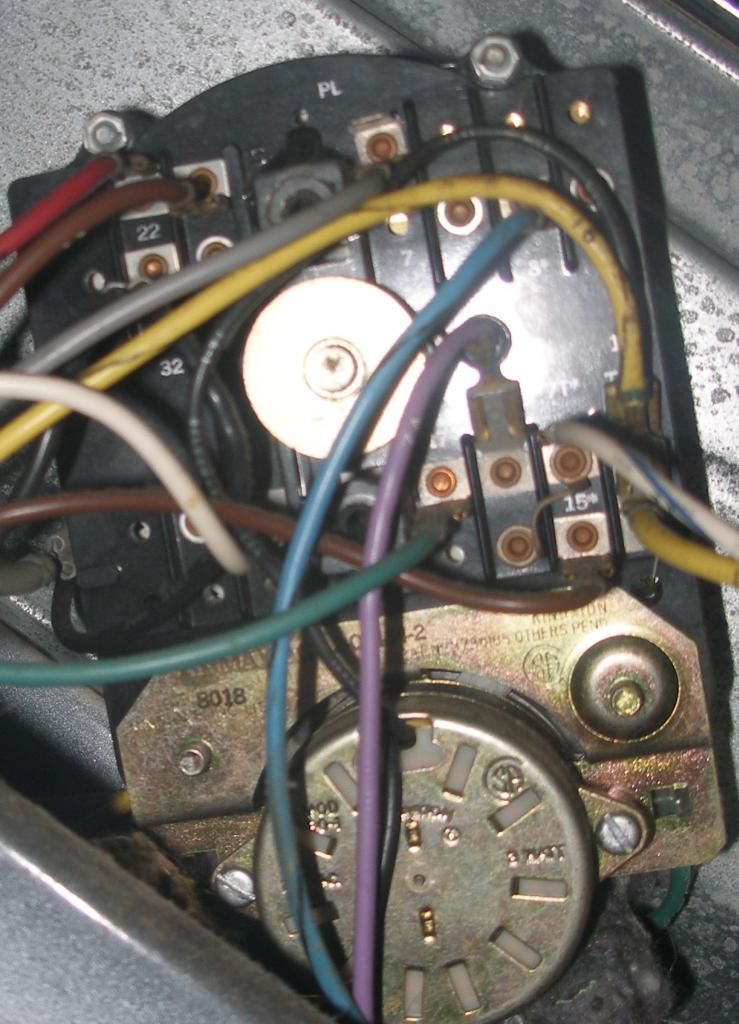 Sponsored Links
01-04-13, 09:39 AM
Join Date: Mar 2008
Location: Raleigh, NC
Posts: 8,513
01-04-13, 02:53 PM
Join Date: Jul 2010
Location: USA
Posts: 36
Received 0 Votes on 0 Posts
Thanks for the help. On the electrical schematics it has the part # A-208 but nothing on the washer itself. Under Sears link that you gave me I get a ďWe're sorry. This item is no longer available.Ē But no picture to confirm itís the part I need. The part # they give is 204463 which also draws a blank on e-bay. I really donít want to buy a new washer, is there another part number that will work? Thanks, Earl.
01-04-13, 04:23 PM
Join Date: Oct 2012
Location: Northern NJ - USA
Posts: 53,577
Other times if you lift up the lid...you'll find the ID tag just below the bottom of the lid.
It looks like you may have a Maytag A-208 washer.
Links I left :
Timer is part # 204454
Do you realize that washer is over 30 years old
You had part number of 204463 but it should have been 204663. Not sure if that's a complete timer or just motor.
With the top link you must enter timer to refine your search.
Maytag A208 Parts List
OEM Part 204454 Timer Assembly
Maytag #204454 Washer Timer - Residential Maytag Laundry Parts
and eureeka ....one is listed on ebay
204454 Maytag Washer Timer New | eBay
01-07-13, 01:39 PM
Join Date: Jul 2010
Location: USA
Posts: 36
Received 0 Votes on 0 Posts
Hey guys, thanks for the help. Just my luck with 662 Maytag timers coming up on an e-bay search only one will fit my machine and it cost 130 bucks as compared to the rest, mostly costing 30 bucks or less. Thatís defiantly the part. And yes, I know the washer is over 30, probably original to the house (circa 1978). Am hoping I can give it another 30 years but it might be time to replace it. Earl.
01-07-13, 02:14 PM
Aren't there still places that will rebuild timers? I did it a while back for my then MIL. Believe it or not some sort of little pin had worn down and I used one of those plastic parts inside a typical US Gov ballpoint to repair it. Took about 20 min and some epoxy. Luckily the motor and gears still worked. Lasted for at least the 5 yrs we were married.
01-08-13, 05:20 AM
Join Date: Jul 2010
Location: USA
Posts: 36
Received 0 Votes on 0 Posts
Should be interesting if it doesnít work out. I offered the e-bay guy 60 bucks for his timer, if he doesnít take it, then timer surgery. If I can replace the timer with a new one I ought to get another 30 years out of that tank. If I canít fix it then I will replace the whole unit. Thanks again guys, Earl.
Posting Rules
You may not post new threads
You may not post replies
You may not post attachments
You may not edit your posts
---
HTML code is Off
---