Kenmore Series 80 Washer, grinds and bangs in spin cycle
04-28-14, 09:11 PM
Kenmore Series 80 Washer, grinds and bangs in spin cycle
---
Hello, I have Kenmore Series 80 Washer, model #110.28882790. It fills with water fine and agitates normal. After cool down and about a minute, it goes into the spin cycle but has laboring grinding noise and as it continues, the grinding gets louder. Also with the grind, it sounds like something is hitting and/or banging the inside of of the drum or the inside of the cabinet. It drained enough to remove my small load in this very short amount of time(clothes still dripping but no water in tub). The timer advances as it's suppose to to the spin cycle. This grind and banging happens in the first(1st) spin cycle. I use the 2nd spin cycle also at times when washing but haven't tried the 2nd spin for all the noise and grind. This machine had the timer replaced on it several years ago. Thank you.
04-29-14, 03:46 AM
Standard top load, try it in spin with no clothes and see if it bangs and grinds. Does it bang when the spin stops? open lid when spinning and see it it goes bang, bang, bang?
04-29-14, 02:36 PM
Yes, it grinds(high whirl) and bangs the side of the drum or cabinet without clothes. When I open the lid, the noise stops. The lid switch engages each time I close the lid and stops when I open it. Are there belts inside that could be loose? Could the drum be so far out of line that it's hitting the inside of the shell? I do not want to call a repairman if this can't be fixed. If is hundreds of dollars to fix it, I might want to buy a new machine. This one is more than 15 years old.
04-29-14, 05:42 PM
Tilt washer back against wall and look under it. Not sure about grinding, Hitting side is usually caused by bad spring. Most time I find rear spring broken and hole in frame rusted out. Have to drill new hole.
04-29-14, 09:59 PM
I found 3 springs coming off the drum. If there is a fourth drum spring, I couldn't get back to take a pic of it. The springs were positioned like they should only be the 3 with the spacing. Should there be a fourth spring? Everything super clean under there. No dust. I was surprised not to find more of my pup's hair under there. The 4th pic is a separate spring(last pic). All the springs in place with very little rust. Little rust and the holes still good and springs attached. One spring is quite spread out more so than the other two. Should that be?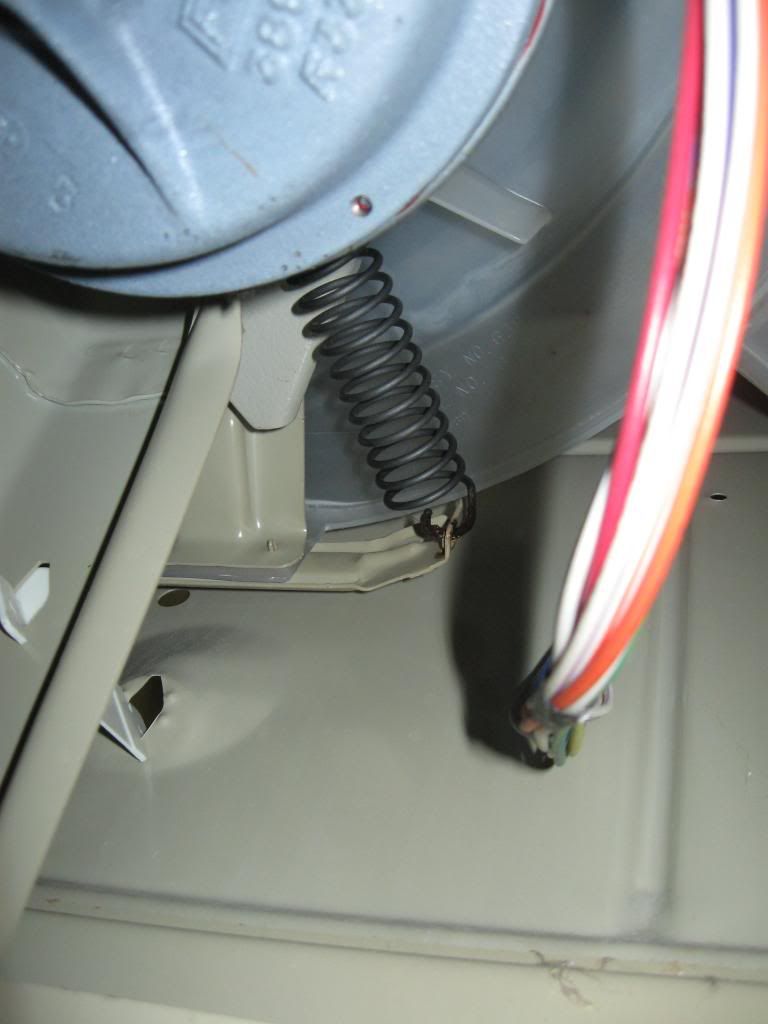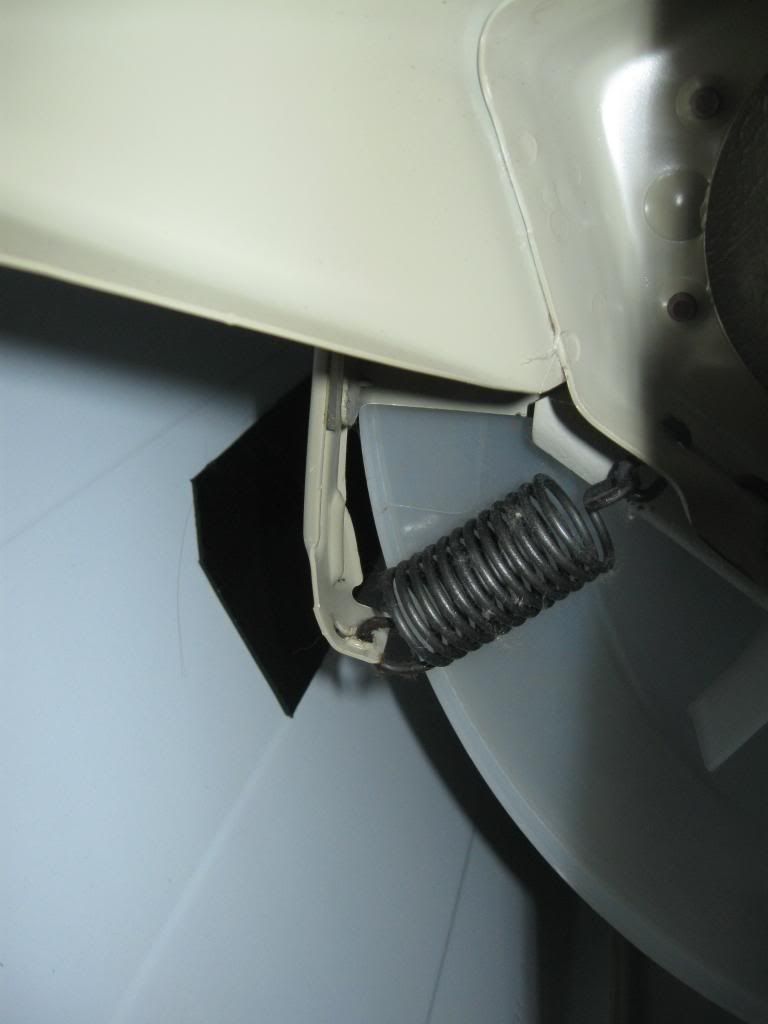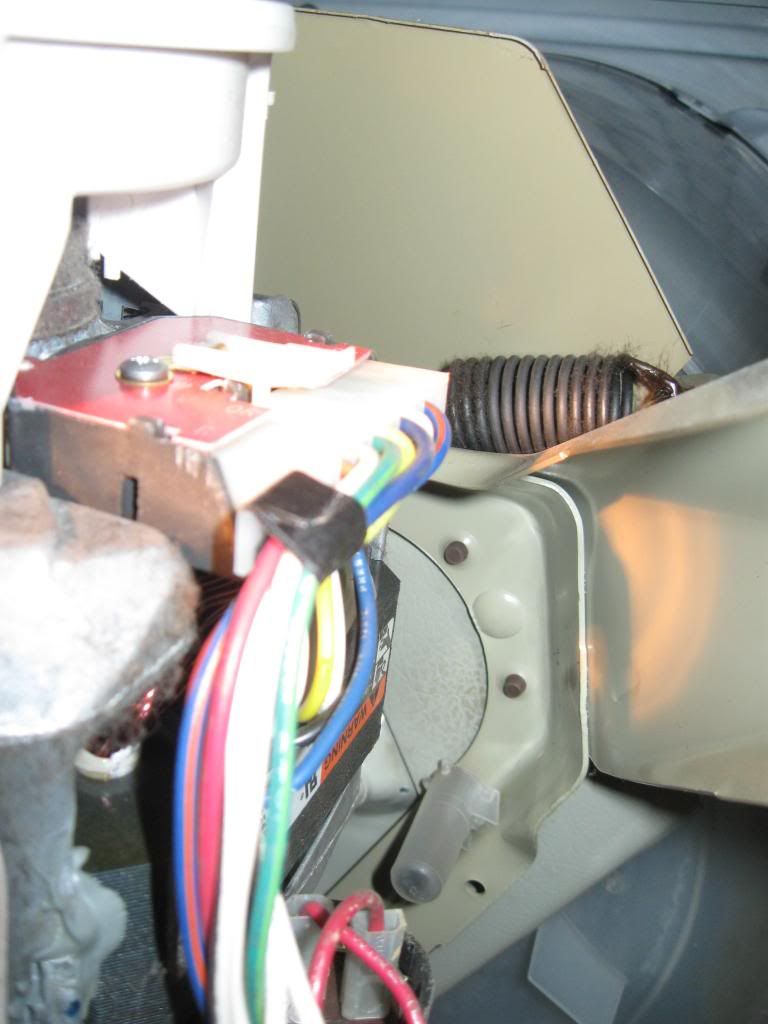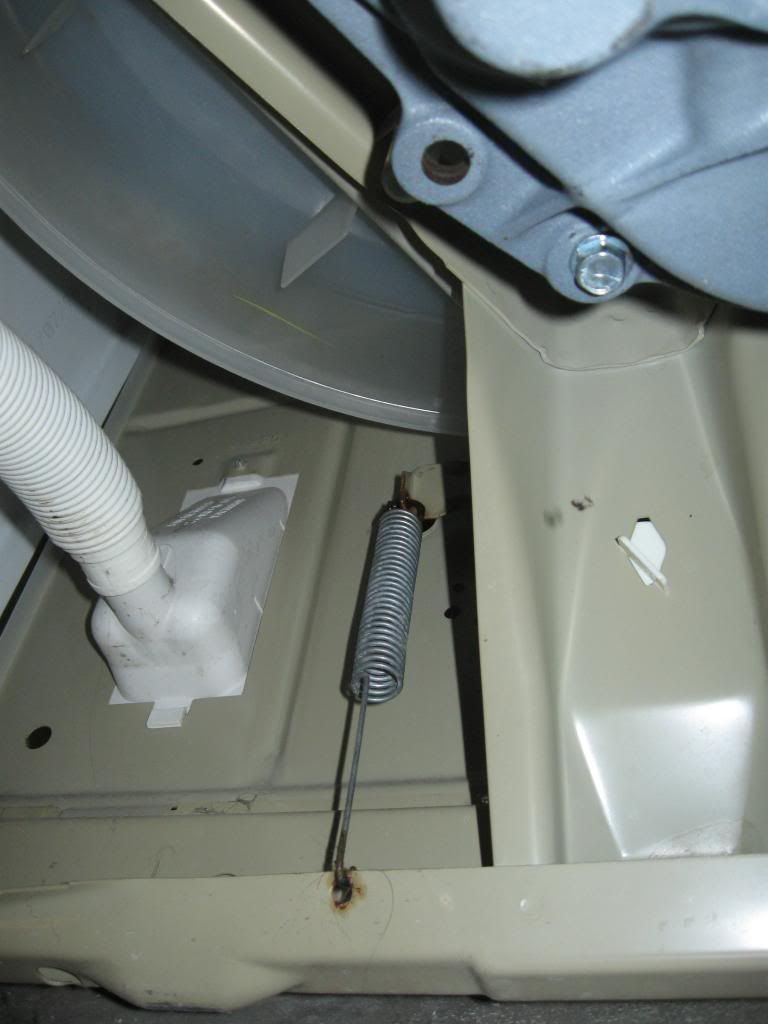 04-29-14, 10:06 PM
I just noticed something in the 4th pic. Looks like there is a screw missing. See like screw next to one missing in top of 4th pic. No screw head on the ground. But will look again. Should there be a screw to fill that hole?

Nevermind. It's a screw hole but nothing behind it. The shown screw has a white plastic tube acting like a spacer.
05-01-14, 07:51 PM
It was the gear shift. I called the repairman and he knew immediately what is was. He said they don't go out very often. He took a used one off his truck and put it in. (At his shop, they get used appliances in and they take good known working parts off those machines). He charged me $75 for the used gear shift. Labor and truck roll was just a little over $200. 30 days on the used gear shift. Hopefully, that will go the distance for the life of the machine, but I am gambling. They came out the same day I called which is worth alot also.

It was cool I didn't have to buy a brand new part. Is replacing with used parts standard in most parts of the country.....U.S.? I would of been buying a brand machine had the total been any more than the $200. He gave me a break on his labor too. Hopefully, I made the right call on this.
05-02-14, 01:55 AM
Lot of those old washers around, Same gearcase used for more than 20 years and would still be using it if EPA didn't get involved. Glad you got it fixed and should last many years.