Identifying a GE oven
06-11-14, 10:20 PM
Identifying a GE oven
---
I have a standalone electric oven at a property that I am trying to identify in order to make sure it has the proper electric wiring.
The oven is a standalone oven one one side of the kitchen, where the cooktop is on the other side. This oven is currently wired with two 30A breakers on #6 conductors. I thought most range are on double 50A breakers but I am not familiar with single electric ovens.
I have the model and serial number, but when I looked up the model number there is no match. I thought may be zeros and letter "O"s are confused so I tried different combinations still no luck.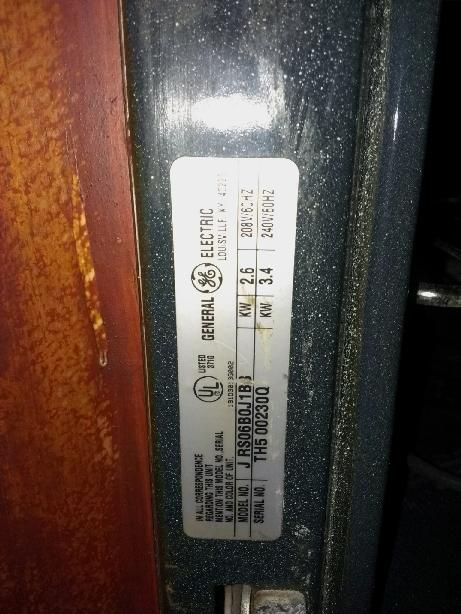 I googled "GE JRS06B0J1B8" and nothing.
Anyone familiar with this model?
Sponsored Links
06-12-14, 10:21 AM
06-12-14, 11:46 AM
Join Date: Oct 2012
Location: Northern NJ - USA
Posts: 59,146
Ovens are usually wired on smaller circuits as there is typically only one element on at a time.
With a range..... you can have all four surface elements on AND at least one oven element.
06-12-14, 01:35 PM
Vic, may be the last digit is not "8" and should be "B" and that would be a perfect match!

In the picture I thought it looks like an 8 but it was partly obscured by something and I tried cleaning it.

So if the draw is only 15amps, am I having too many amps on the breakers and too big a conductor? What would be the "proper" breaker and conductor size?

See, the way it is wired now, it runs three #6 in EMT about 20' to the kitchen wall where I presume a range used to be, then it ran up the attic again with a newer run (romex) for another 15' across to the oven, which is actually closer to the panel. The oven is really just 7' from the panel, but it skips 20' over, down, and back up and 15' across back to the oven because they used to have a range, and then split that into a cooktop and an oven on opposite sides. But they kept part of the old wiring. I am wondering if I should just run a new line from panel to the oven...or keep the reach around wiring because one day someone may want to use a range again.

Arghhh...
06-12-14, 01:53 PM
Well, it's not a perfect match, you have an extra 0 in yours.

As to the amperage, I wonder if at one time they had a different unit and never changed the breakers? 30A would be small for a range I would think. Seems like 20A would be fine if it only draws 15.

Electrical Pro's will be around to answer the tech stuff.
06-12-14, 04:30 PM
The romex is also #6, so it's 25' or so of three conductors in EMT, then another 20' or so of same size romex to the oven. All that on two 30A breakers, serving a single electric oven that draws 3.4 KW.
06-12-14, 04:33 PM
may be the extra zero means nothing, I wonder if that's actually two "groups" of numbers concatenated and the extra zero is the prefix for the second group that means nothing...not sure.

however the pictures and the dimensions on the parts list, and I also looked up the manual and they look the same.
Posting Rules
You may not post new threads
You may not post replies
You may not post attachments
You may not edit your posts
---
HTML code is Off
---